#21 — Petz World joins Adopt Meow!
Welcome to the May edition of the Adopt Meow Newsletter. If you haven't already done so, please take a moment to subscribe so that you never miss any of the exciting action that goes on behind the scenes! Once you subscribe, you will automatically be emailed our newsletter each month!

As always, if you want to get involved, but not sure how, check out how you can Donate, Foster or Adopt and make a real difference!

This month at Adopt Meow 🐾
Adoptions: 25
Rescues: 32
Sterilizations: 5
🔦 Monthly Spotlight
An Adopt Meow & Petz World Collaboration!
Just this month we have started a brand new collaboration with Petz World located inside the moat of Chiang Mai. Petz World is a large scale pet store that sells an impressive array of pet supplies, food, and even pets themselves! However, no puppies or kittens are being sold at Petz World. Instead, they are joining a new movement by supporting charities like Adopt Meow and giving street kittens to good homes – for free!
The Start of a Partnership
We were approached by Petz World to try this new adoption campaign and we have to admit, at first we were not sure that it was the right move. It wasn't until we went to their location and panned out the details that we were convinced and downright impressed! The collaboration is completely non-profit and allows us to showcase a few of our kittens at their shop to people who are looking to adopt but aren't aware of Adopt Meow. Although we have a large following on Facebook, a majority of our followers are expats which has made it a bit more difficult to permeate into the local scene or adopters.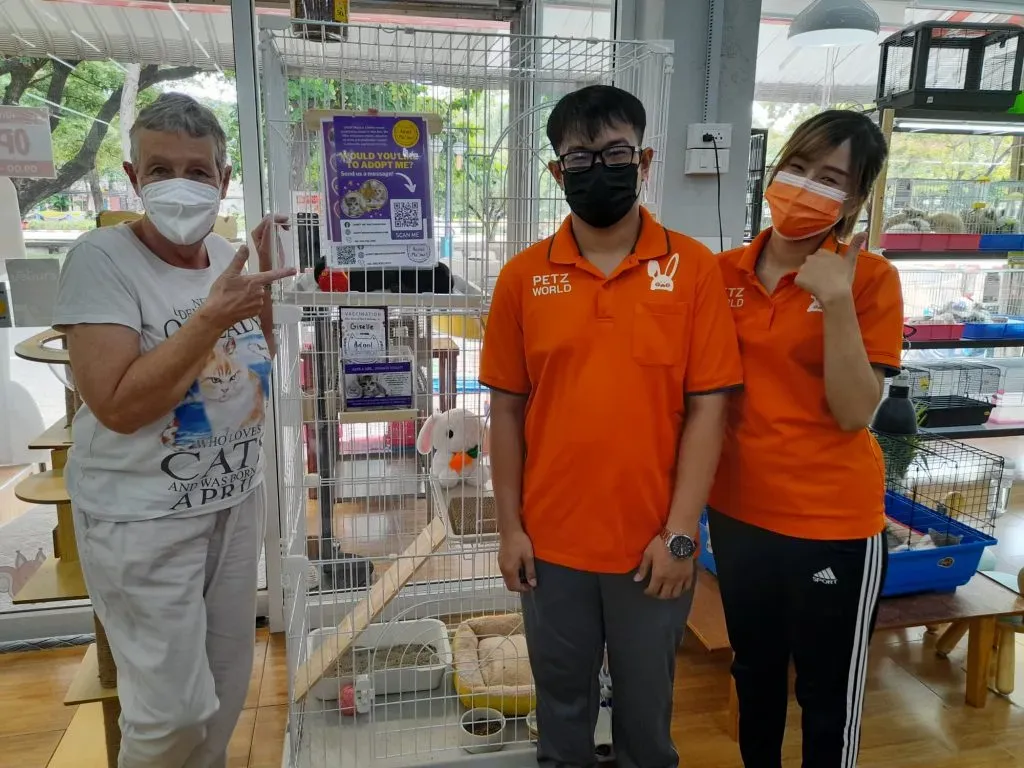 The Adoption Process with Petz World
How it will work is similar to that of our foster program. Petz World will essential "foster" and care for a few of our kittens that we bring to them and showcase them at their store. When a potential adopter comes in and wants to adopt they will be brought through the same screening procedures to ensure they comply with all of our adoption requirements. The bonus of this arrangement is that all pet supplies are there at Petz World available for the adopter to buy on site!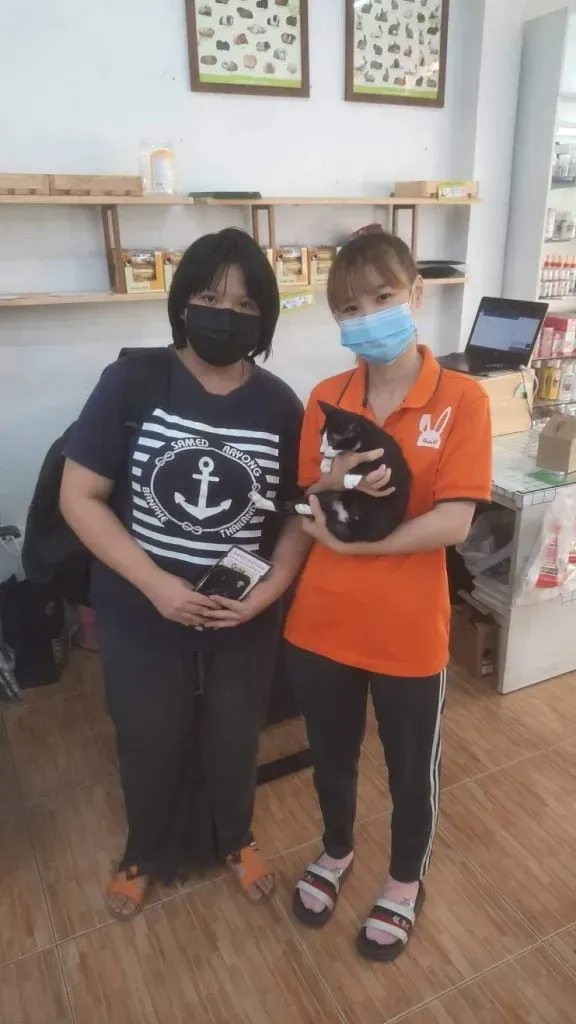 Thank you Petz World!
We are grateful to Petz World for giving us this opportunity! They are truly trying to support the cats of Chiang Mai! Already we have had 4 of our rescues adopted through their doors. We look forward to many more finding homes through them. If you are in the old city area, please drop by and say hello to the staff and our kittens!
---
🐈 Rescues of the Month
Elise's Story
Elise came to us from one of our Thai members, Rabbit. Rabbit had seen her trying to cross the road and brought her to use as she was very young (8-10 weeks old) and had injuries to her body. Once received, we brought her to the vet where found she had been likely attacked by a dog which caused a wound to the neck and that she also had a very severe ear infection. All of this would need treatment.
The coming weeks Elise seemed to slowly improve. Her blood results were better and overall she seemed to be bouncing back. However, we started noticing her head was tilting and one of her eyes began to fully dilate. All of this a reason for concern so we rushed her to the vet where she would stay under close watch until we had more answers. Unfortunately we got the call from Dr. Fon after a few days into her stay that she had started having major seizures. By the time Liz got to the vet, she was in a coma. We made the decision to put her to sleep as she was unable to breathe on her own and clearly suffering. Although we could not save Elise, we want to honor her in this newsletter. What we were able to do was offer her a better end to her short life. She was safe, dry, warm, and loved until the very end.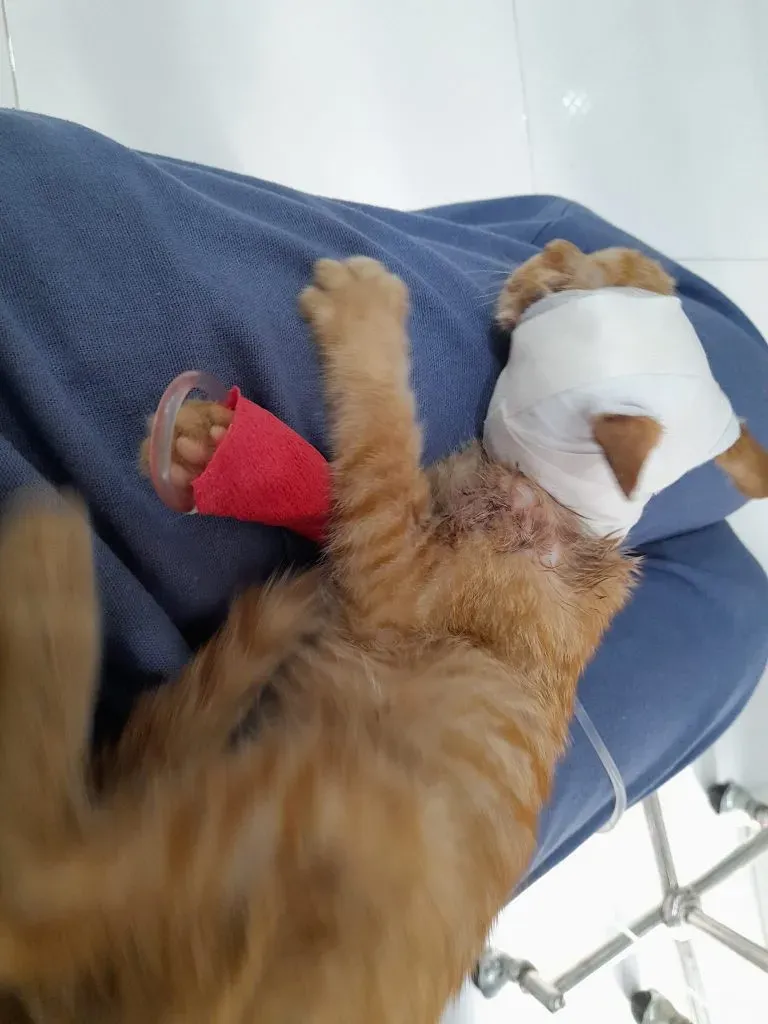 Heng Heng's Story
Heng Heng which is "Lucky" in Chinese (we believe) is a 4-5 month old calico girl kitten we recently rescued. Heng Heng is not like other kittens because she cannot use her front legs properly. She has a spinal deformity, probably from birth, so she currently cannot walk.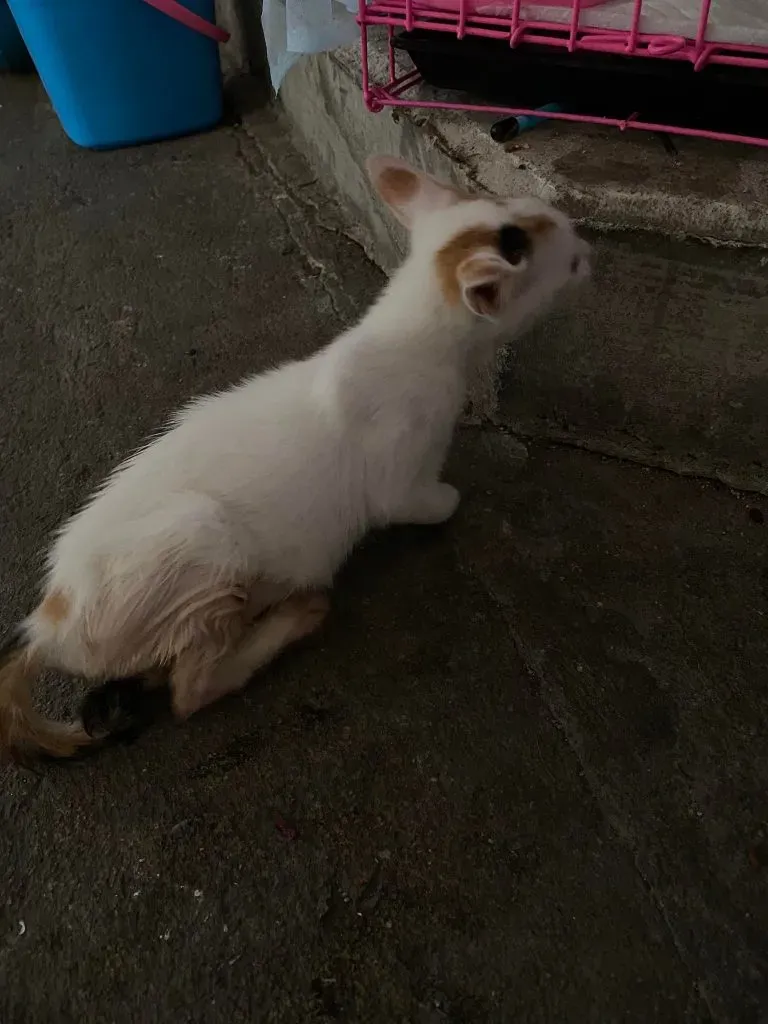 A lovely group of ladies at Hillside 2 Condominium in Nimman have been caring for her since she was found on a building site. We took her to Dr Fon and Dr Tao yesterday for an Xray. Whilst it is unlikely that she will ever walk normally I believe we can improve things for her. Starting on Wednesday we are going to try acupuncture and Liz will be doing physiotherapy to strengthen her muscles. They are in poor condition because she has spent most of her life in a cage.
Heng Heng has joined Em (who is coping brilliantly with her useless leg) and Darla who has already got Heng Heng moving around and playing. Thank you Charles and Meen for telling us about her. We are hopeful to improve this sweet girls life in any way we can.
🕊  A Tribute To Latte
It is with deep sadness we share with the world that our beloved resident rescue cat, Latte, has passed away peacefully. Latte was featured in our last month newsletter as a medical curiosity. She had developed a severely swollen nose which was at first diagnosed as a fungal infection inside her sinuses. It wasn't until it was rather too late that we found out the mass in her nose was cancer, lymphoma, to be exact.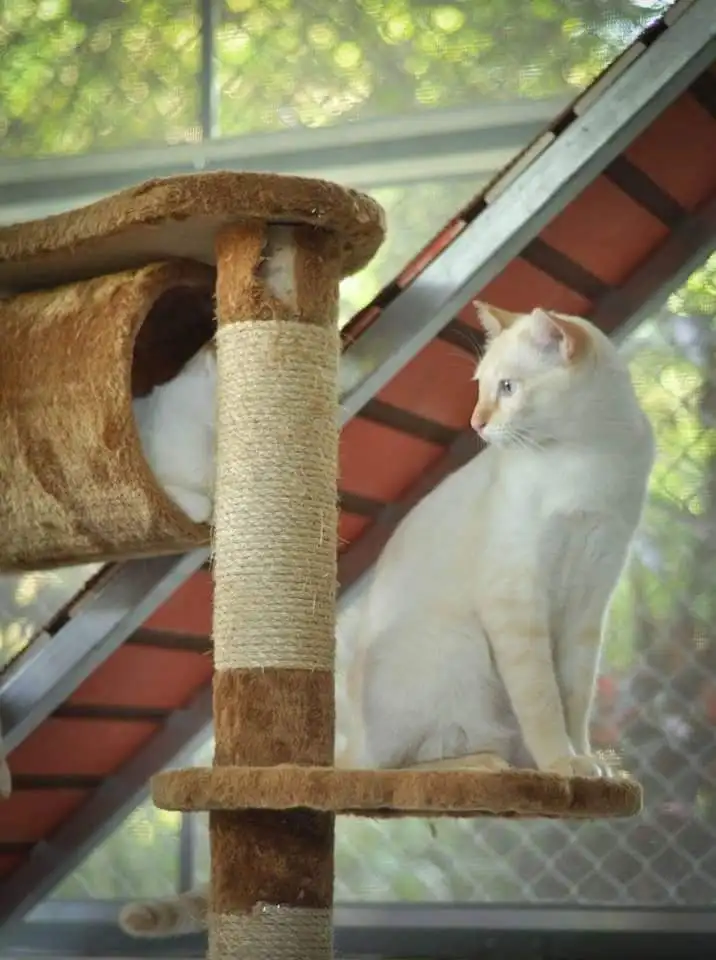 After much deliberation, we decided to move forward with chemotherapy. Latte was only a few days into the treatment when it became all too much for her and she passed away peacefully in Liz's arms. Latte was one of our most beloved long-term residents. Her memory will live on with us and her rescue story will always be a marker of our achievements. Rest easy beautiful girl.
👕 Merch clearance!
Adopt Meow is holding a clearance on our current stock of merchandise which includes T-shirts and gift cards! If you are looking to support us, please consider some of our super awesome gear! Send us a message and we can ship anywhere in Thailand!
T-shirts – 200 baht
Greeting Cards – 250 baht (6 pack)