#19 — It's Kitten Season!
Welcome to a two month combined edition of the Adopt Meow Newsletter. If you haven't already done so, please take a moment to subscribe so that you never miss any of the exciting action that goes on behind the scenes! Once you subscribe, you will automatically be emailed our newsletter each month!

As always, if you want to get involved, but not sure how, check out how you can Donate, Foster or Adopt and make a real difference!
This month at Adopt Meow 🐾
Adoptions: 30
Rescues: 55
Sterilizations: 70
Monthly Spotlight 🔦
New "Adult Cat Space" at Adopt Meow Rescue Center
Our team wanted to make a big impact with the incredible amount of money (over 35,000 baht!) that was raised in January at our first ever fundraiser dinner. So we decided to make an additional area at the Adopt Meow Rescue Center!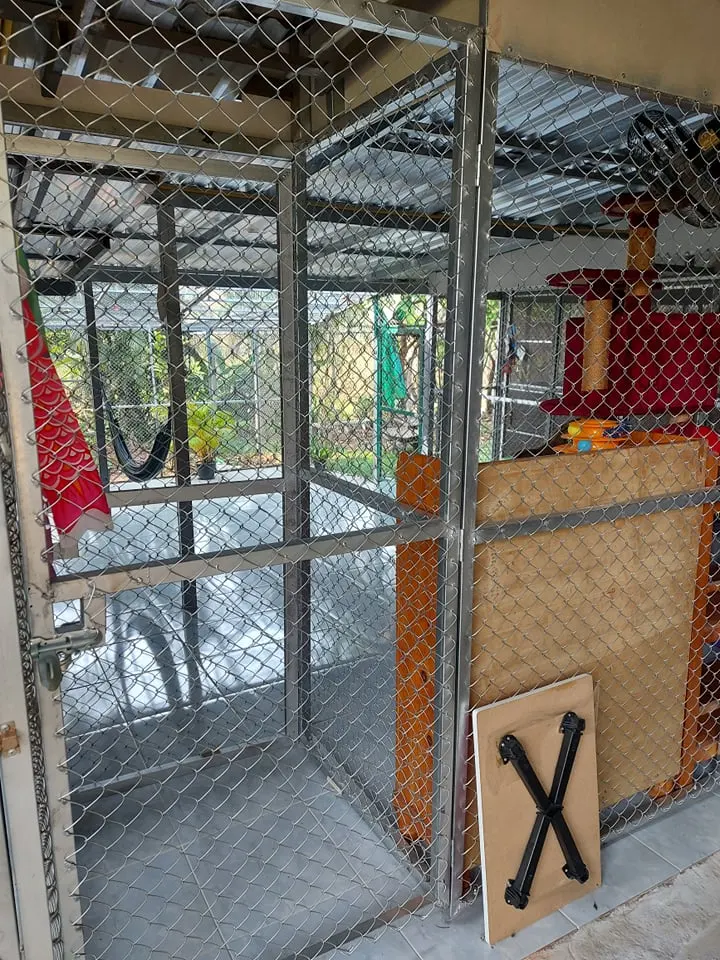 This section is specifically for our friendly and adoptable adult cats who are waiting to be adopted. Prior to having this area these cats were scattered in various parts of the rescue center and even in our Cat Hotel. We did not want to immerse them into "Cat Wonderland" where our non-socialized and non adoptable cats are as the living conditions there do not mirror a home life, but rather an outdoor community cat life. So, the answer was clear – we needed to expand!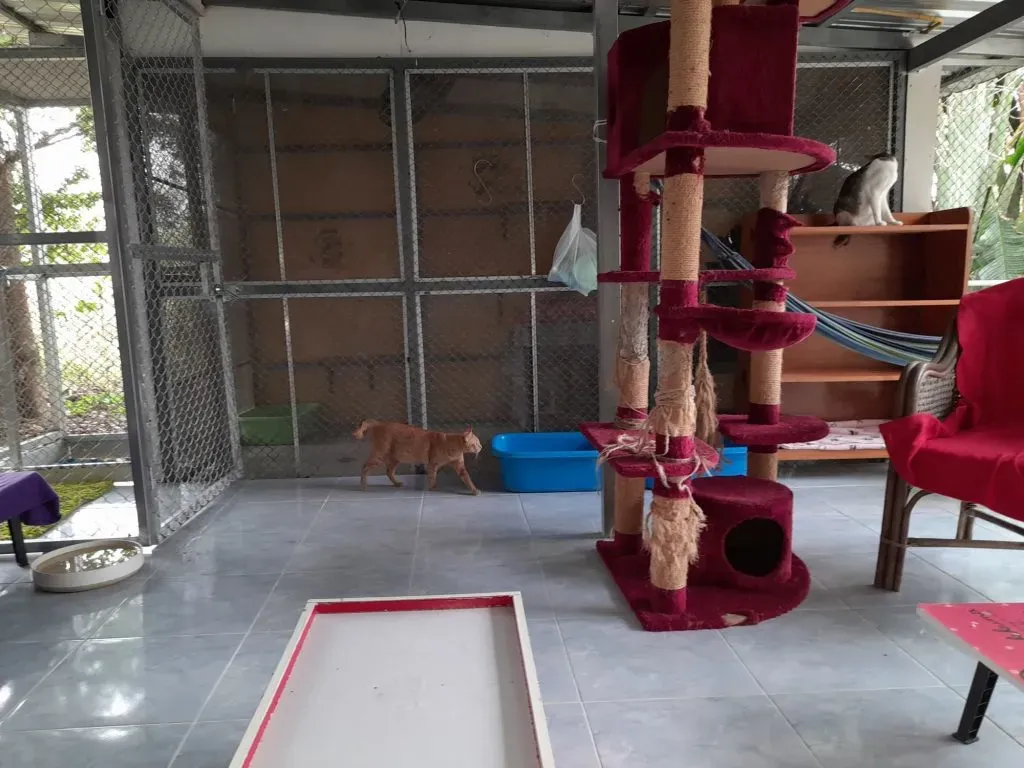 We currently have 14 adult cats living peacefully in this space together. If you are interested to come meet them, give them a treat, or even adopt – send us a message!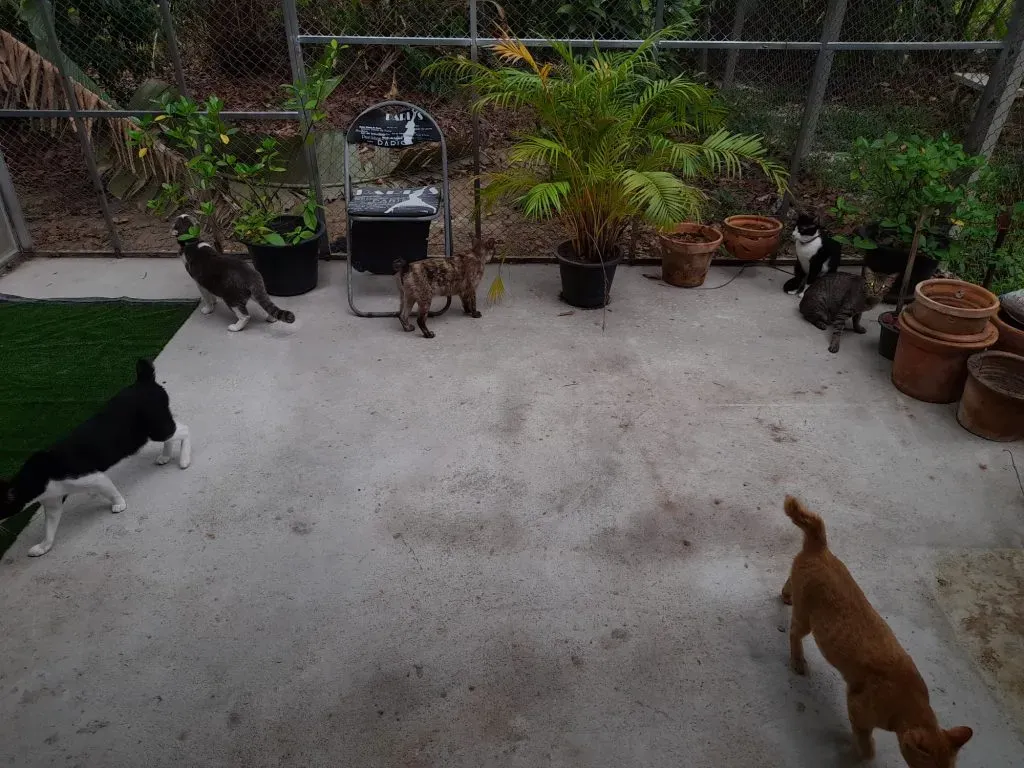 Rescue of the Month 🐈
3 Orphans Saved
They say when it rains, it pours! And it's certainly pouring kittens right now! Aside from 5 separate litters being born in the last month at the Adopt Meow Rescue Center totaling to over 25 kittens under 4 weeks of age, we have had an influx of neonate orphans. Neonates are the most difficult of all rescues due to their high level of around the clock needs. However, when we have lactating mothers in our maternity ward, it makes for a great time to accept these needy little felines that otherwise would likely not survive. Meet the 3 newest orphans!
Nemo
Nemo was resuced from Satit Rangsit International School. He was found by a couple teachers there in the ceiling of one of the structures. No one would have known he was left there by his mother had they not heard his high pitch wails across the campus. Coming to us at about 6 days old, we took Nemo into our rescue center and placed him with brand new mom, Tutu, and her 1 day old babies. He fit in perfectly – color and all!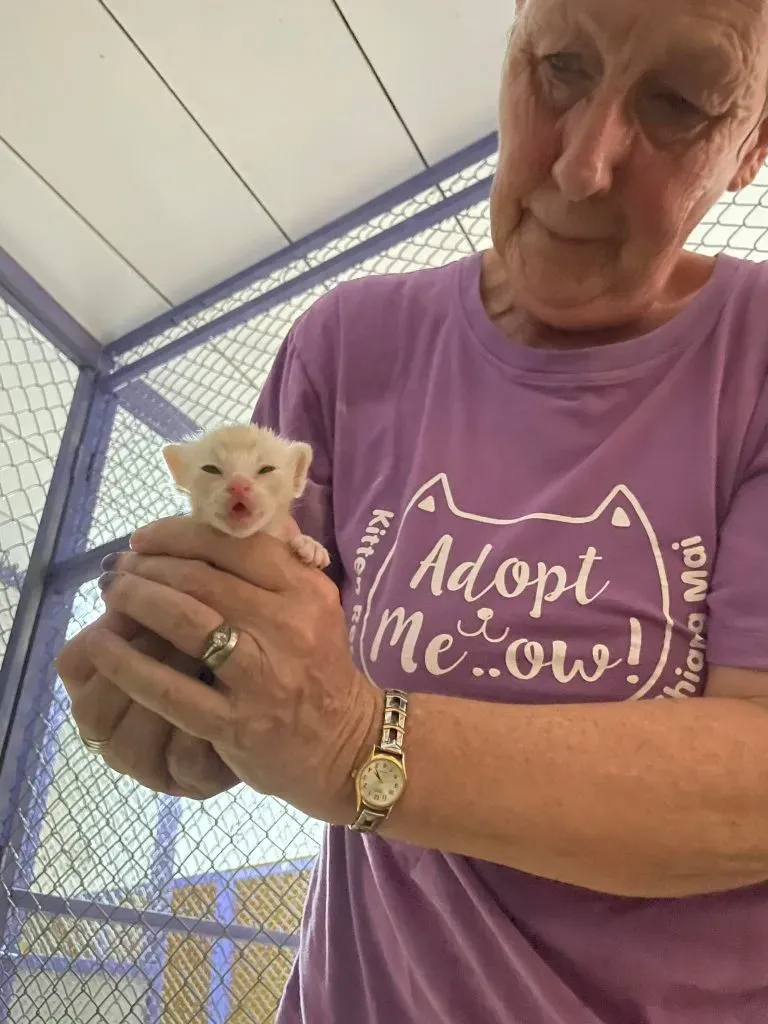 Darla
Little tuxedo girl Darla came to us from a woman named Patty who found her at Yellow Coworking Space in Nimman. She was with her mom at the time, however, the mom rejected her so Patty took Darla home and began bottle feeding several days before calling us for help.
Patty did a wonderful job helping Darla, however, we understand that the 2 hour feedings can just be too much for most people. We brought Darla to the rescue center thinking we could add her to Tutu's crew, however, after just a week of bottle feeding she began to ween early and joined Em. They are now the best of friends and together at the Adopt Meow Rescue Center.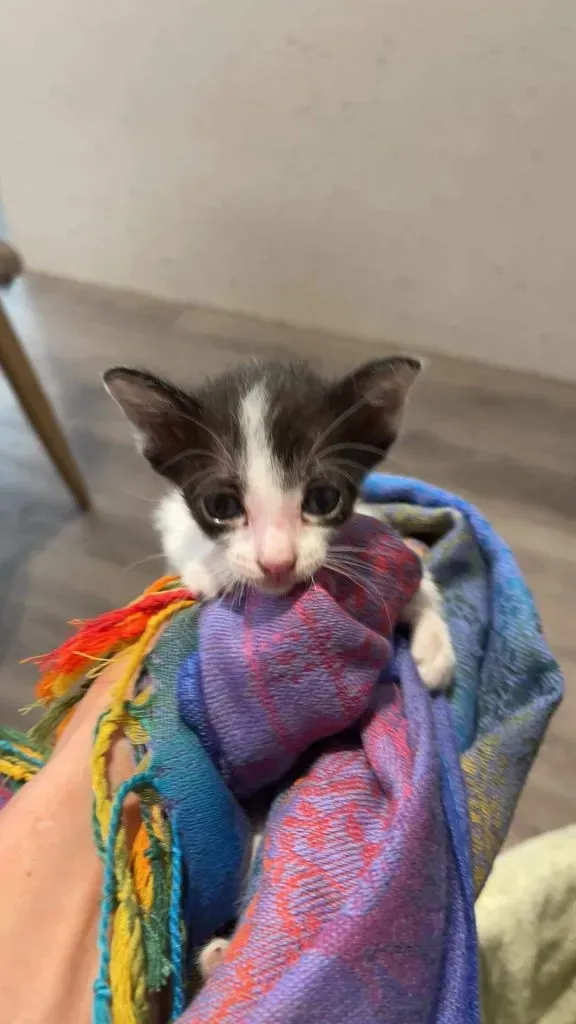 Naima's Cow Kitten
Naima and her "husband", or the father cat are coparenting together at the Rescue Center. After both being rescued from One Nimman the were brought to the Rescue Center so Naima could give birth and we could sterilize them both before returning them. On the day that Naima gave birth to 3 pure black babies, we got the call that a 5 day old orphan was found in a Thai woman's lawn with no mom in sight. We took the little kitten, who doesn't yet have a name, to introduce to Naima. Lucky for all, she accepted the kitten into her litter! See the sweet 4 babies who are now together. The orphan being of obvious different color. So sweet!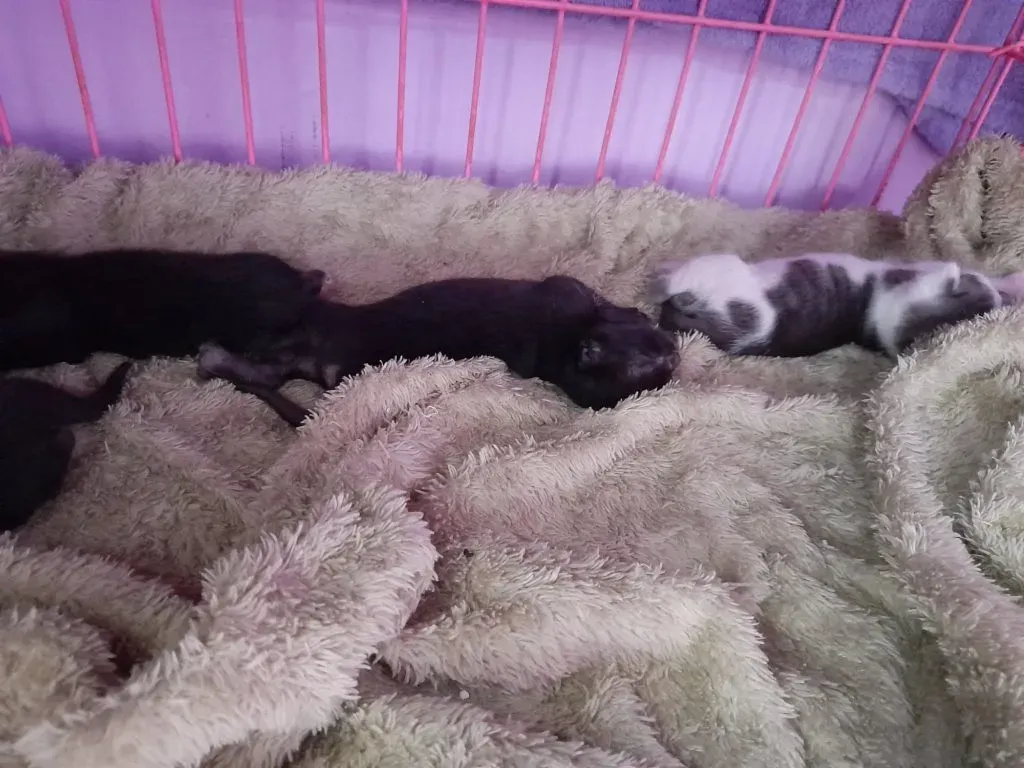 Em, The Soon-to-be Tripod!
This sweet little tabby female kitten, now named "Em", was found by Thai couple on the road outside Lanna Golf Course. She had clearly been hurt as she could not use her front leg. We got the call from this couple for direction and support so we decided to take over the case and brought Em to see our main bone and nerve doctor, Dr. Tao, and Chiang Mai Center Animal Hospital.
Dr. Tao concluded that the front leg was not broke and the injury was nerve damage – very sad news for Em indeed. If it had been a break, the road to rehabilitation would have been much simpler. With cases of severe nerve damage, amputation is the best choice.
She is unable to use her leg at this time in any way and it has become a hindrance to her movement which consists of daily playing, jumping, pouncing (all the typical kitten behaviors!) with her best friend and companion Darla.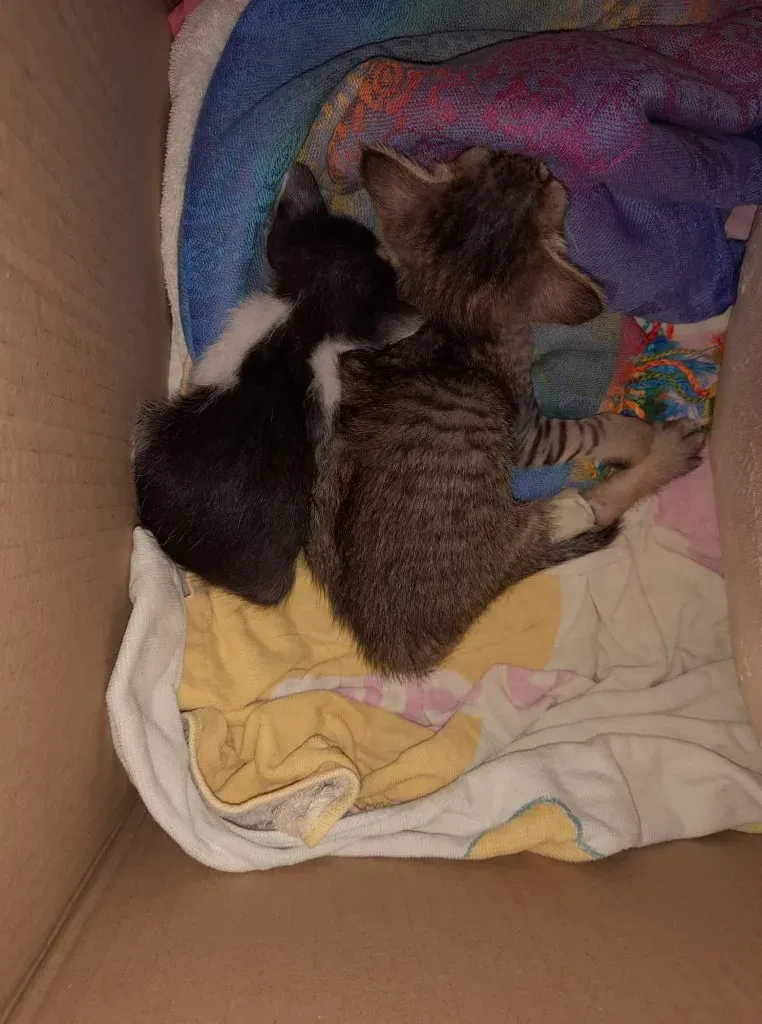 When Em is 4 months old, she will receive her amputation surgery and she will begin the process of rehabilitation as a 3 legged kitten! We have had tripods before so we are confident that Em will make a full recovery and live a happy, healthy, fully mobile life. She will remain at the Adopt Meow Rescue Center with hopes for an adoption in the coming future!
Volunteer Days are Back!
🥰COME CUDDLE A CAT! 🥰
We have lots of kittens and adult cats at the Rescue Centre who would love to have visitors. Apart from giving cuddles, we need volunteers to help with a few basic health checks such as cleaning eyes and ears, grooming and checking for fleas. We're also looking for a kind soul, with a car, to help us dropping off and collecting cats during the week! If you have an hour or two to spare and can make your way to Mae Rim, we would love to see you.