Flying internationally with an adopted Thai cat
Over the years, we've helped dozens of our adopters fly back to their home country with their new furry family members. Making the decision to adopt any animal is a lifetime commitment to care for them as part of your family. For many foreign visitors and expats in Chiang Mai, this often means flying home with your Thai cat at some point.
Flying internationally with your cat is quite an involved process that requires some careful planning. But the good news is that it's entirely possible to fly your pet cat to most countries if you plan ahead.
Requirements for exporting a cat from Thailand 🇹🇭
There are requirements in place in Thailand to obtain an export certificate for your cat. Additionally, depending on where you are traveling to, there may be additional requirements to import your cat when you arrive at your destination.
Microchip and Rabies vaccination
In order to obtain a permit to export a pet cat from Thailand, you must have the following:
A valid Microchip insertion, with a certificate
Up to date Rabies vaccinations with valid documentation
Importantly, the microchip certificate must have a date that precedes the last Rabies vaccination, even if only by a day or two.
All of these records must be stamped and signed by a licensed veterinarian, and the vets name needs to be written in English as well as Thai on your documents.
Health certificates
All countries require you to present a health certificate from a licensed veterinarian that was issued within a few days before you depart. This is to prove that your cat was healthy prior to departing.
When leaving Thailand via Bangkok, you can get an export permit and a health certificate at the same time from the Minsitry of Agriculture, provided you have all of the above documentation, plus a titer Test if required for your travel destination (see below).
Titer test certificates
For cats traveling to Europe and some other parts of the world, you must also travel with a Titer Test Certificate. This test certifies that the animal has sufficient Rabies antibodies, confirming that they are vaccinated for Rabies.
How to do a Titer Test 🧪
A Titer Test should be performed at least 30 days after the last Rabies vaccination was given. We recommend doing the test soon after this 30 day period, to ensure the test results show a sufficient level of Rabies antibodies (the result must be >=0.5 IU/ml).
To perform this test, a veterinarian will need to take a blood sample from your cat, process this sample, and then it needs to be sent to a verified lab for testing. It usually takes 2 weeks to get your certificate, and most countries require that you wait 90 days from the date the sample is taken before you travel.
Country import requirements
| | | | | | | |
| --- | --- | --- | --- | --- | --- | --- |
| | Thailand approved export country | Microchip | Rabies Vaccine | Titer test | Health certificate | Quarantine |
| USA 🇺🇸 | ✅ | ✅ | ✅ | ❌ | ✅ | ❌ |
| Canada 🇨🇦 | ✅ | ✅ | ✅ | ❌ | ✅ | ❌ |
| South Africa 🇿🇦 | ✅ | ✅ | ✅ | ❌ | ✅ | ❌ |
| UK 🇬🇧 | ✅ | ✅ | ✅ | ✅ | ✅ | ❌ |
| EU 🇪🇺 | ✅ | ✅ | ✅ | ✅ | ✅ | ❌ |
| Australia 🇦🇺 | ❌ | ✅ | ✅ | ✅ | ✅ | ✅ |
| New Zealand 🇳🇿 | ❌ | ✅ | ✅ | ✅ | ✅ | ✅ |
It's important to do your research before you travel, to make sure you fully understand the unique requirements of the country you are traveling to. Some countries such as Australia and New Zealand deem Thailand as a non-approved country — which means your cat would need to live in an approved country for 6 months prior to travel, and be subject to quarantine on arrival.
Other countries, such as the UK are also more strict and require using an agent and a special container, so many people opt to fly into France and then travel onward to the UK.
Timeline
All things considered, it can take several months of preparation to get into a position where you can fly out of Thailand with your cat.

Here's a breakdown of the timeline: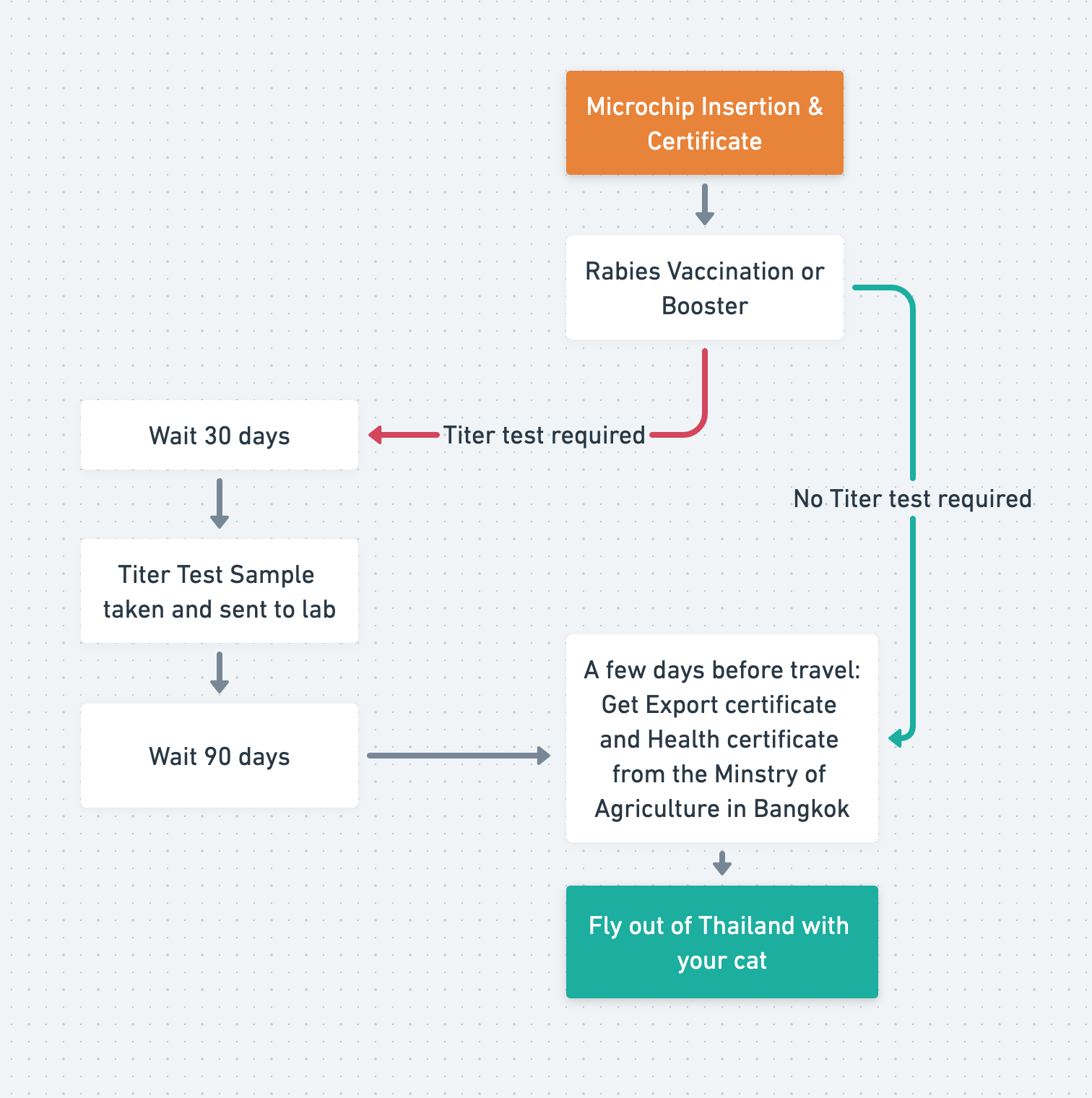 It's a good idea to use an experienced agent in Thailand to help with this process. We recommend Christine's Pet Travel who can help you with Titer tests, airline information, and navigating getting the right paperwork from the Ministry of Agriculture, for an affordable price. Christine can also help with sending your cat alone as manifest cargo with assistance from a partner cargo agent.
There are also several pet relocation services that are able to handle everything for you, including "shipping" your pet to your destination. These services tend to be much more expensive compared to doing this process yourself, and flying with your pet accompanied on your flight.
Booking your flight
Many major airlines accept animals on flights for a fee. Depending on the airline you choose, you may be asked to check your cat in as cargo. Other airlines may allow you have your cat in the cabin, under the seat in front of you.

We have found the following airlines to be the best in terms of ease and cost of booking:
Depending on the airline you choose, the process and cost for booking your cat onto the flight may vary. Some airlines allow you to book this on their website if you book direct, while others require you to contact them after making your booking to make sure your cat is able to travel. Use the links above to find out how it works with your preferred airline.
Getting from Chiang Mai to Bangkok
Another consideration is that you'll need to fly out of Bangkok with your cat, so you'll need to think about getting to Bangkok from Chiang Mai or elsewhere in Thailand for your flight. Flying domestic is an option, but many of the adopters we've helped opt to book a pet friendly taxi instead, since this is often a lot less stressful for both you and your cat!
There are plenty of pet friendly hotels in Bangkok where you can stay in the days before your flight. You'll need to spend a few days there in order to get all of your paperwork.
Buying a suitable crate
Depending on whether your cat is traveling in the cabin with you, or in cargo, you'll need to buy an appropriate travel carrier for your journey.
In-cabin
A good option for in-cabin travel is a soft carrier, which you can easily find on Lazada or in local pet stores in Chiang Mai. These are breathable, easy to carry, and easy to fit under the seat on your flight. The ones with expandable sides are particularly nice to help give your cat extra space while in transit.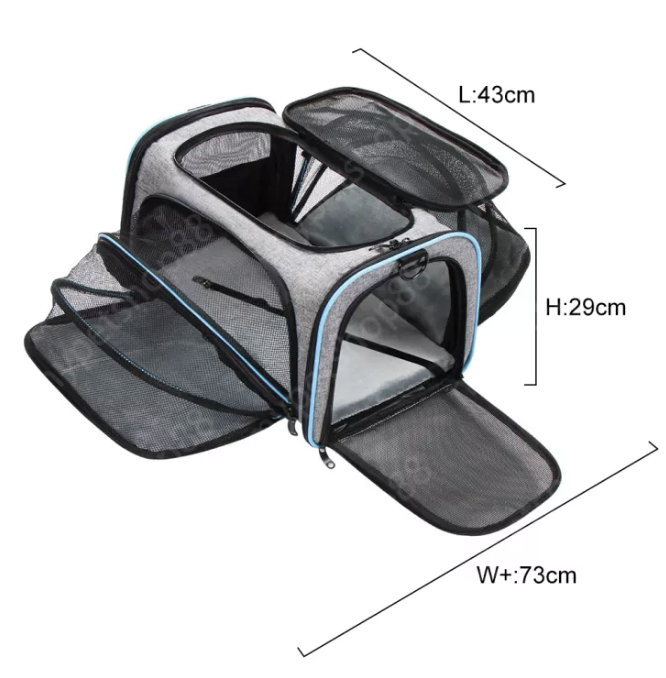 Cargo
If your cat is traveling cargo, you'll need to get a larger hard shell carrier, that is rated for aircraft travel. These carriers have extra secure bolts to ensure the top and bottom of the crate can't become loose.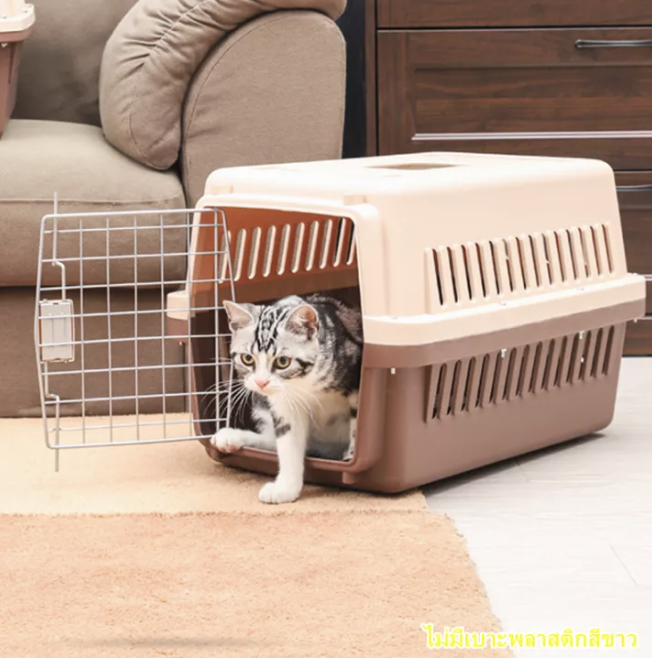 Many airlines give specific sizing guidelines dependent on the size of your cat, to ensure they have enough space and headroom, so make sure you research what your airline requirements are. You can buy airline approved crates on Lazada, or at some pet stores around the city.
Other essentials
You will also need a small bowl for food and water. If you're traveling in-cabin, a small travel kit for giving your cat food and water on the plane will do the trick. If your cat is flying cargo, you'll need to get a bowl and water bottle that can be attached to the door of their crate (and secured with zip ties to make sure they don't fall off).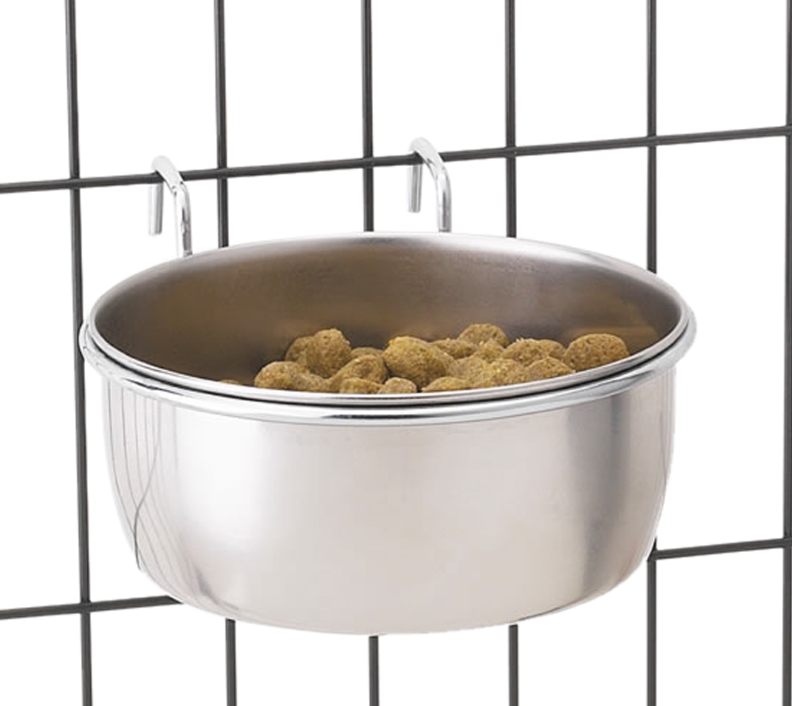 It's also a great idea to purchase some pee pads to line your cats carrier, either the disposable or washable pee pads work fine.
💡
Put an old sweater or something that smells like you inside your cats carrier when they travel. It will help them to feel more at ease!
Preparing for the flight
The best thing you can do before you travel to start getting your cat comfortable is to introduce them to their new carrier and make them feel comfortable in it.
Leave it out in the house, and put something soft in there that smells of you to encourage them to sit or sleep in there. Once they're used to the carrier being in the house, try feeding them near the carrier, and then inside the carrier. Treats work great too.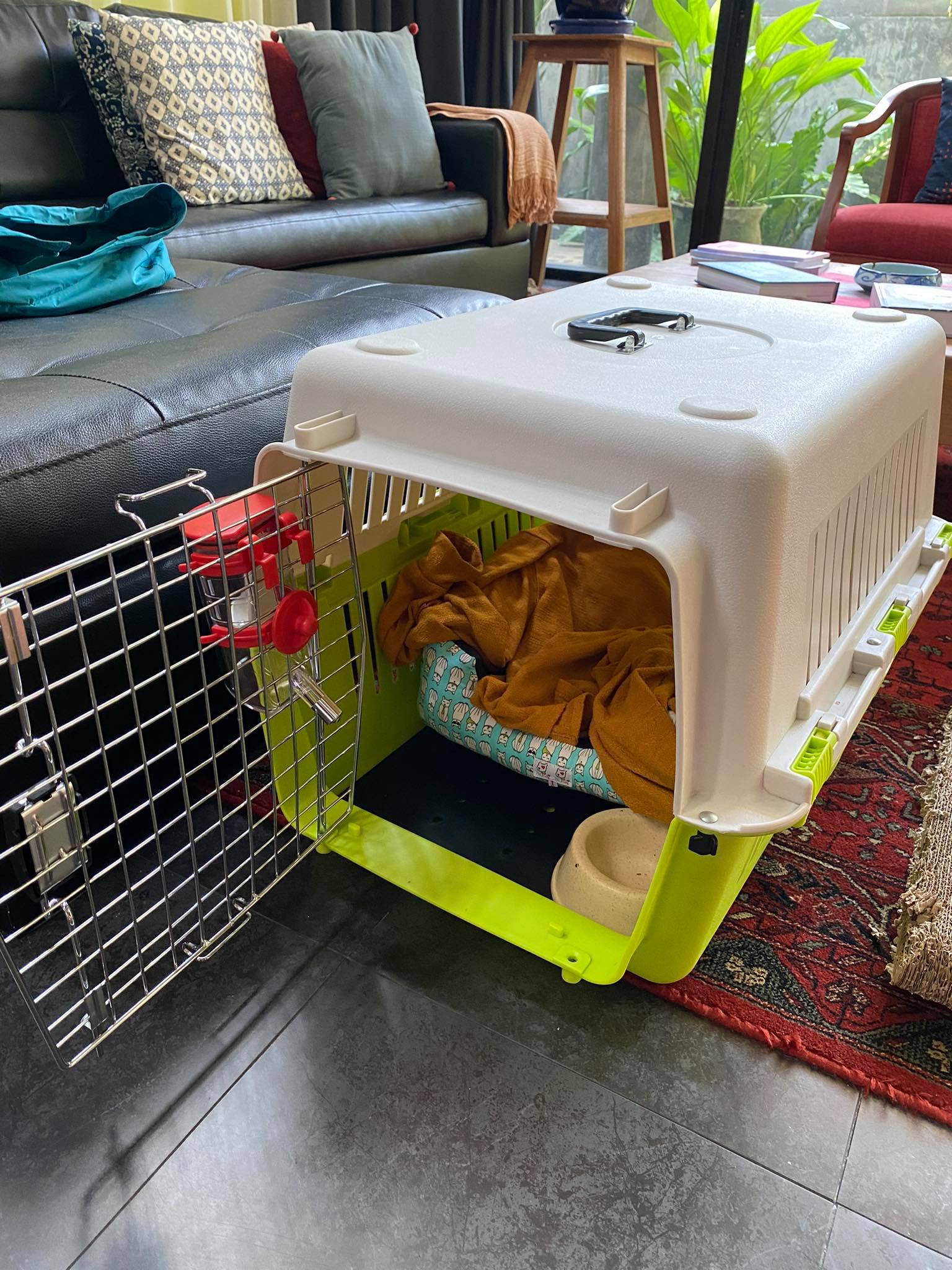 Dealing with the worry
All of the logistics so far are just the preparation. But by now, you're probably beginning to worry about how your furry companion is going to feel when you take them to the airport. It's normal to feel anxious at this point.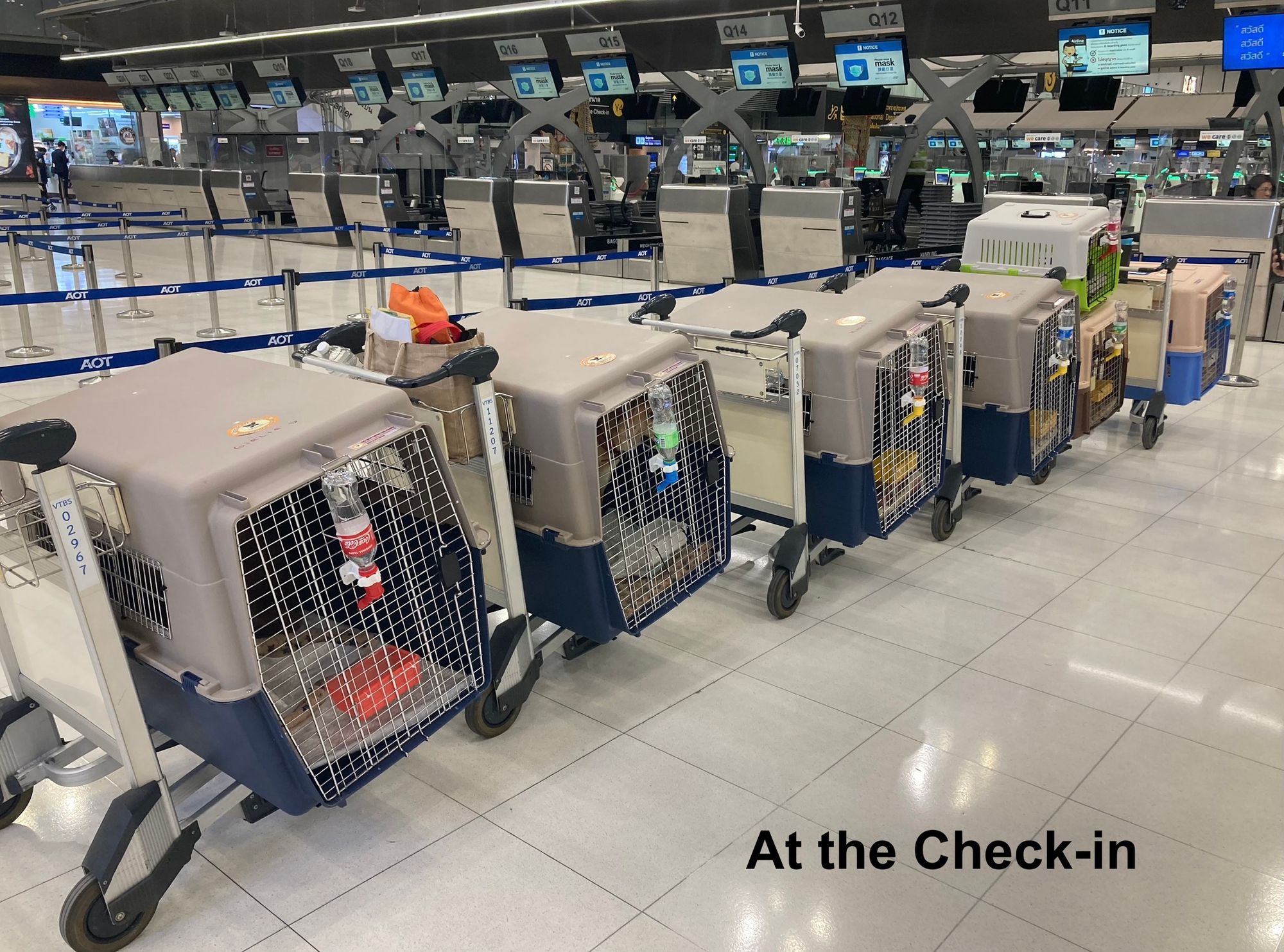 Try to remember that many cats do similar journeys from Thailand to other parts of the world each year, and they're fine. Yes, your cat is likely going to feel stressed and might be a little upset when you arrive at your destination, but they forgive and forget very quickly. Cats are resilient, and your cat will be happy to be settling into their new life with you in no time.
Good luck with your travel plans!
💕
Thank you for visiting our website
We hope you have found our articles useful. All of our education and advice is available for free, wherever you are in the world.
As a charity we rely on donations to allow us to continue helping cats in our local community, and to keep updating this site with useful information.
Any
donation
to support our work at Adopt Meow is greatly appreciated.