#7 — Introducing Cat Wonderland
Welcome back and to the February edition of the Adopt Meow Newsletter.
We have many success stories this month but chose the top 3 to share with you in this newsletter. There's so much that happens behind the scenes that doesn't get shared on Facebook, so even if you follow us there, make sure you check out these heartwarming stories too!

If you'd like to give us a helping hand to support more cats, check out how you can Donate, Foster or Adopt and make a real difference!
Thanks for supporting us and helping us rescue, foster, and find homes for the sweet little kittens and cats of Chiang Mai. We really appreciate it 💓
This month at Adopt Meow 🐾
Adoptions: 22
Rescues: 33
Sterilizations: 9
🔦 Monthly Spotlight
Cat Wonderland: An Expansion of Adopt Meow Rescue Center
A few months ago, Guen and Liz visited Cat Kingdom at Elephant Nature Park in Mae Taeng. This 2 rai site was purchased and developed to provide a home for around 300 cats that were rescued for the floods in Bangkok a few year ago. We were very impressed with what we saw and began planning a smaller version for our Rescue Centre in Mae Rim.

The overall objective is to provide a more natural, secure environment for our long-term adult rescues, particularly the semi-feral ones. They will have free access to the present undercover area if they wish.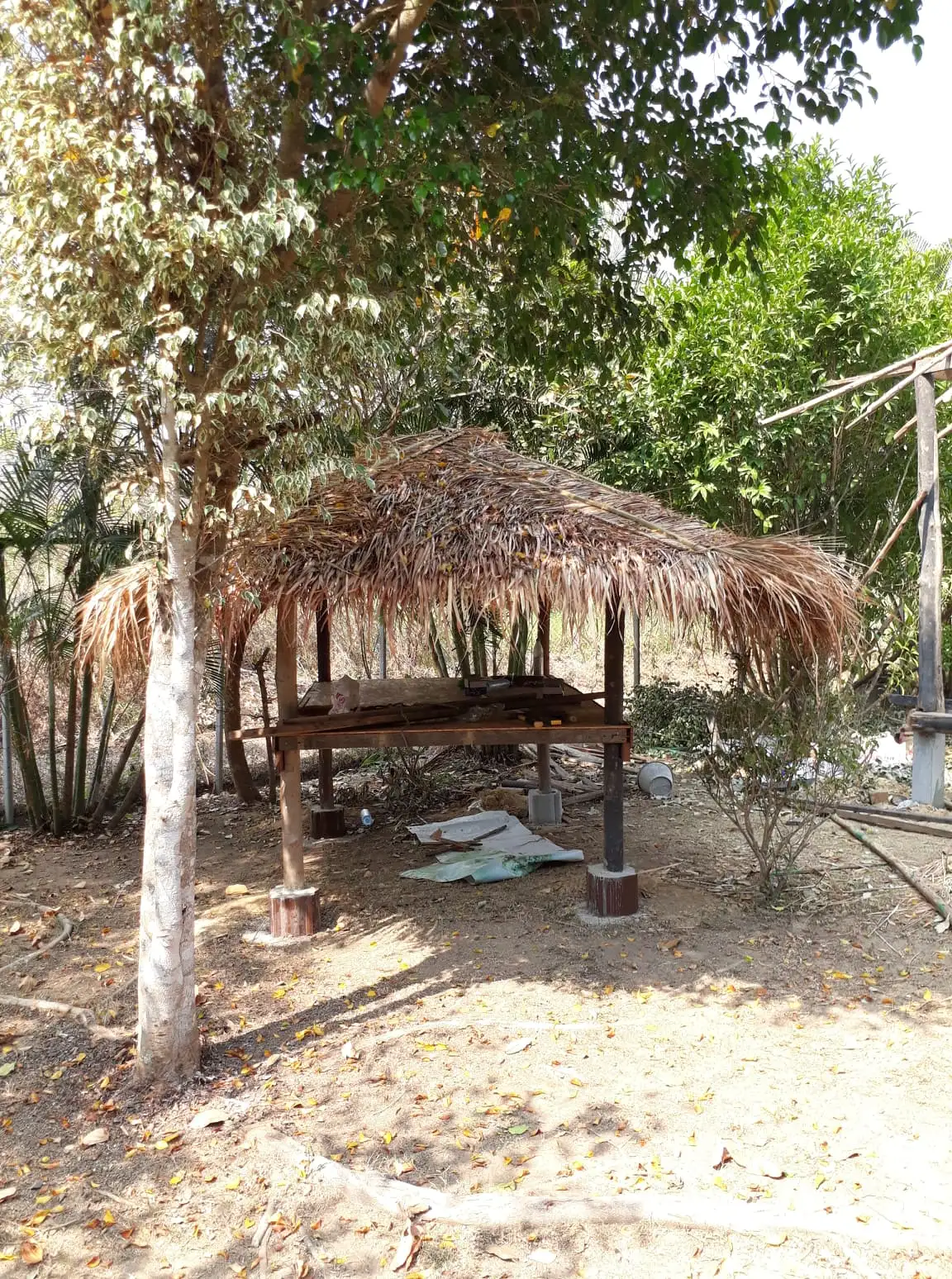 Objectives and benefits:
➡️  A long term solution for the emotionally and physically harmed adult cats that we agree to help

➡️  Providing an opportunity for the less social cats to interact with humans. Possibly leading to sponsorship or adoption

➡️  Allowing us to redecorate and improve the cat hotel (which will then be used solely for short-term 'guests'. The cat hotel is an important source of income for the Centre but is need of refurbishment

➡️  Reduction in costs and the use of cat litter by providing toilet areas with sand and charcoal, grass and planted areas. This method has been very successful at ENP. Currently our cat litter expenditure is in excess of 4000 baht per month. We hope to at least half that (cat litter will still be needed for our pregnant and nursing mums, quarantine cats and the hotel residents)

➡️  Potentially a saving in staff costs as this should be lower maintenance than the existing undercover tiled areas
The work begins
After a great deal of planning, work has already started. The first challenge was to find (an unobtrusive) way of keeping the cats safely in the designated area. Craig and Noi Pelling, Guen Uhr, Pedgen Escobar and Liz together with Mr Kong (foreman for the job) had a couple of site design meetings. Whilst the solution had to use steel and chain link for strength it blends in well. Once that was solved (we hope), we moved on to the more fun part – designing the actual cat habitat.
Cat Wonderland will have two grass roofed outdoor shelters for the cats plus a larger Sala where humans can sit and relax in the company of cats (if they choose to join us!). Linked to these structures and the existing trees will be a cat high road in the form of sky bridges. At this time, one of the cat shelters is nearly completed and the Sala is under construction.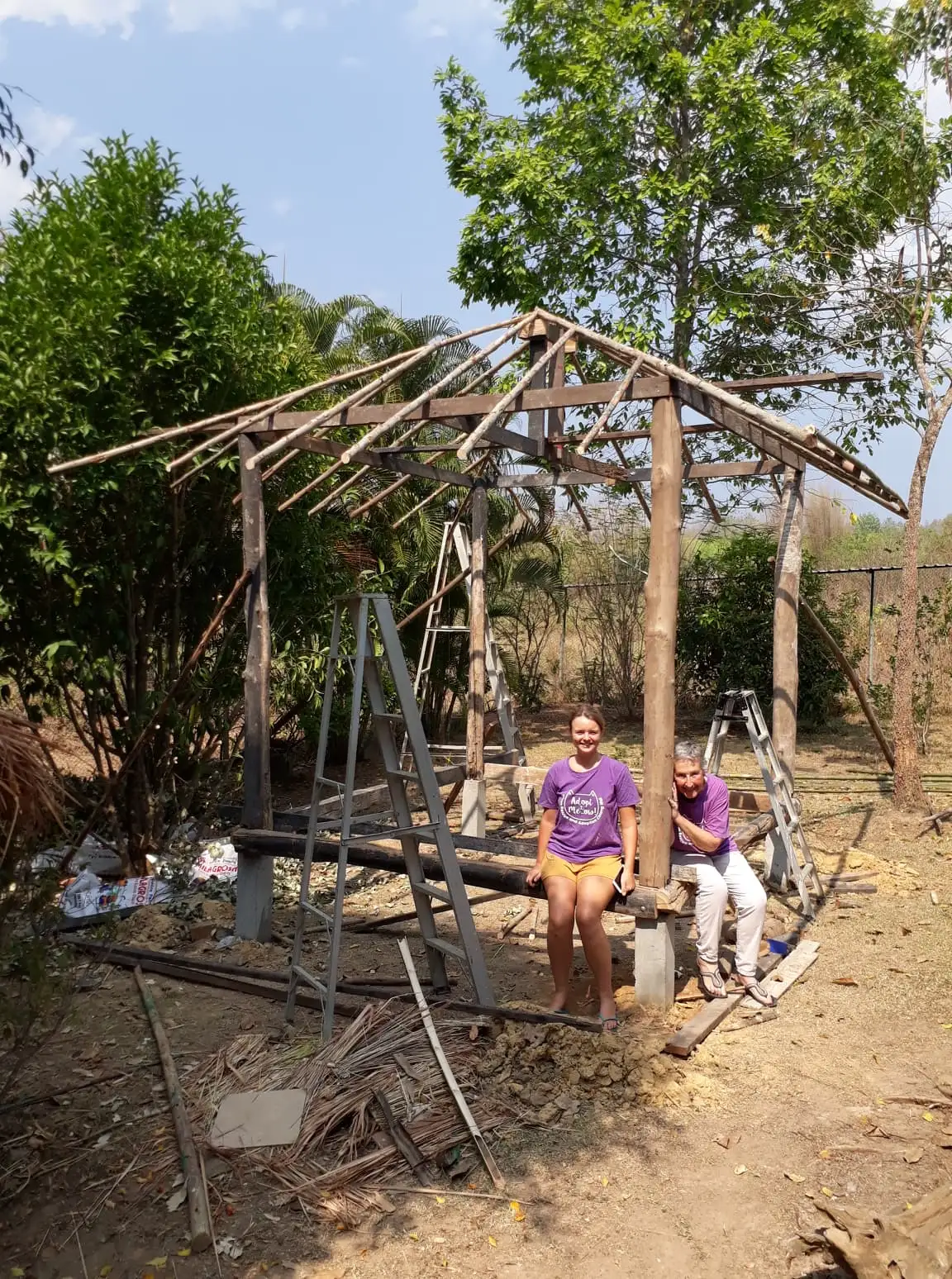 Funding
There is still a lot of work to be done and we need financial help to complete the project to get Cat Wonderland operational. The cost of the perimeter was 44,000 baht (material and labor) and we still have a lot of work to do. Once launched, we hope that maintenance and improvements will be funded in part by visitor donations. Tiger Kingdom have said they would be happy to promote Cat Wonderland as a visitor attraction.
❤️
We are exceedingly grateful to those people who helped to get this started (Guen, Cara, Craig and Noi and the students from NIS International School and Prem School). If you'd like to contribute too, we'd appreciate your input towards this ambitious project.
🐈 Rescue of the Month
Bobby Arrives from Bangkok
As an organization, we don't often rescue adult cats. However, once and while a situation comes along and we know in our hearts it's time to take action – it's time to help. This was the case with Bobby, our first rescue who came all the way to us by plane from big city, Bangkok.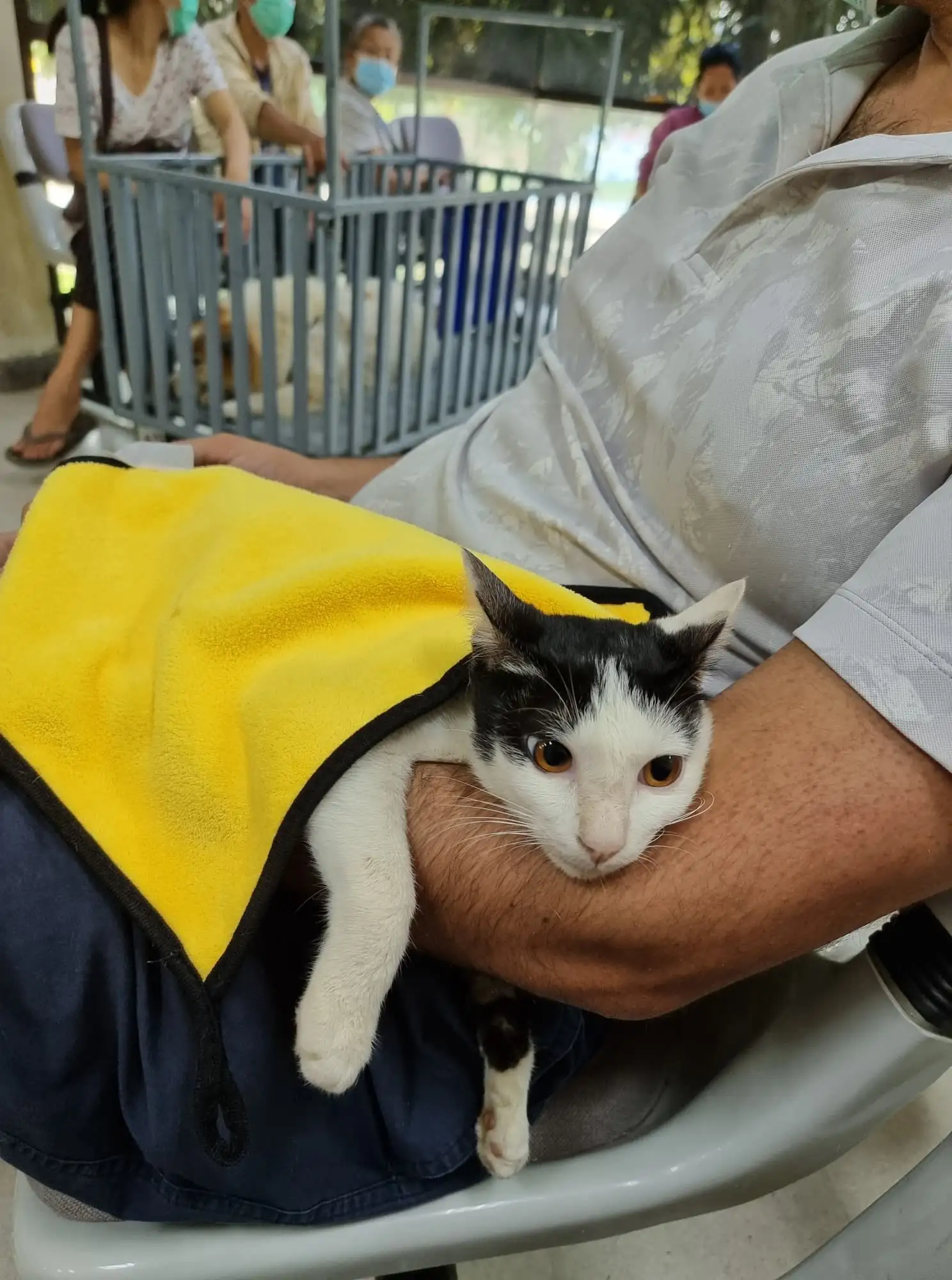 Amorn, a gentleman living in Bangkok, reached out to us a few weeks ago sharing that he needed help with a cow cat he had rescued. Here is Amorn's recollection of the events that occured leading to Bobby's rescue:
"Bobby passed our house a few times during the past few months and so we decided to give him food and water just to help out. A few days later he disappeared and we thought he must have gone somewhere else. Unexpectedly, he returned to the house with attack injuries to the scrotum, spine and a broken tail. He seems to be recovering at first, but his tummy got big and an infection on the scrotum started getting worse so we took him to the vet to find out that by doing so, we had saved his life. The vet informed us that if he was let untreated, his bladder could burst at anytime since he has spinal injury from the attack and couldn't urinate himself."
Times are tough for street cats. So when we heard this news it wasn't a shock. Amorn proceeded to share with us the many days and countless vet bills he footed for Bobby. Unfortunately, Amorn couldn't keep Bobby. Which is why he asked us to help. Amorn was willing to cover the costs of Bobby's care and fly him all the way to Chiang Mai when Bobby was well enough. Because of the great lengths Amorn went through to save Bobby's life, we couldn't say no to helping him see it through.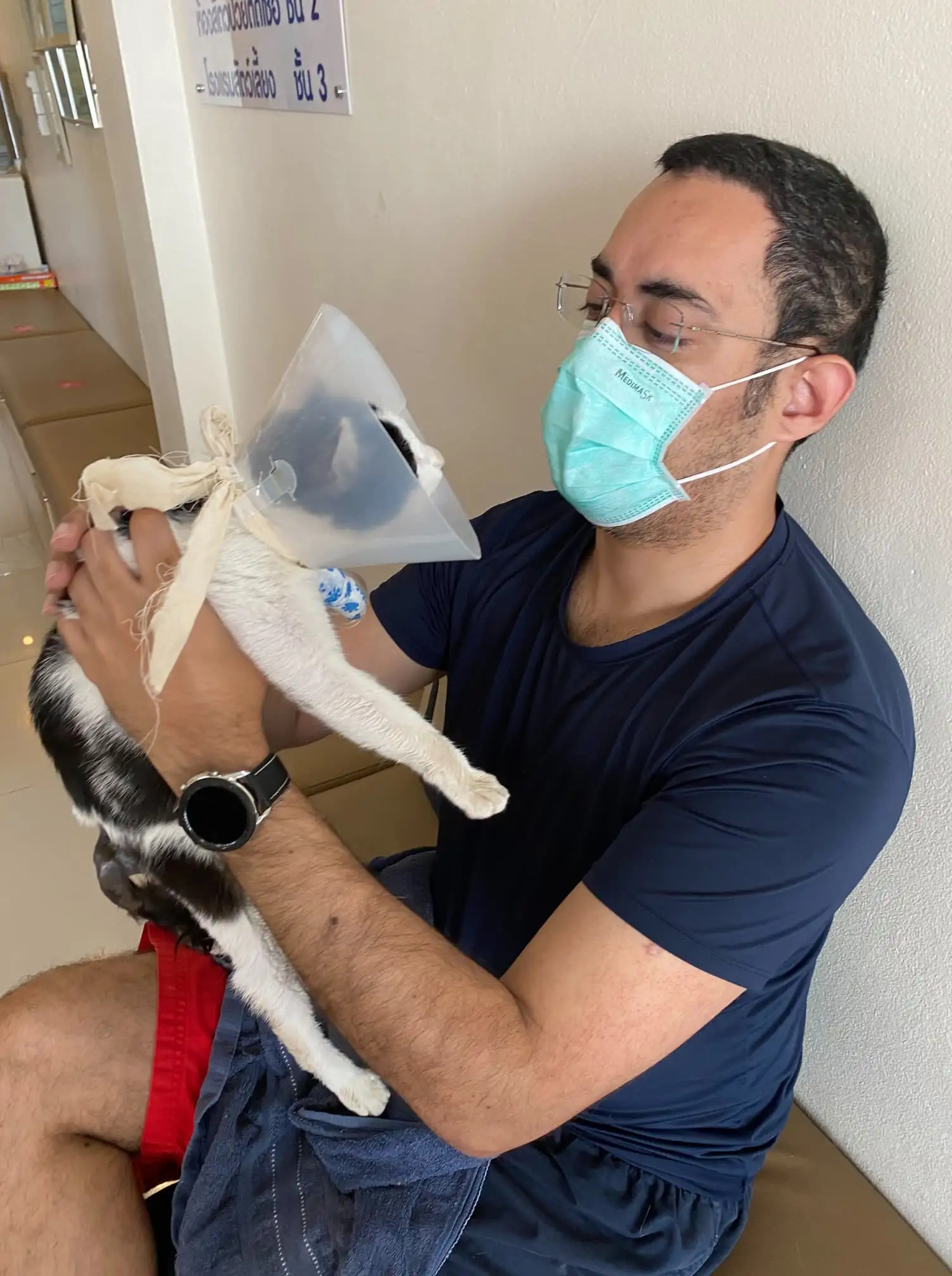 Bobby arrived to us on the last weekend of February. He flew in by Nok Air and was collected at the airport by Joey. Immediately brought to Chiang Mai Mae Rim Animal Hopsital for x-rays which confirmed irreparable damage to spine where the tail bone starts. His tail was largely neurotic. Dr Tao amputated a few days later and castrated at the same time. Bobby is still at CMMR recovering. We are unsure about the extent of the nerve damage and how that will affect him. We are hoping for a full recovery and that Bobby, our tail-less Bangkok rescue, will be available for adoption soon!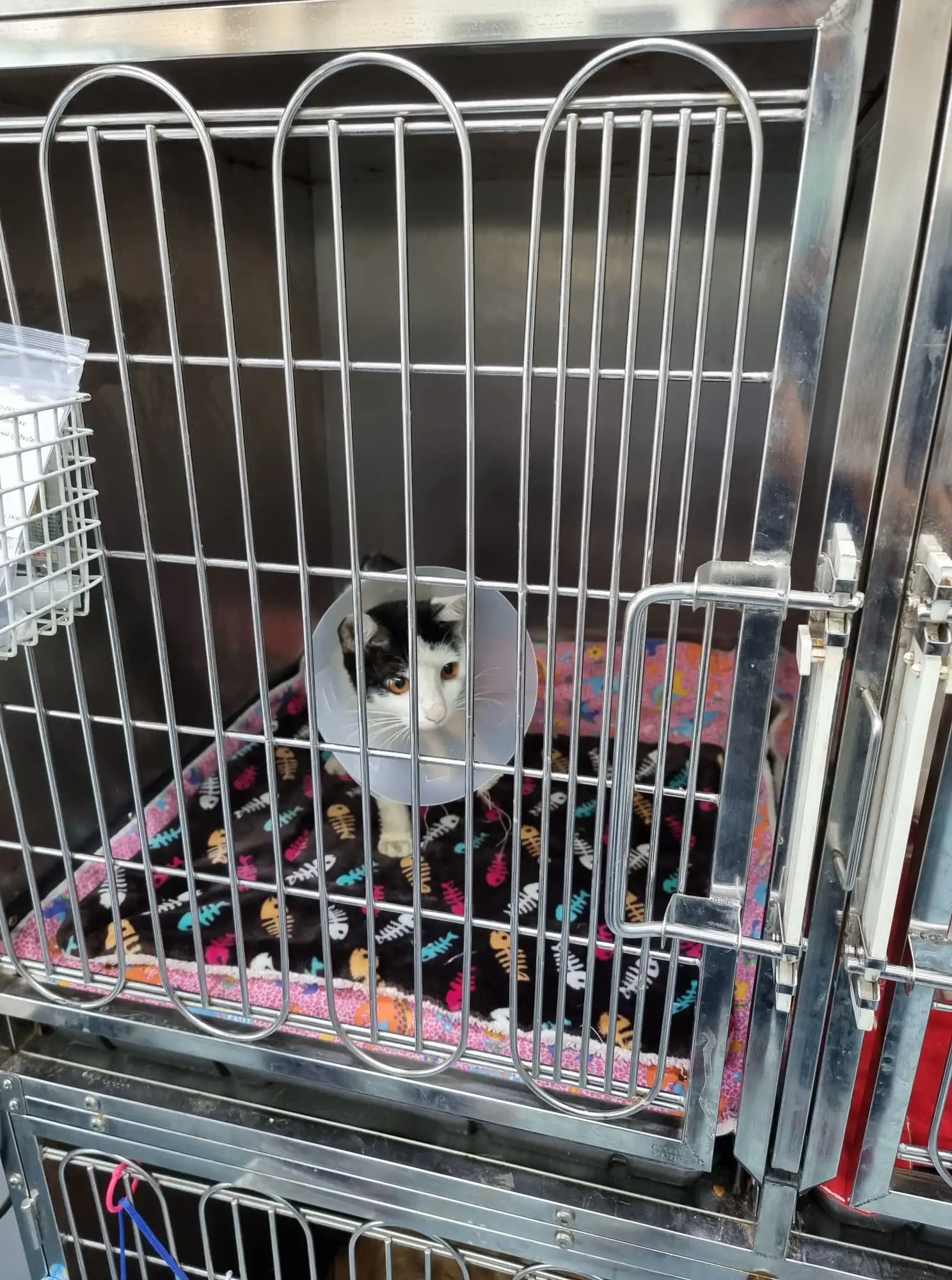 🏠 Adoption of the Month
Coke Heads to the Mountains
Typically our adult cats are adopted within a year. However, every once and while, we have a resident who just seems to stick around. Some for obvious reasons and some, like in Coke's situation, we just can't understand.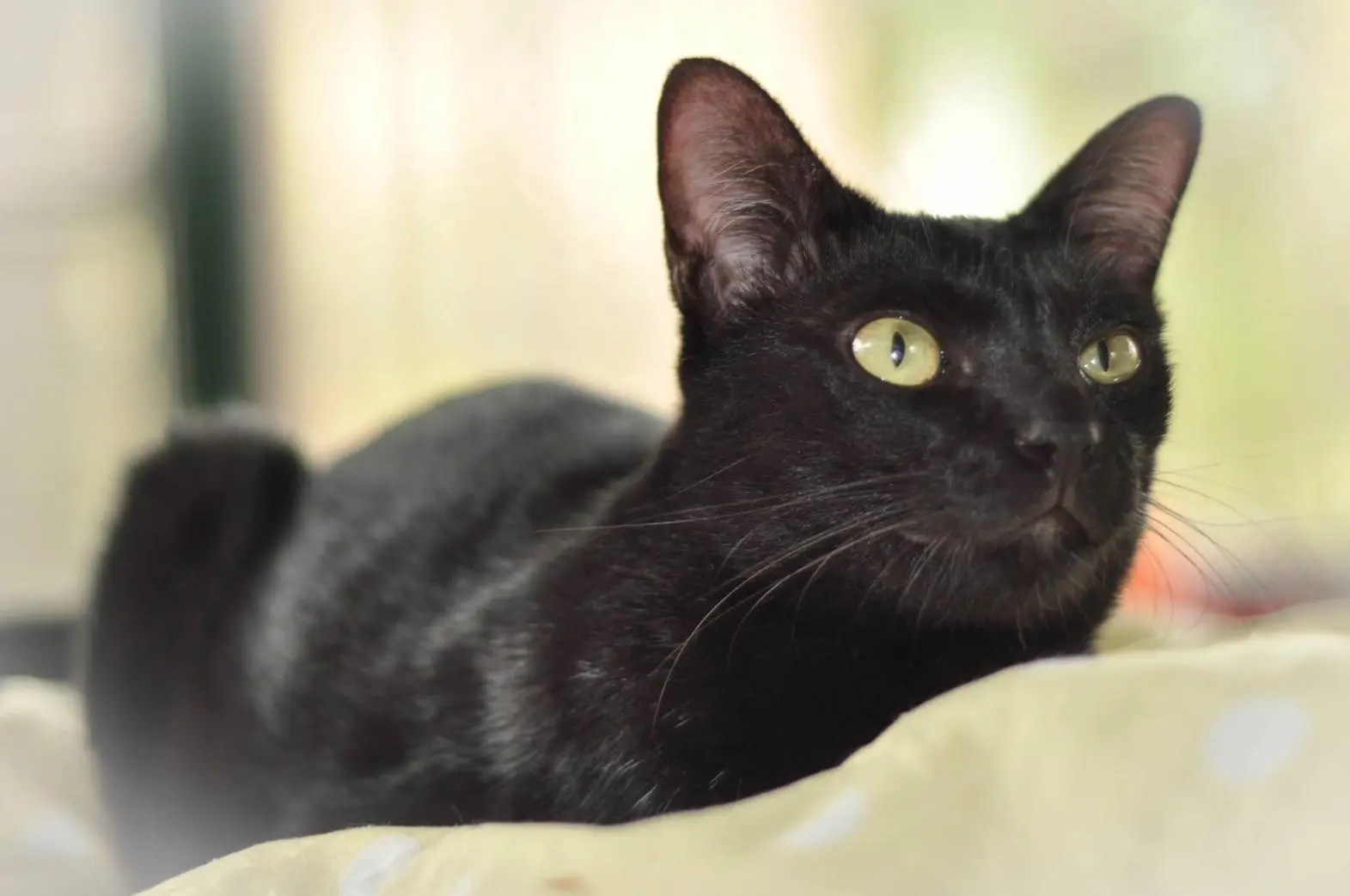 Coke was born January 2018 at a temple in Mae Jo. Rescued by us as a kitten because his siblings had been killed by the temple dogs. He was suffering from Feline Corona Virus when we got him but has made a total recovery with no further illnesses. Unfortunately, like many other black cats, Coke was never adopted. He became one of our longest cat residents at Adopt Meow rescue center, living their for 2 years and 4 months. This was increasingly frustrating for all those who knew him, as he was a gentle and loving cat that would make a lovely companion to just about anyone!
In early February 2021, that long stay came to an end when Coke was finally chosen. Peter Mossman and his family traveled south to Mae Rim from Pa Pae. They came to visit and adopt a new feline to live in their peaceful nature home in the mountains. Coke was quite nervous when first put into the carrier that day he was adopted. But it didn't take long before he settled for a hour long drive back home.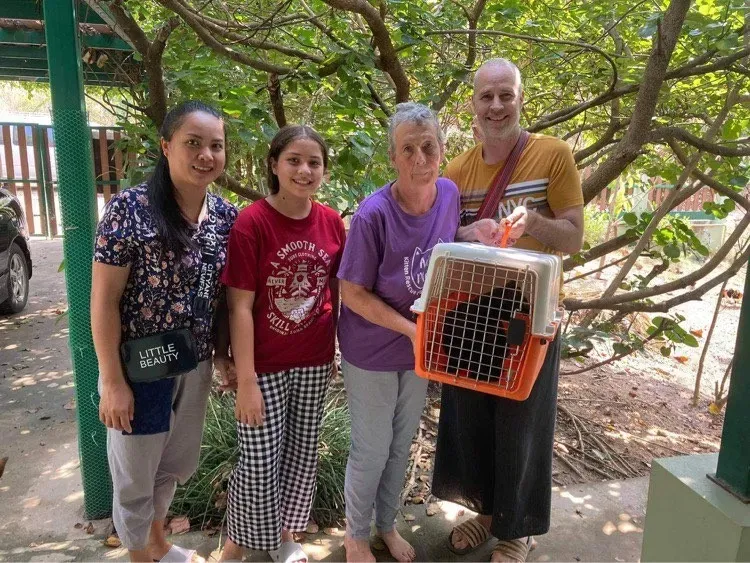 Today, Coke lives with Peter, his wife and their daughter. He is an indoor/outdoor cat and absolutely loves to lay and sunbathe on their tin roof. During the day Coke hunts rodents and lizards around their home and plays in the jungle forest with his new sister cat, Oishi. He comes inside every once in awhile to present his trophy treats and give his family a snuggle.
We are so pleased that Coke, after such a long wait, has finally been adopted and found true love. Thank you Peter and family for choosing Coke!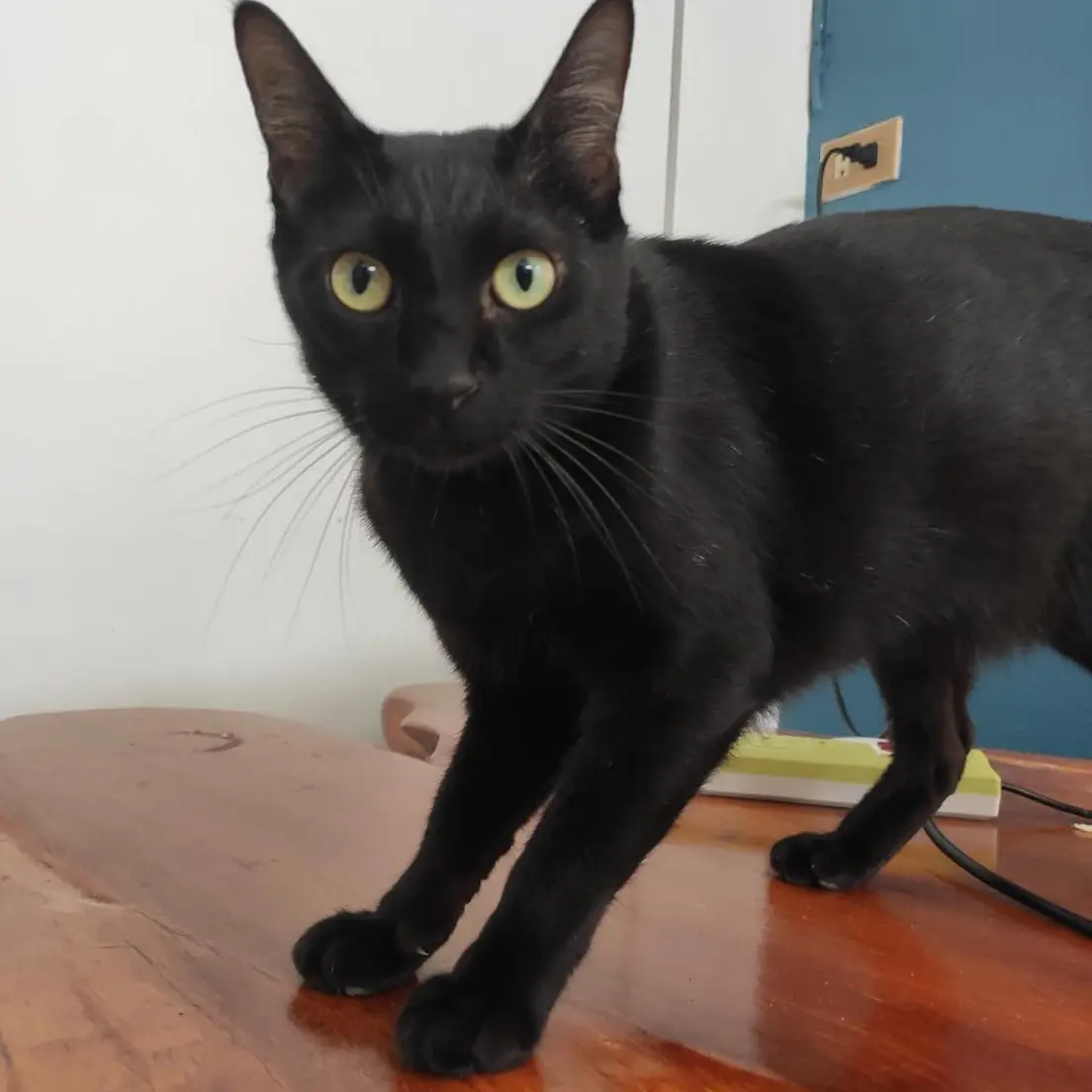 To view more adult cats waiting for their forever family, please view our album of available cats: Available Adult Cats