#5 — You raised 27,000 Baht 🎉
Welcome to the December edition of the Adopt Meow Newsletter. As the new year approaches, all of us at Adopt Meow want to wish our supporters and followers a happy and healthy holiday season!

Tis' the season for giving so if you'd like to give us a helping hand to support more cats, check out how you can Donate, Foster or Adopt and make a real difference!
This month at Adopt Meow 🐾
Adoptions: 27
Rescues: 32
Sterilizations: 8
🔦 Monthly Spotlight
Community Fundraising Success!
A huge shout out to the 3 below groups for their outstanding fundraising efforts raised and donated to Adopt Meow Rescue Center this month!
1. NIS Animal Ambassador's Club
NIS Student Ambassadors raised an incredible 17,570 baht (about $600 USD!).
The NIS Animal Ambassadors (NISAA) is an after-school club at Nakornpayap International School. The club members are in grades 2-5 and are led by teachers Christine Thorp and Jordan Weight . Club members raised money through club membership fees, a "Gum Day" fundraiser, and a used book sale over the course of an entire semester. These students are dedicated animal lovers and worked so hard all semester to raise awareness and funds for Adopt Meow.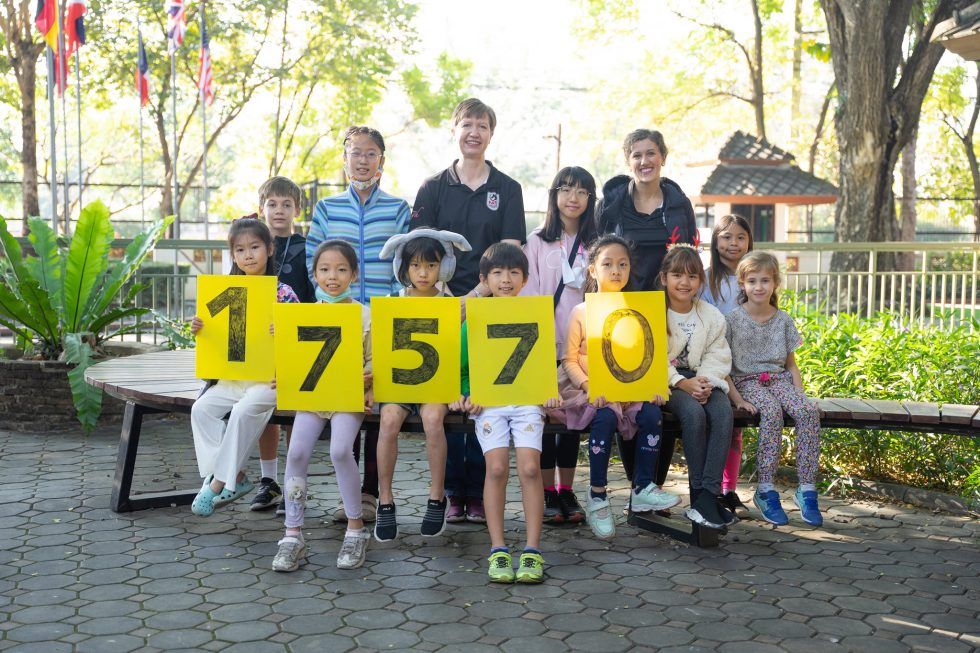 2. Prem Exploria Students
The Caring for Cats Exploria from Prem International School has raised an incredible 5,000 baht and donated it to Adopt Meow.
Caring for Cats Exploria students visit our Center regularly to spend time with the cats and kittens and help them socialize and get used to human interaction.  The students also brainstormed ways to help by making comfortable rooms for the cats and making toys to help them exercise and stay healthy.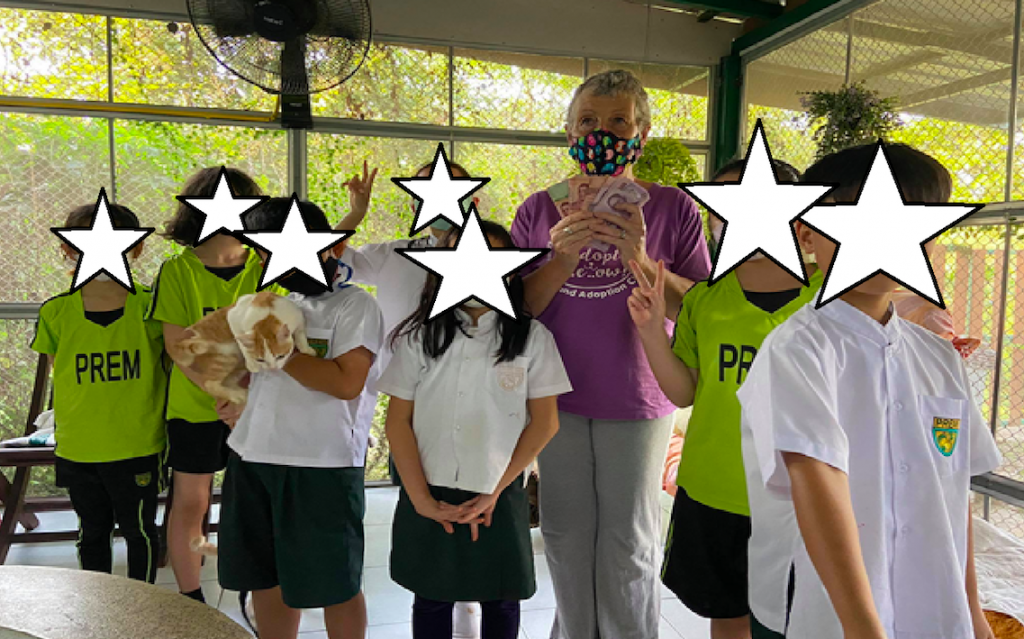 3. Coffee, Cats & Company Cafe
Coffee, Cats & Company Café are another big supporter of ours. Toey and her team held an auction to raise money for Adopt Meow on the 1st anniversary of their opening on the 7th Dec. They raised an amazing 5,040 baht!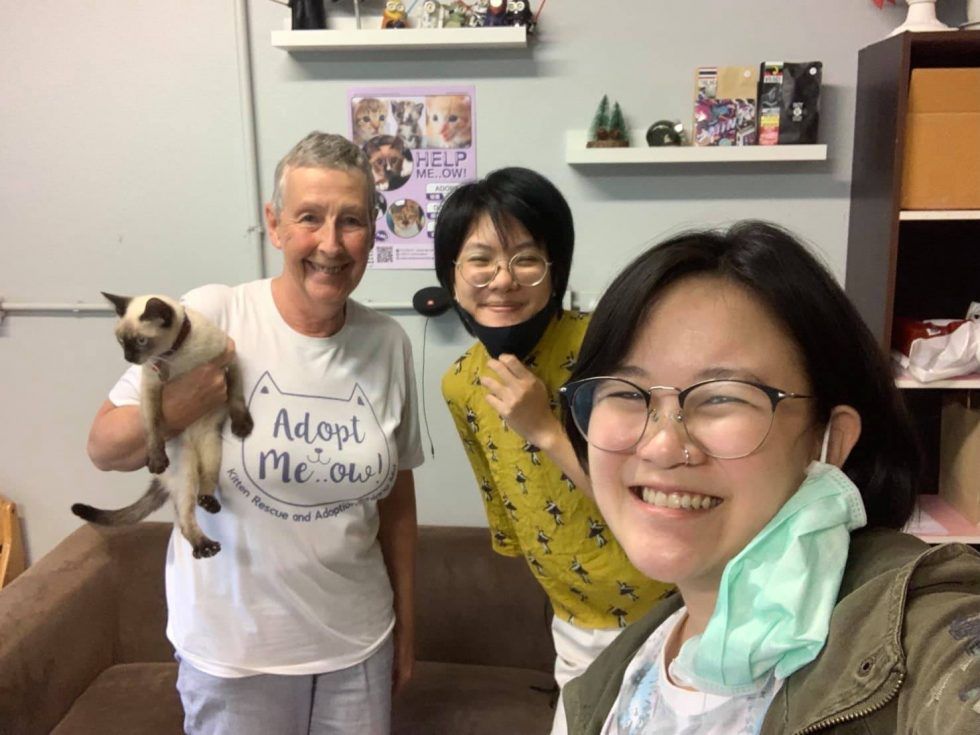 Adopt Meow is always seeking to form more partnerships with schools, local businesses and organizations, so we can continue to help the homeless and most vulnerable cats and kittens in Chiang Mai. If you would like to help raise awareness, funds, or get more involved, please reach out!
We also have promotional material if you would like to display a poster in your café, school or business to raise awareness of what we do.
🏡 Adoption of the Month
Sooty becomes a Cowboy! 🤠
Sooty, a long, lean, and hyper friendly black cat was one of four kittens born to a stray mother living at a restaurant in Chiang Mai. Brought to the Rescue Center about 2 years ago when he was just a kitten, Sooty unfortunately was never adopted. The only reason any of us could see why is likely his coat color. As you know, black cats have a terribly difficult time finding a home.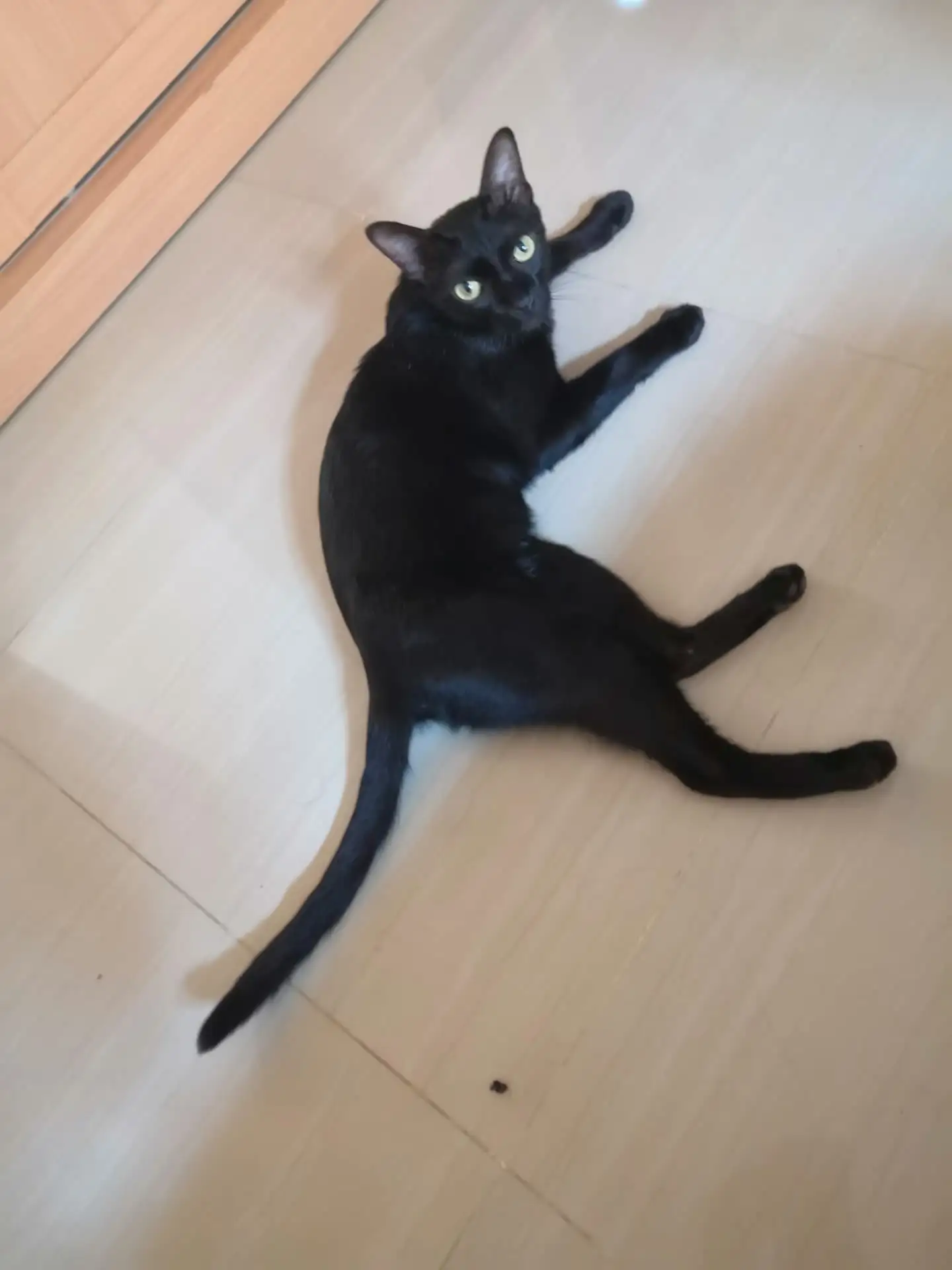 Foster failure, but not in the good way…
Poor Sooty has had two foster homes. The first was a small condo where he suffered from a bit of claustrophobia. Considering he had always been a partial outdoor cat this just wasn't the right fit for Sooty. Whenever his foster parents shut the curtains he sat and cried for hours on end. The foster family adored him but just couldn't cope with his crying. He then went very briefly with Coke (another one of our black rescue cats) to a Thai lady but her Dad developed allergies so he came back to the center again. He was really miserable when he first came back and is desperate for his own family.
Sooty, a home at last?
After nearly 4 months back at the Rescue Center, we received a message from one of our long-time supporters and previous adopters, Jennifer Syrena. She was looking to adopt another cat and was most inclined to take a black cat! Jennifer has a heart of gold and knows the rescue business well, as she is the founder and core manager of her own rescue organization called Second Winds Ranch and Rescue. We delivered Sooty to Jennifer mid-December and have had many reports from Jennifer that he is doing absolutely wonderful with her other cats and living his new life on the ranch. This really is the perfect ending for Sooty, who desires expanse, freedom, and lots of love. We know he will get all of this and more with Jennifer!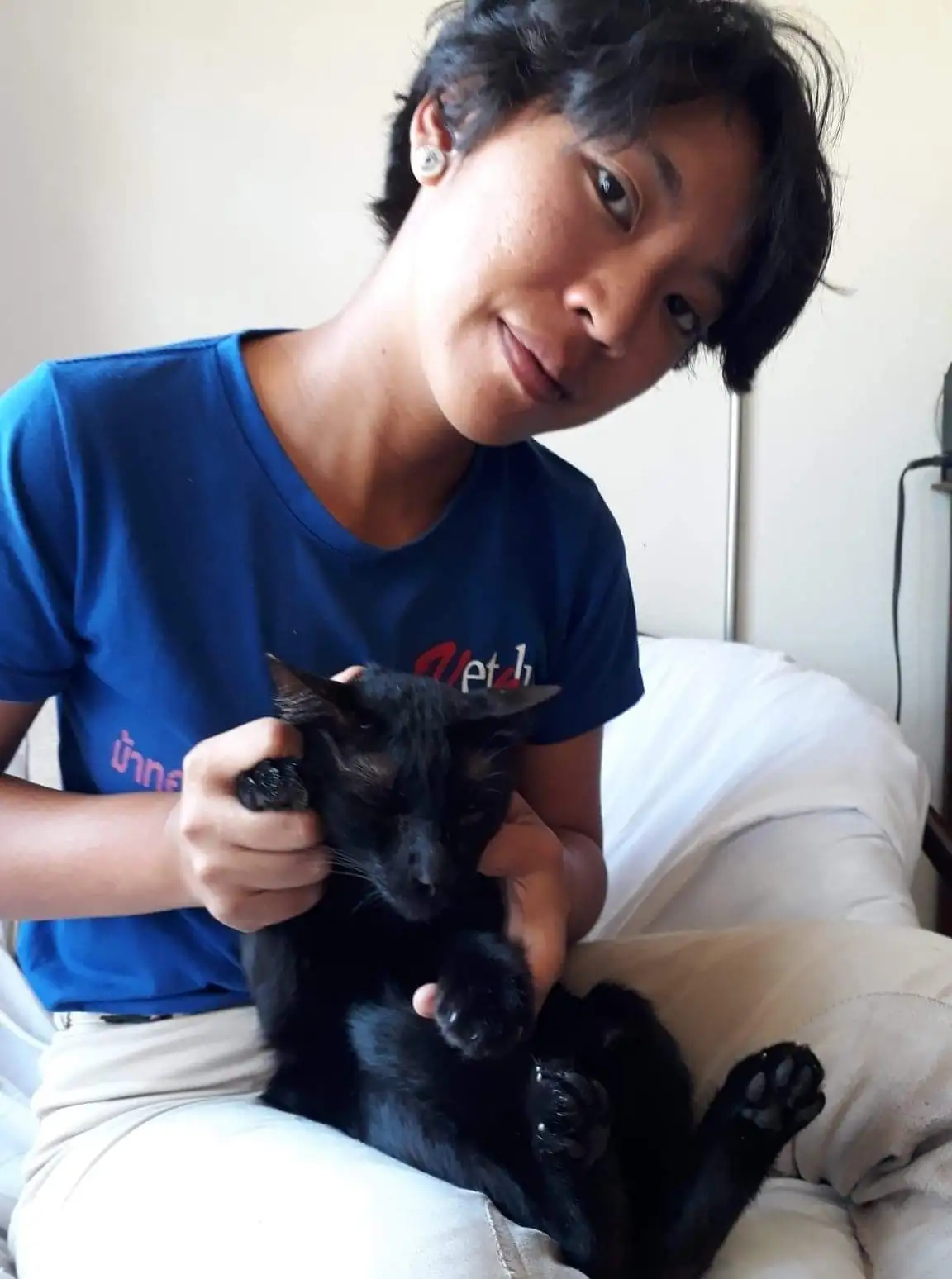 🐈 Rescue of the Month
A Slim "Chance"
Early morning on December 1st, Liz received an urgent message from Fil Anthony, a previous adopter. Out for his morning walk, he had chased two dogs away from a kitten lying in the road. This little kitten, about 4 months old, could not walk and looked severely hurt. Luckily, Joey Sutthiragsa (our pet-friendly driver) found a Grab driver who was available immediately to take the kitten to Chiang Mai Mae Rim Animal Hospital and she very kindly covered the transport cost. Dr Yui diagnosed a punctured lung (from a previous dog attack) and the baby was put in an oxygen box. None of us really expected him to survive.
Against all the odds and despite having chronic anaemia, over several days of around the clock vet care, he started to improve. He was checked for FIV and Leukemia; both negative. He was then put on daily injections to raise his red blood cell count to the point where we could risk surgery. His lung can then be drained and repaired. Guen Uhr named him Chance (with a sexy French accent) as that is all he was given upon rescue.
Against all odds, and with the miraculous support from generous donators and foster mom, Rita. Chance made a miraculous recovery. By late December, he was eating, drinking, playing, and moving like a normal kitten. The only sign of trauma visible was his shaved backside, which was necessary to dress and care for his dog-bite wounds. Rita, his foster mom, absolutely adored fostering Chance, and said he was one of the nicest kittens she had ever had the pleasure of caring for.
On New Years Eve, chance was adopted and brought to his forever home by a lovely couple. We are so pleased to have been able to contribute to his second "Chance" to a happy and healthy life.
📹 Loop Abroad Online Broadcasts are Back!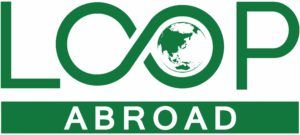 We have had the great pleasure of hosting Loop Abroad at the Rescue Center this month. Due to Covid-19 travel restrictions they are unable to host their pre-veterinary study abroad students in Thailand. However, they have have been doing daily on-line broadcasts for their students who are virtually "studying abroad".
Dr. Eve and her team are covering everything from cat handling, vaccinations, blood testing, to basic wellness checks. Several cats have received their booster vaccinations, TNR mums Elsa, Bee, and Blueberry were tested for FIV and FeLV (all negative) and each litter was carefully checked for development and health. In addition, students also took a virtual tour of the rescue center to assess the quality of our facility and learned how a multi-cat shelter is run effectively and safely day to day.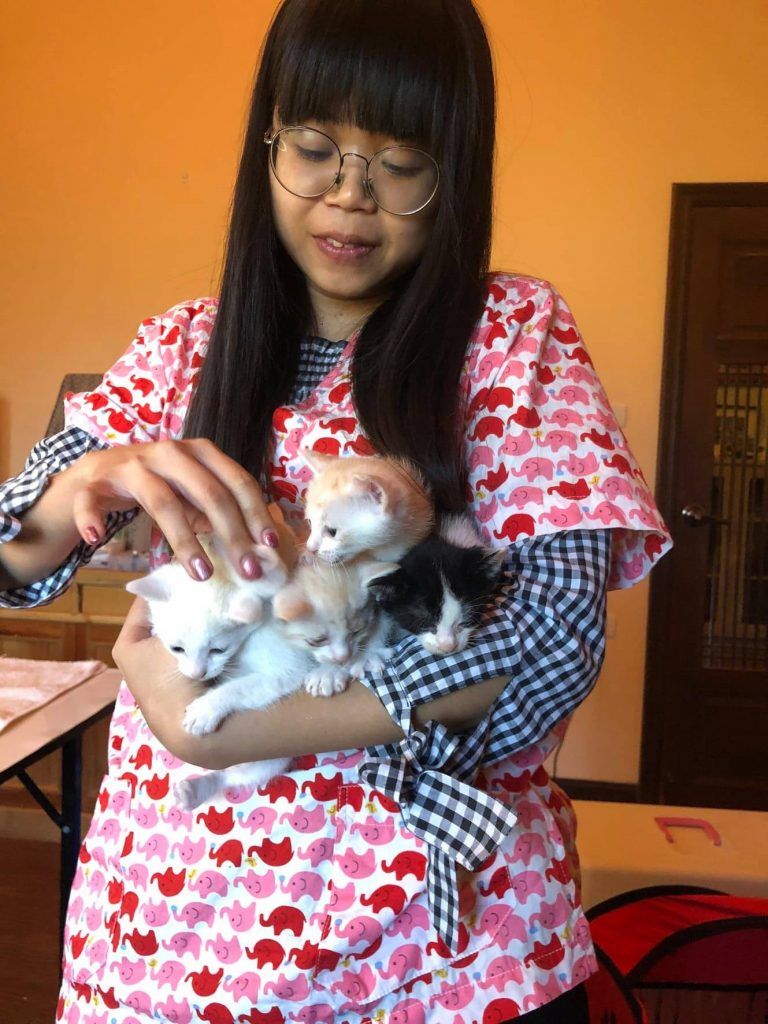 We are so grateful to the wonderful team of veterinarians and staff at Loop Abroad for providing free care to our rescue cats as well as educating future veterinarians about feline health in Thailand. Thank you Loop Abroad!

🐱 Volunteer with us!
Become a short-term volunteer at our rescue centre and book your slot to spend time with our rescue cats and kittens!
Did you know that you can become a volunteer by spending some time with our cats to help socialise them? We have volunteer days every Thursday and Sunday — make sure you book your spot as they are limited and get snapped up fast.