#2 Sept 2020: Ellie's feline eyelid agenesis
Welcome to the September edition of the Adopt Meow Newsletter. We have many success stories this month but chose the top 3 to share with you in this newsletter. There's so much that happens behind the scenes that doesn't get shared on Facebook, so even if you follow us there, make sure you check out these heartwarming stories too!

If you'd like to give us a helping hand to support more cats, check out how you can Donate, Foster or Adopt and make a real difference!
Thanks for supporting us and helping us rescue, foster, and find homes for the sweet little kittens and cats of Chiang Mai. We really appreciate it 💓

This month at Adopt Meow 🐾
Adoptions: 37
Rescues: 28
Sterilizations: 42
🔦 Monthly Spotlight
Ellie's Story: Born with Feline Eyelid Agenesis
By: Jordan Renae (Ellie's Mom)
Exactly 1 month ago, I found Ellie as I was driving my motorbike home from work. It's a peaceful drive along rice fields on a dirt road. Normally I might see a couple locals in their yard and some chickens but on that particularly day, I noticed a man standing by the edge of the gravel. He was kicking a small animal, what I thought to be a puppy, into the ditch. Pulling up behind him, I stopped and ran out to check what was going on.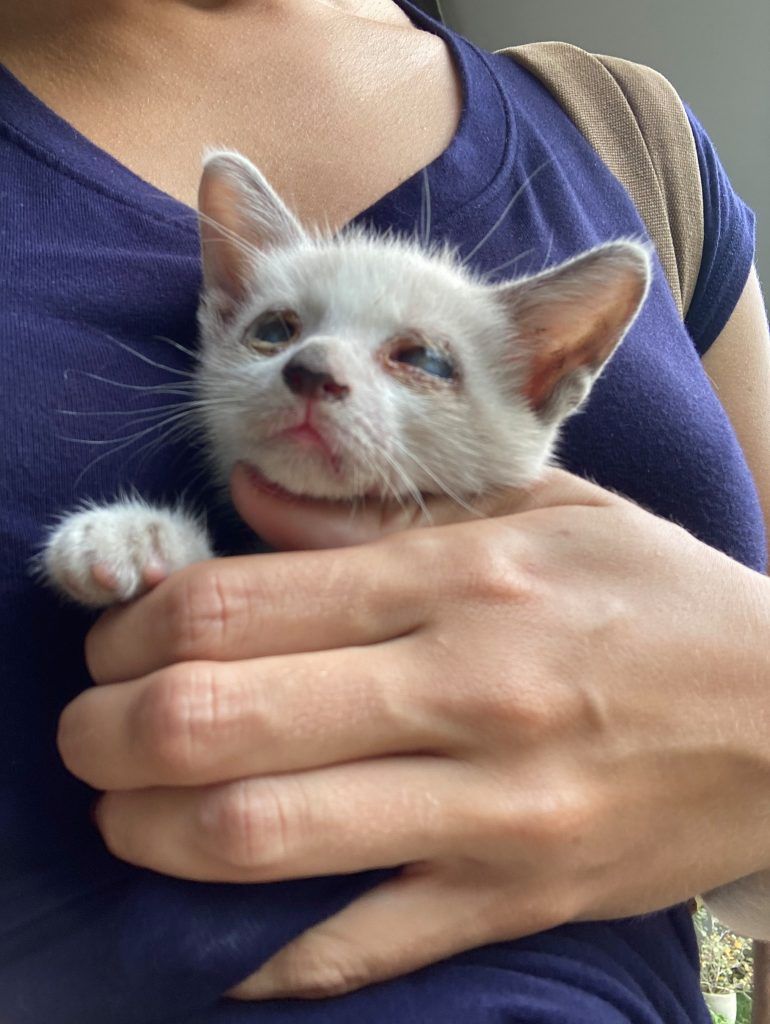 Coming to terms with the situation
This is when I pulled out Ellie, a 5 week old Siamese kitten, from the weeds and rubbish. Her eyes were completely caked with conjunctivitis and her fur was smelly and dirty. She had ear mites and fleas. I quickly realized Ellie was being left for death that day on the side of the road. She was being thrown away.
You might be asking yourself why someone would throw out a full breed Siamese kitten? Why would someone throw out ANY kitten? Well, Ellie is not a normal kitten in some ways. She was born with a congenital birth defect called Feline Agenesis which literally means "born without eyelids".
Not having properly formed eyelids results in her eyebrow hairs irritating the cornea of her eye as well as bacteria from debris being able to settle inside. At the time of me rescuing her she had severe conjunctivitis and visible ulcers in both eyes. Without treatment, this quickly leads to infection and blindness. Because Ellie had this condition, it is likely the man on the side of the road abandoning her that day was a breeder or knew someone who was, and that was their way of getting rid of an "unsellable" kitten.
Adopt Meow steps in
As some of you may know, I am the Kitten Adoption Coordinator at Adopt Meow. So, shortly after rescuing Ellie that day, I got my team involved and we brought her to the vet. Blood checks for disease all came back in the clear, however, she had anemia and was very much in need of intervention for her eyes. We then sought help from the top eye specialist in Chiang Mai – Dr. Pop at ChiangNoi Vet, who gave her a diagnosis and developed a treatment plan.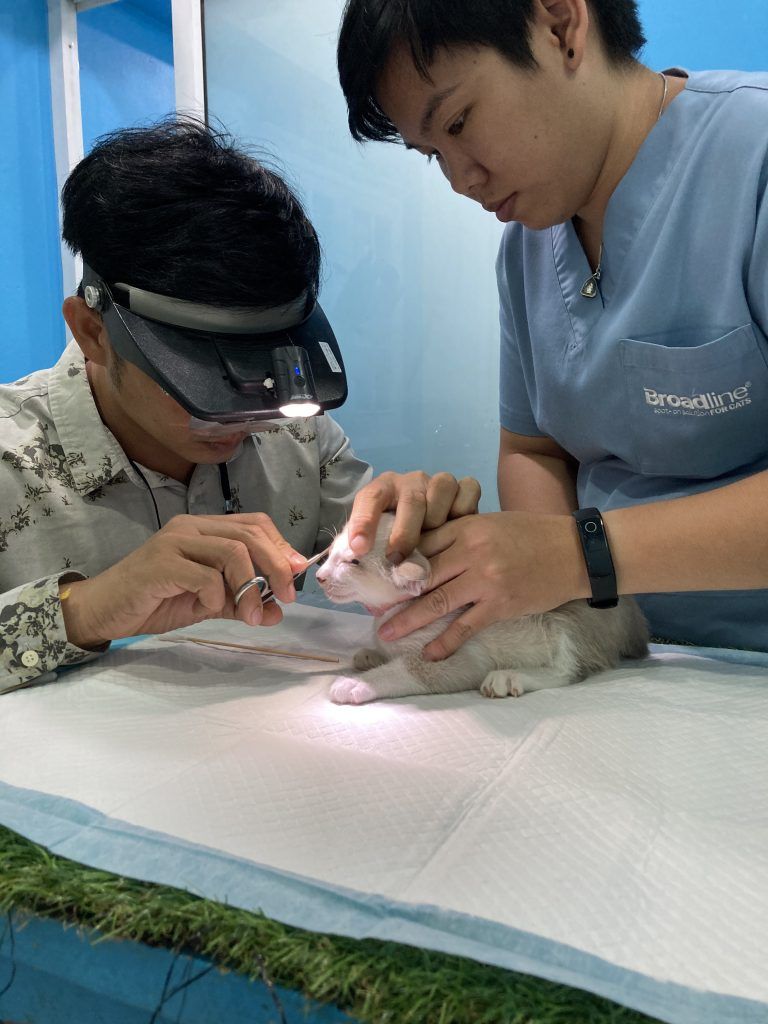 At this time and the few weeks following I 100% intended to foster Ellie until she was well and find her a loving adopter through Adopt Meow. However, the weeks went on, and it seemed not everyone thought Ellie was as beautiful as I did. We had limited interest in her. If I had to guess, her needs were too high and again, she doesn't look like a "normal kitten".
Welcoming Ellie to the family
After fostering Ellie for 4 weeks, I realized that it would be impossible to let her go. She had became part of the family. In almost every way she is the perfect kitten- an A+ personality! I think the deciding factor was how much she adores my older cat, Cam. And he likes her too believe it or not!
Cam and Ellie spend their days running around the house together, wrestling, sharing food and taking turns at the water bowl. Everything seemed to make sense, so I decided to adopt Ellie, and officially make her part of my forever family.
So what's next for this special little girl? Well, we visit Dr. Pop every 2 weeks for an eye check up. During this time Dr. Pop trims her eyebrow hairs so they don't irritate her eye. Since rescue she has received daily eye drops, every 4 hours, to dissolve and heal the ulcers. Both ulcers are now gone and her eyes are clear.
Check-ups and eye drops will continue until she is 6 months old. At 6 months, Ellie will undergo plastic surgery to reconstruct her eyelids. Dr. Pop will perform the surgery. Post surgery, Ellie will be able to live a normal life without any special trimmings or eyedrops.
Today, Ellie is healthy happy kitten. Welcome to the family Ellie! We love you!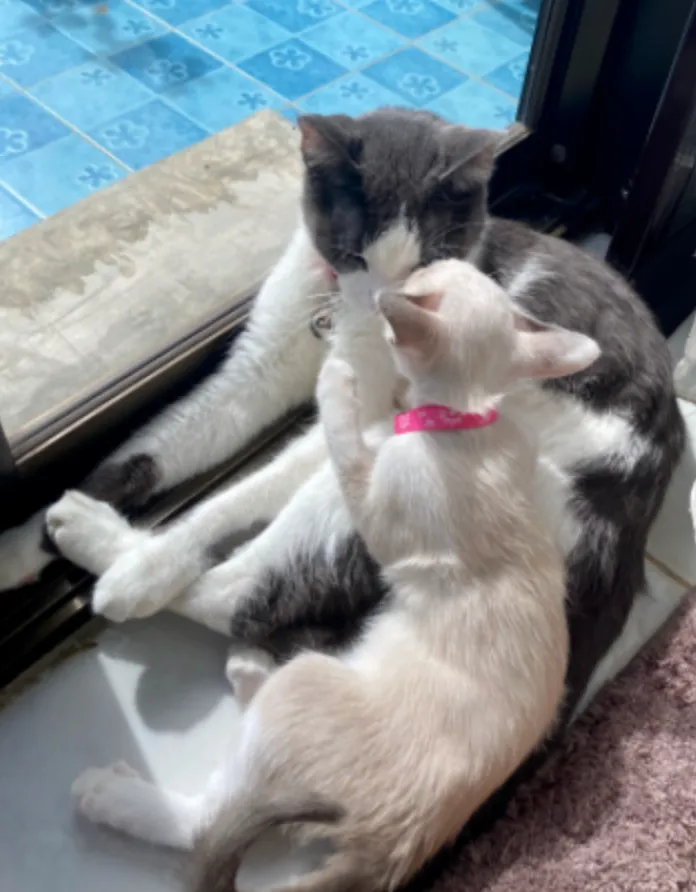 🐾 Rescue of the Month
Walt is rescued from a co-working space in Nimman
It was a regular Wednesday when Kym, one of our volunteers, found Walt. He was discovered at Yellow co-working space in Nimman in extremely poor health.
In fact, this wasn't Walt's first visit to the co-working space (maybe he wants to be a digital nomad?). His feral mama kept her litter in the rafters of the roof, as many feral cats do. One day several weeks ago, Walt had somehow fallen into a roof cavity at Yellow. Staff had to break the wall to get him out, and reunite him with his family.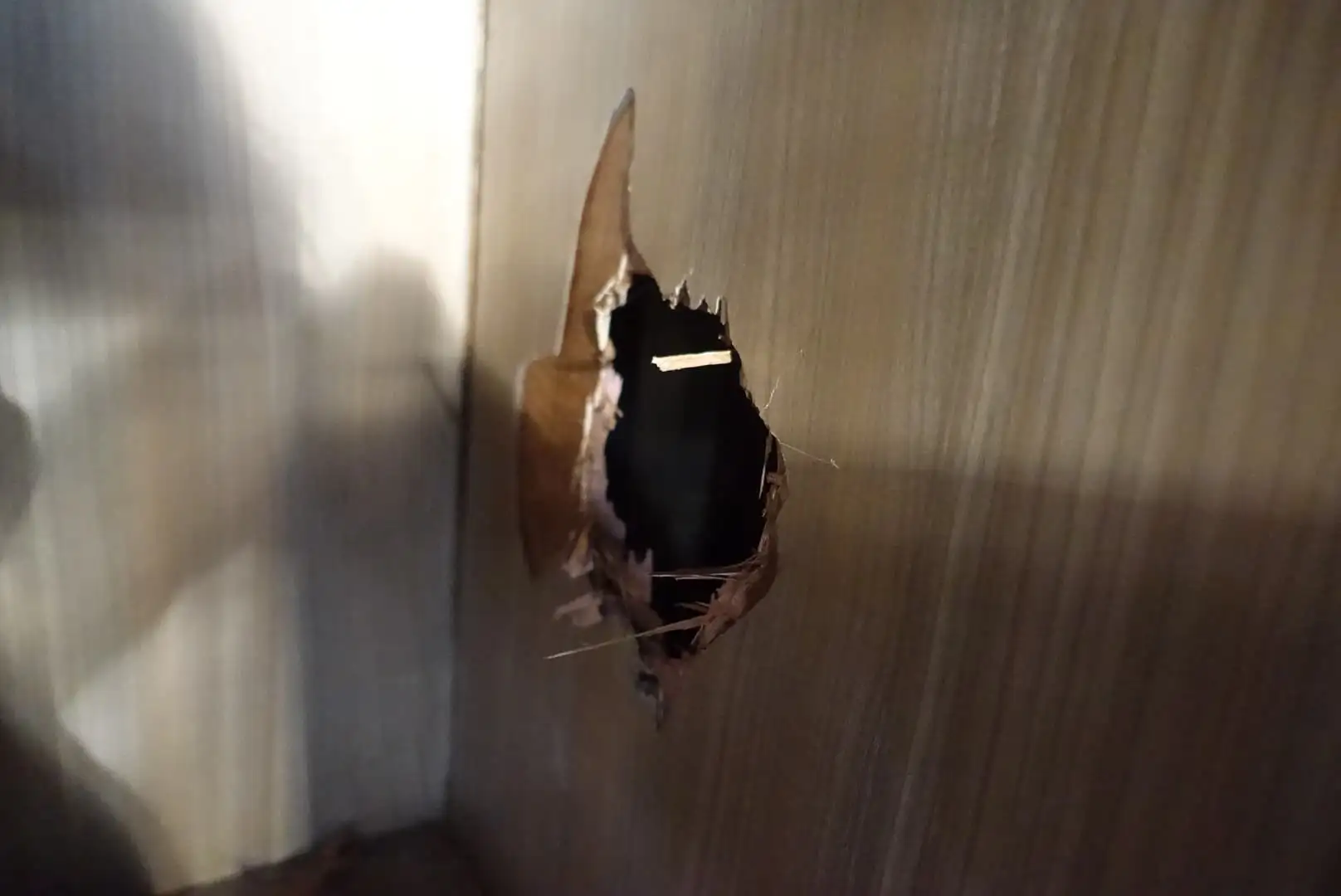 But on his second visit, Walt wasn't looking too great. We think his mama abandoned him because he was too sick. This sounds really cruel, but it is a fact of nature. When a mother cat can no longer provide for a kitten, she'll abandon it so that she can focus on the rest of her litter. This is why programs to neuter and release feral cats are so important.
There's no way she could have saved Walt, who had severe cat flu, eye ulcers and was malnourished and dehydrated.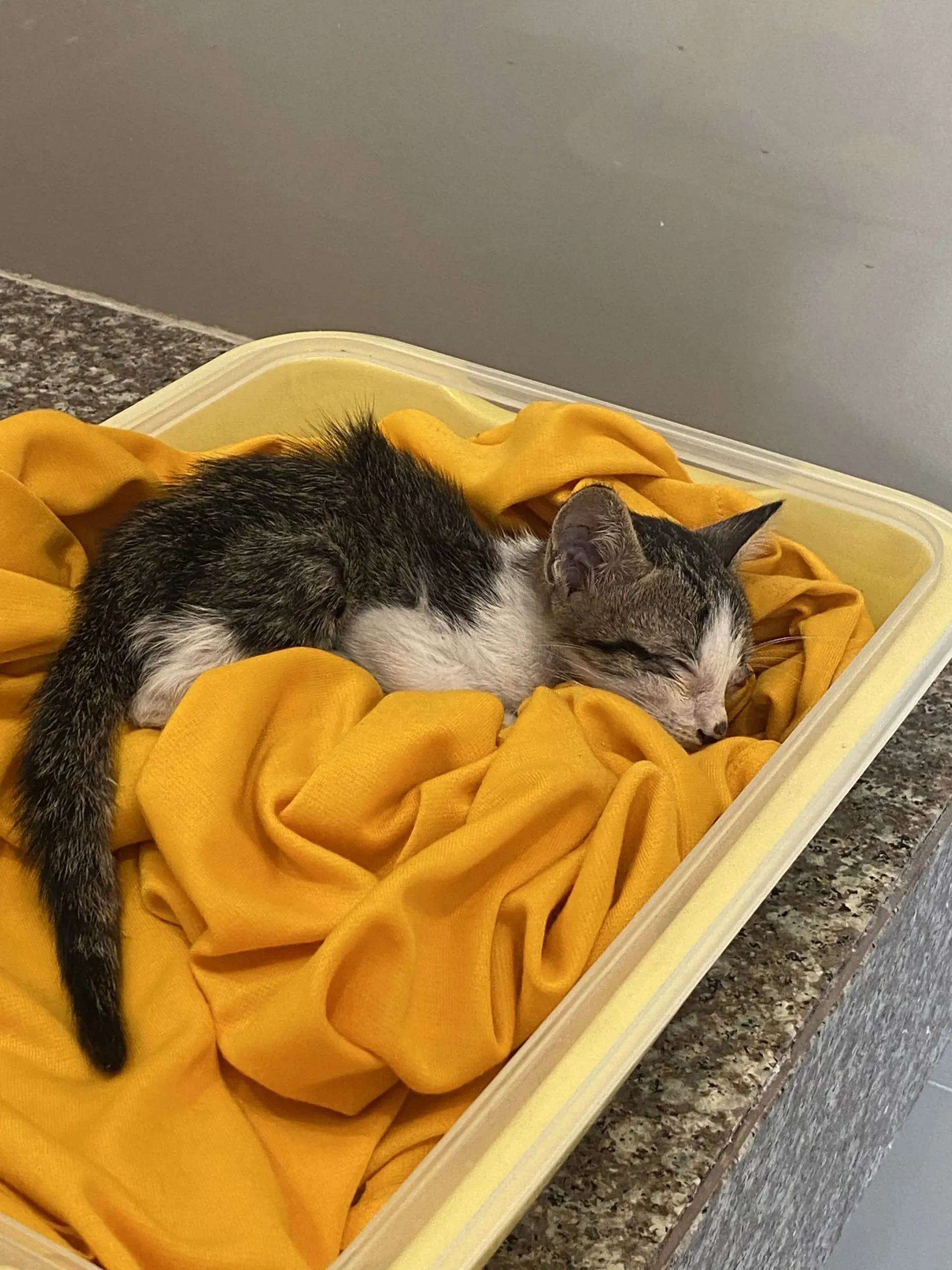 Stepping in to help
What can help kittens in this situation is fast and effective care, modern medicine, and a lot of love. Walt was whisked to Mae Rim Animal Hospital where he was cleaned, given lots of medicines, and put inside a nebulizer to help his respiratory issues.
Normally more of a keyboard warrior than kitten foster carer, Kym took Walt home to give him a fighting chance. The first few days were tough, since the poor little kitten was struggling to breathe, couldn't smell anything and was not interested in food. But he kept on fighting (even if he was mostly sleeping).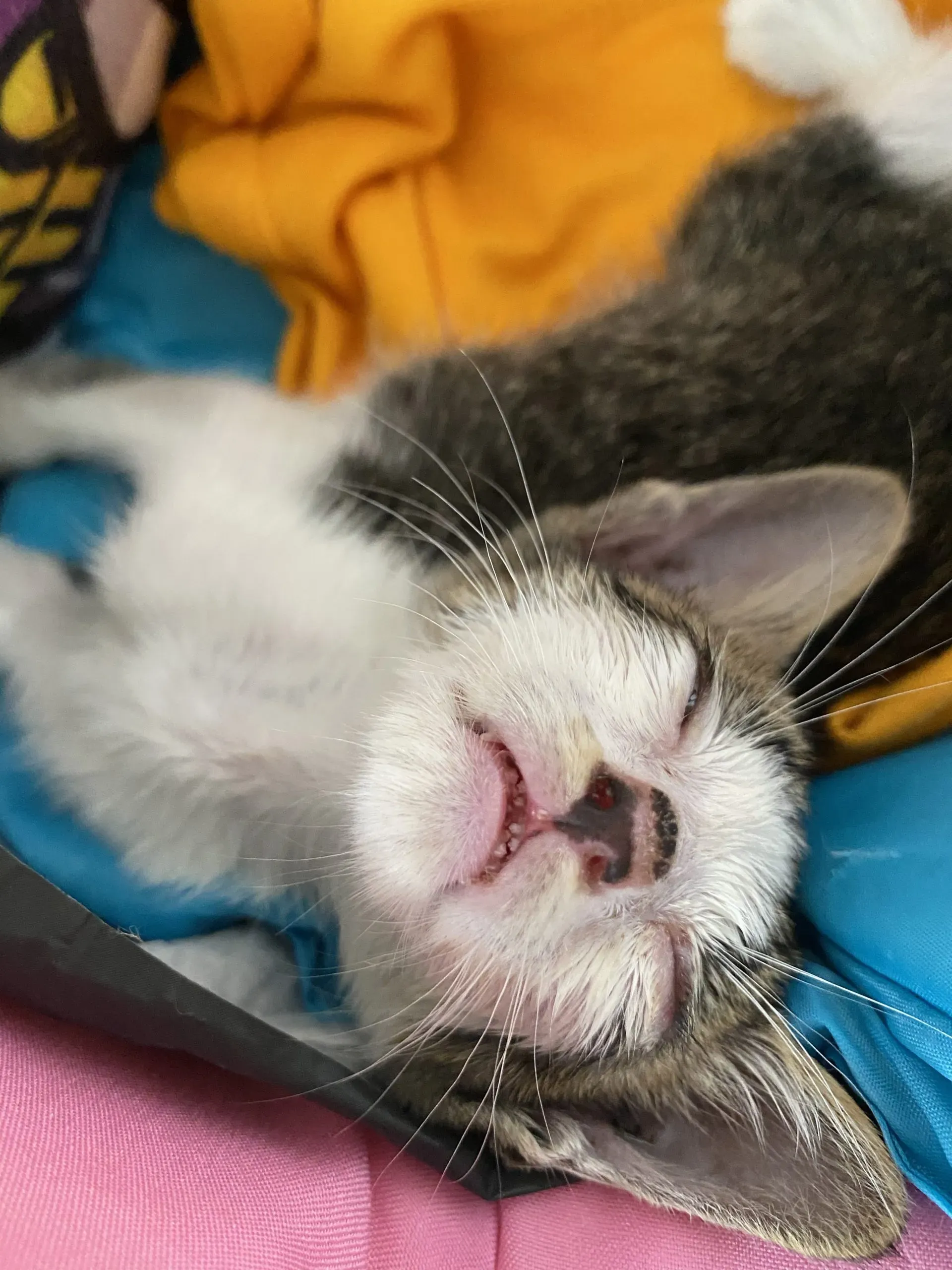 Half the battle with kittens that are extremely sick is to give them a reason not to give up. It certainly seemed like Walt had lost all hope when he was found, so Kym would let him sleep on her as much as possible, and make sure he knew he had someone there to fight his corner.
Walt's speedy recovery
With daily vets trips, nebulizer treatments and a concoction of medicines — Walt started to show improvement. He was eating by himself, moving around and vocalising. Walt had turned a corner!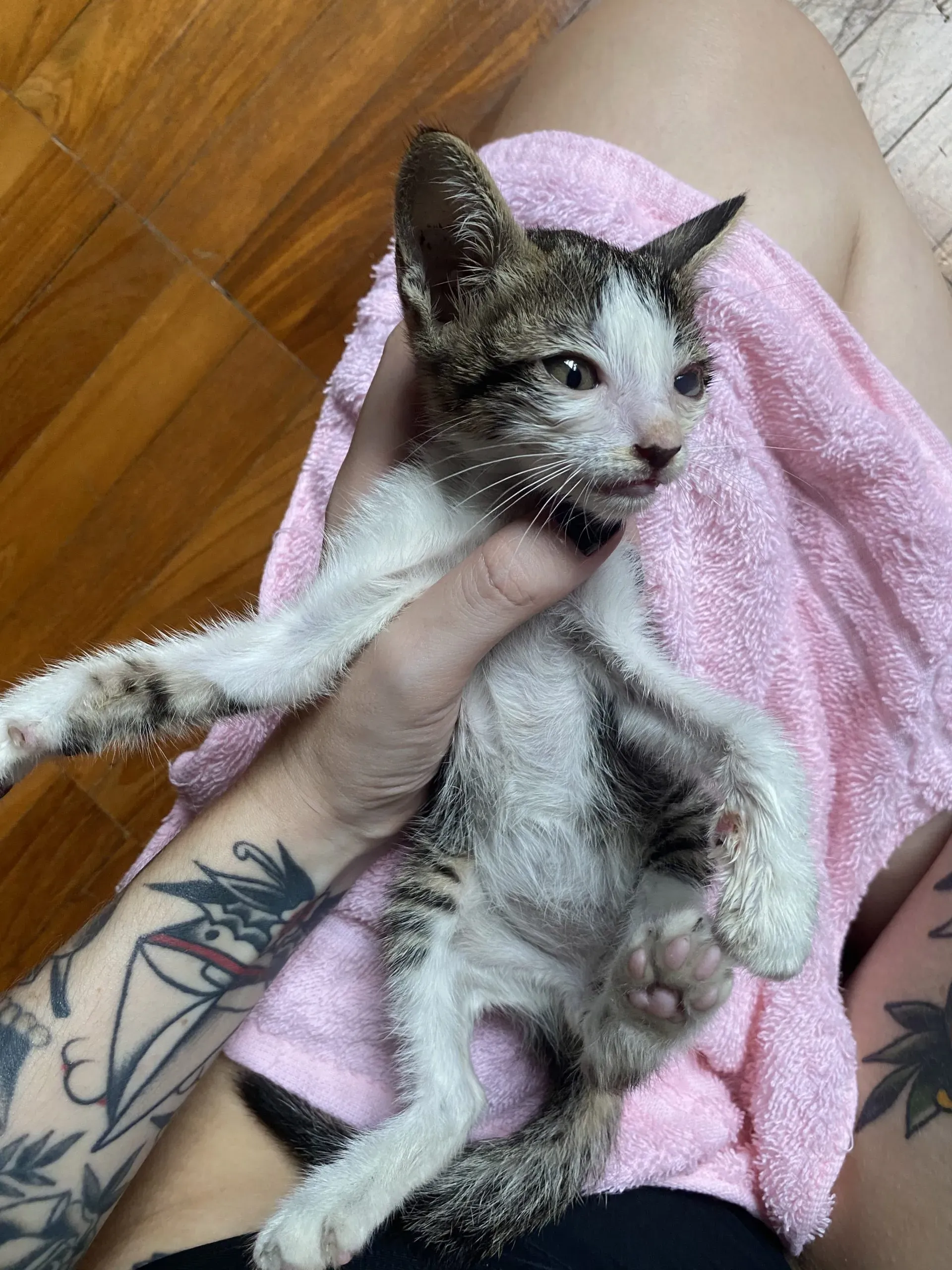 During the rest of his time spent in foster care he got stronger each day. He even started purring and running around. In fact, he recovered so fast that he started to get lonely without his litter-mates, so we moved him to the rescue centre where he can play with other rescued cats, like Solo who we featured in last month's newsletter.
Walt is now doing great. He loves socialising with other cats and humans alike, and will be looking for his furever home in the near future!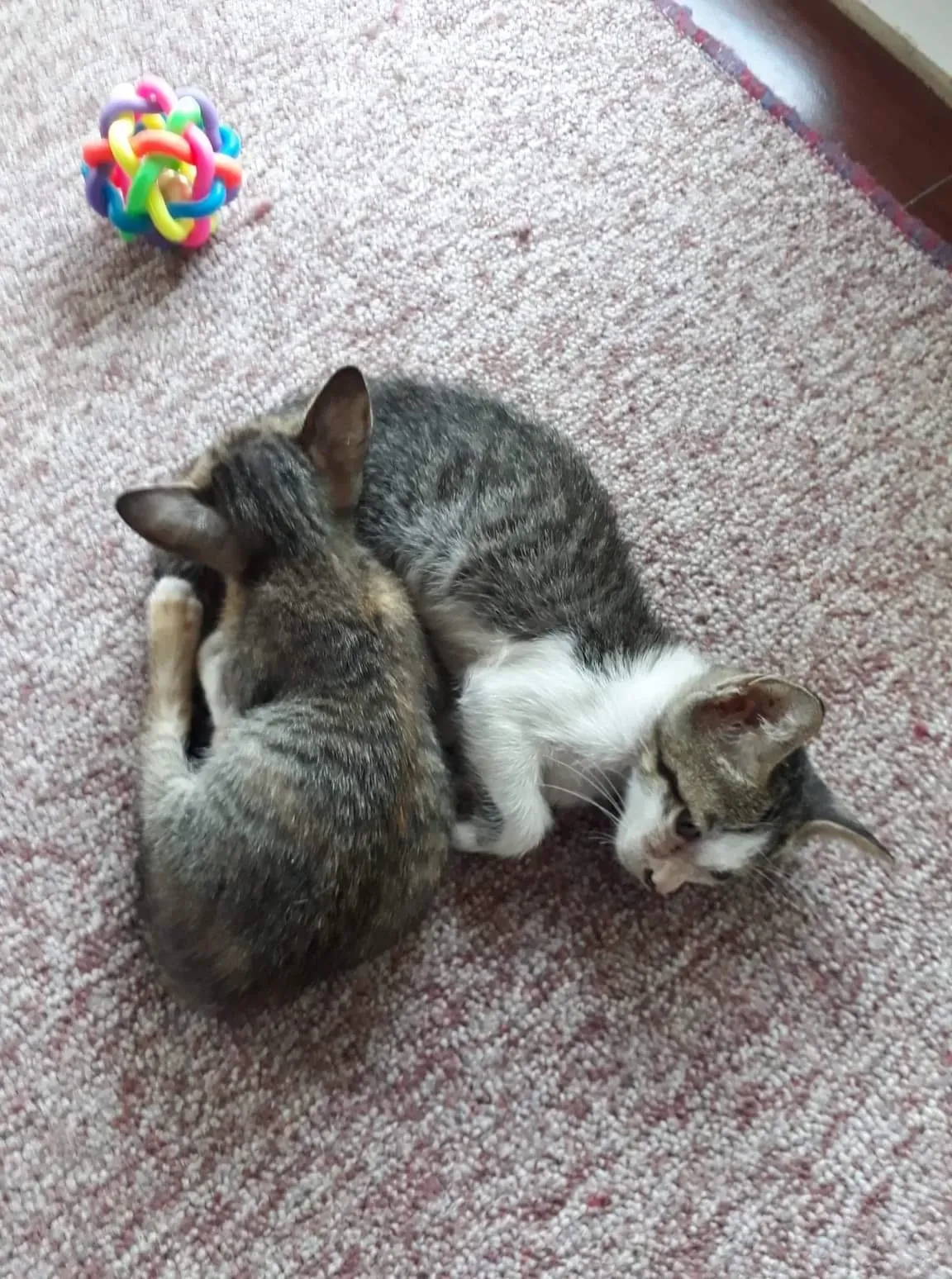 🐈 Adoption of the Month
Patch and Timmy, Home at Last!
Patch and Timmy (previously known as Hip and Hop) came to Adopt Meow when they were small kittens, after being rescued from the streets.
They needed a lot of urgent care to begin with, and they were painfully shy. For this reason, instead of getting them adopted as kittens, we decided to put them into foster care instead, to give them a safe environment to gain some confidence. Time and patience was required!
Although it took time, this worked out to be the best thing for the boys, whose personality started to shine during their time with our foster volunteer, Naomi. They grew into loving and playful young adults and now we're pleased to say they've finally found their forever home together!
Moving to a new home
As with all adoptions, we all want to make sure it's a great fit. The lady that adopted the boys visited them twice at their foster home before making a decision to take them home.
We all thought they would retreat into being quite shy again in new surroundings, but to everyone's surprise, they made themselves at home right away. Their new Mom said: "These rowdy (fun) boys are leaping and bounding over the furniture! So far nothing broken (yet!) but it's fun to watch. They're so entertaining!".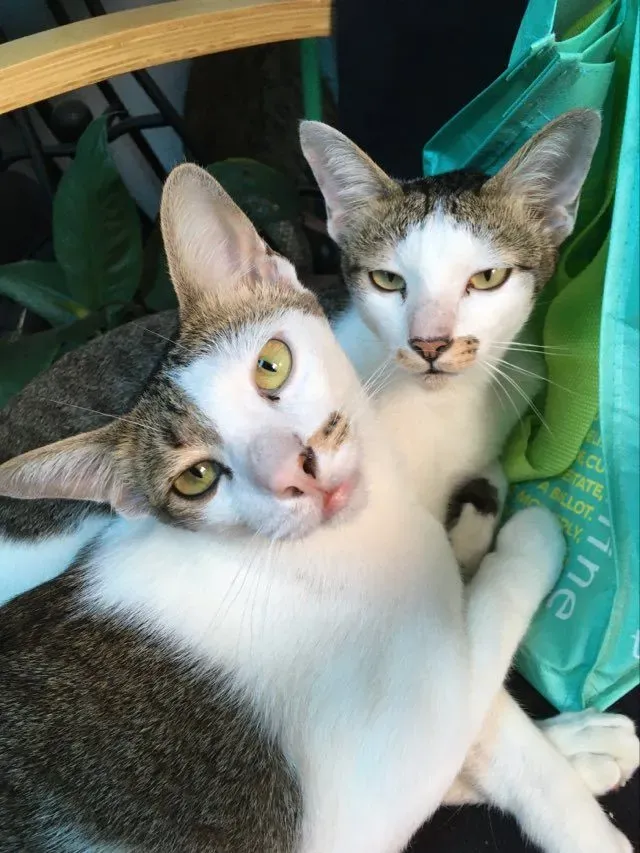 The adoption process was even smoother than I expected. Within minutes of sending my original inquiry message, Adopt Meow responded with a suggestion for 2 sweet boys just perfect for me! By that same evening, I visited them at their foster home. The whole process from there was smooth and simple. I'm so thankful for all that Adopt Meow does for these sweet kitties, and kudos to all the foster parents out there! — Ginny, adopter of Patch and Timmy
New names & new homes
Since moving in with Ginny — she had been calling them "My sweet boys!" while trying to settle on their final names. One day during belly rubs, Patch curled his lip causing Ginny to say "Elvis!". Timmy's new name followed.
So now they've got their forever home AND their forever names. Way to go Elvis and Rocky!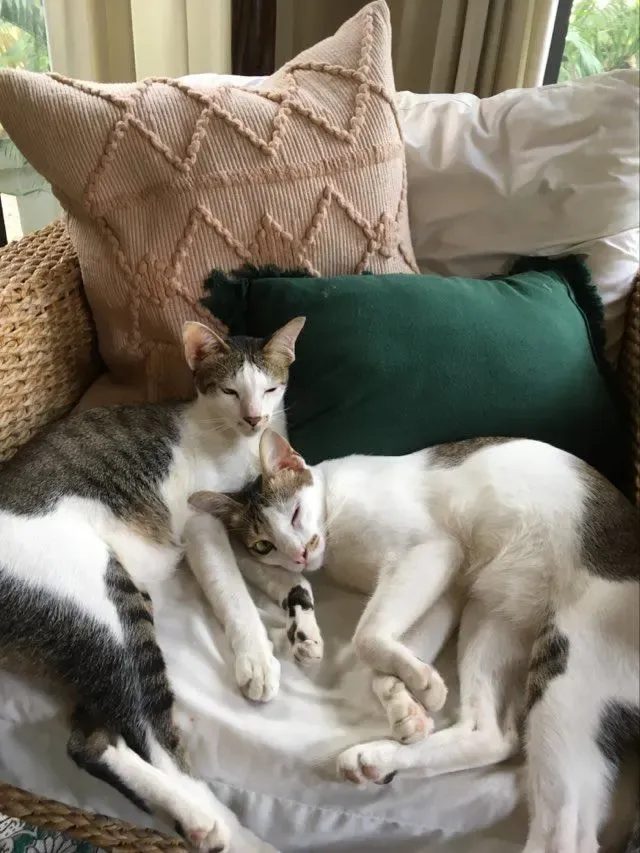 Adopting adult cats is a very rewarding experience and can be a perfect match for people who work full-time or don't have the time and attention that small kittens require. Adult cats come with fully developed personalities so you can really get to know them and find a companion that's great for you.
Not only that — older cats generally have a harder time finding homes, because they're overlooked in favour of kittens. Adopting any rescued cat that has been in a shelter or foster home for a long period of time is truly admirable thing to do. Our team love to see our adults go off to a loving home, it fills us with gratitude that there are is someone out there for every cat 🖤
Check out our photo album of adult cats available for adoption!