#14 — 19 cats sterilized with WVS
Welcome back and to the September edition of the Adopt Meow Newsletter.
We have some exciting news this month which includes another WVS "Care For Cats" Day, a special adoption, and two hugely successful kittens rescues!

If you'd like to give us a helping hand to support more cats, check out how you can Donate, Foster or Adopt and make a real difference! Thank you from all of us at Adopt Meow!
This month at Adopt Meow 🐾
Adoptions: 27
Rescues: 18
Sterilizations: 22
🔦 Monthly Spotlight
Stepping in for Kwan
In early September there were Facebook posts flying around various pet and animal groups in Chiang Mai regarding a little brown and white kitten that was hit by a car near Wat Jed Yod. This little kitten sustained injuries to her two back legs and was handed into Phuping Police Station where she was then taken to the local vets by a policeman, Captain Anuk.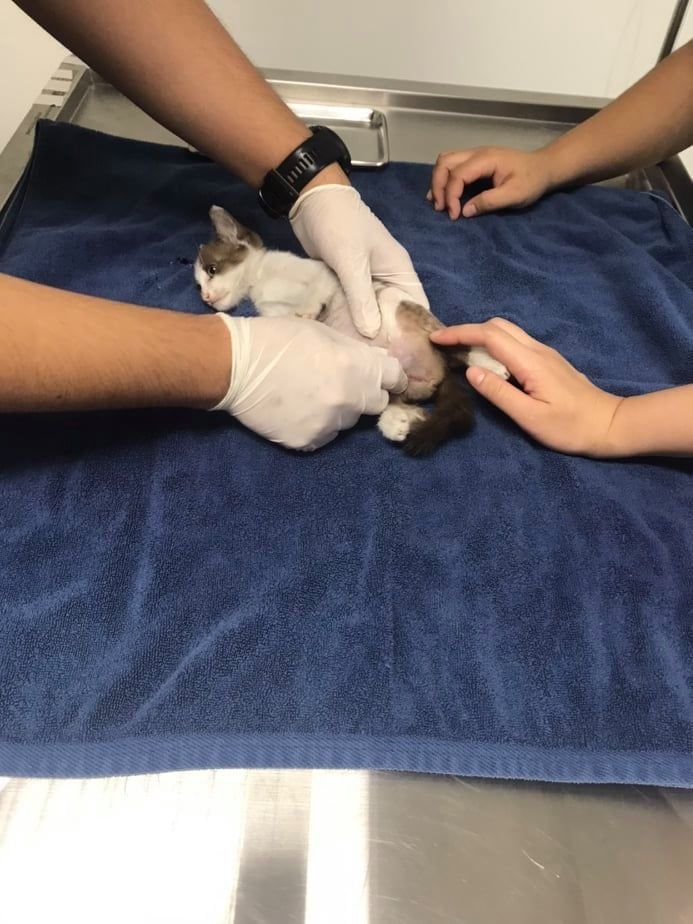 One of our Adopt Meow members, Jada, reached out to the policeman to see if he needed any help caring for this little one. He said he did, as he could not give her the care she required due to his work. Jada reached out to Adopt Meow to see if we could assist and the rest is history! Jada decided to name the kitten "Kwan", which means "strong" in Korean.
Kwan's Prognosis
Kwan had a nasty fracture in one leg which caused a very sharp piece of bone to stick out. This could have pierced her skin and caused infection. The incredible Dr Tao at Chiang Mai Center Animal Hospital  performed surgery to insert a titanium plate to rejoin the broken parts. Kwan also has severe bruising and damage to her pubic area. Dr. Fon and Dr. Tao expect a full recovery, however, Kwan will need several weeks of rehabilitation, supportive meds, and regular check-ups.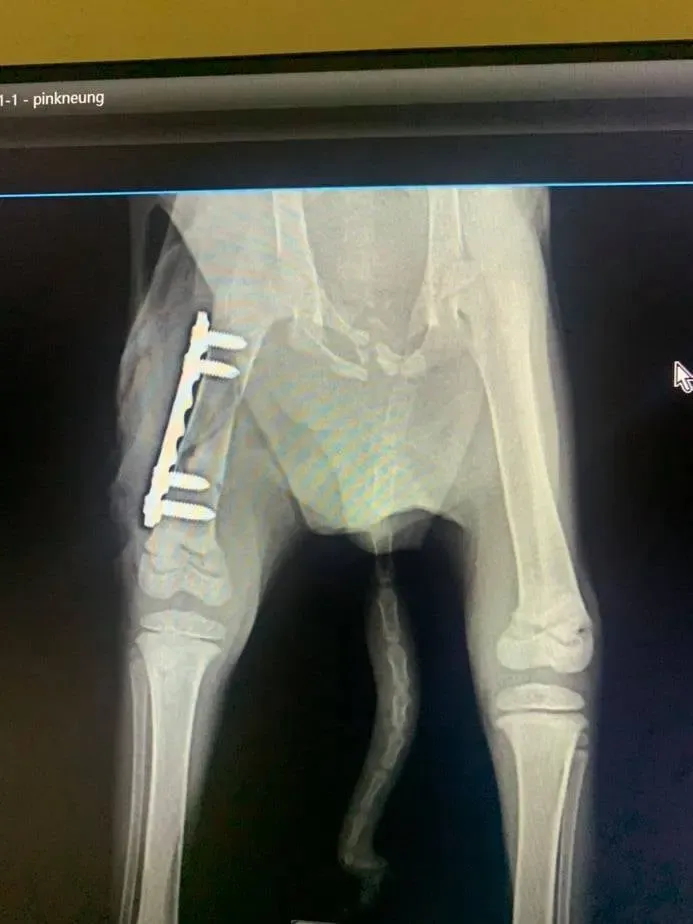 Kwan Today
After leaving the hospital with Liz, Kwan lived at the Adopt Meow Rescue Center where she continued to strengthen her back limbs over a period of 2 weeks. Every day she got stronger! About a week into her home recovery, Kwan was visited by Jada and her daughter Eden. We are delighted to share that Jada has decided to adopt Kwan! She will make a perfect addition to her family and we are all so happy for little Kwan. Kwan will start her journey with her new family the first week of October.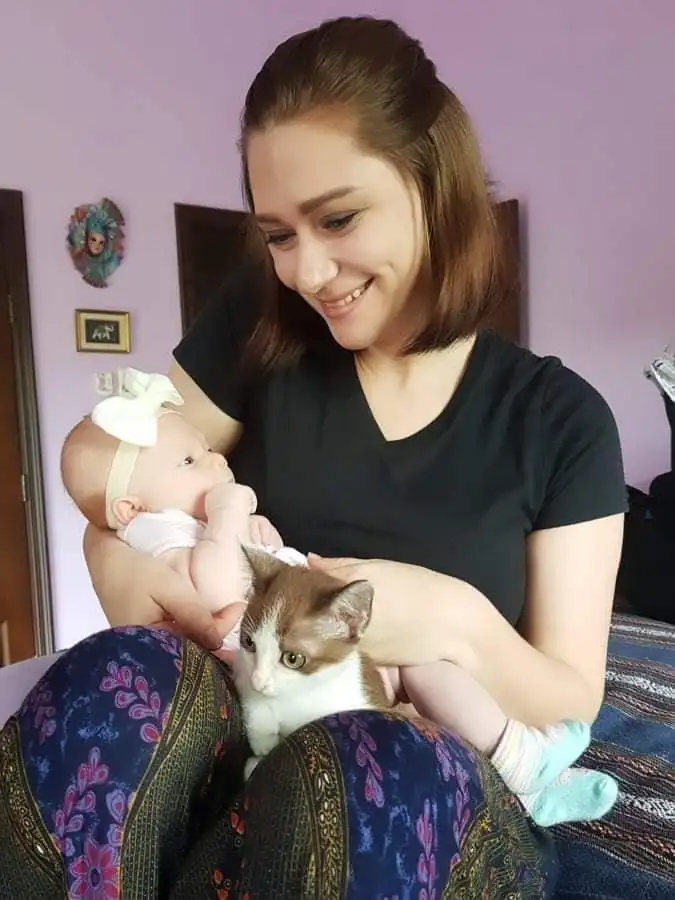 Pictured Left to Right: Jada and her daughter Eden,  Policeman Captain Anuk who rescued Kwan, & Liz with Dr. Tao and Captain Anuk
A Special Thank you
On behalf of Kwan, Jada, and the whole Adopt Meow Team – THANK YOU to all who contributed towards Kwan's surgery and veterinary bills. The cost of her stay and care was close to 10,000 baht, which we quickly raised by our wonderful supporters who jumped to action to save this precious little kitten's life.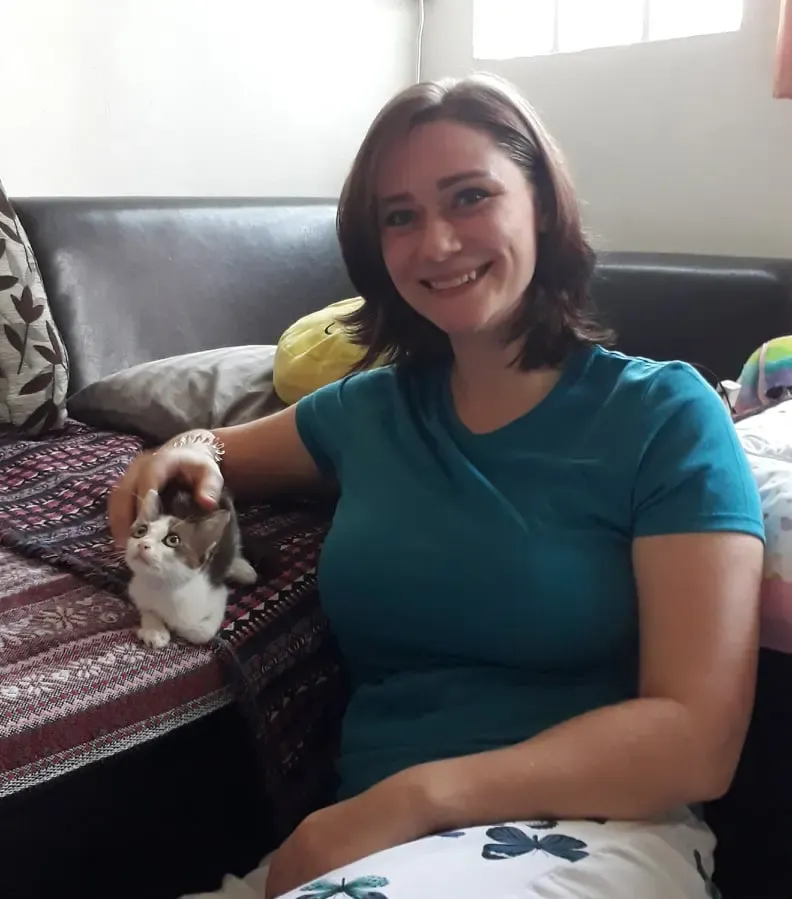 🏡 Adoption of the Month
Foster Failure for the Win!
It happens more than you would think and it's one of our favorite types of adoptions – the "foster fail". Foster failing is actually more of a win. The prize – a new lovely kitty to call your forever! At Adopt Meow we have over 20 foster families in the Chiang Mai area who look after our cats and kittens while they await adoption. This is the story of Bunmi and how his foster mom, Maddi, succumbed to his perfection and decided to go from foster mom to forever mom.
Bunmi's Story
Life was rough for Bunmi; he was found as a kitten at Doi Inthanon, where we believe that he was attacked by a dog. Rushed to the vets, his prognosis was looking poor, but being the survivor he is, he fought back. Unfortunately due to the damage of the injury, Bunmi suffered from regular seizures. He was on daily medication for over a year. During this time he lived at the Adopt Meow Rescue Center and his adoption status was unclear as his needs were so high. However, we decided to try him in a foster home with one of our lovely fosters, Maddi.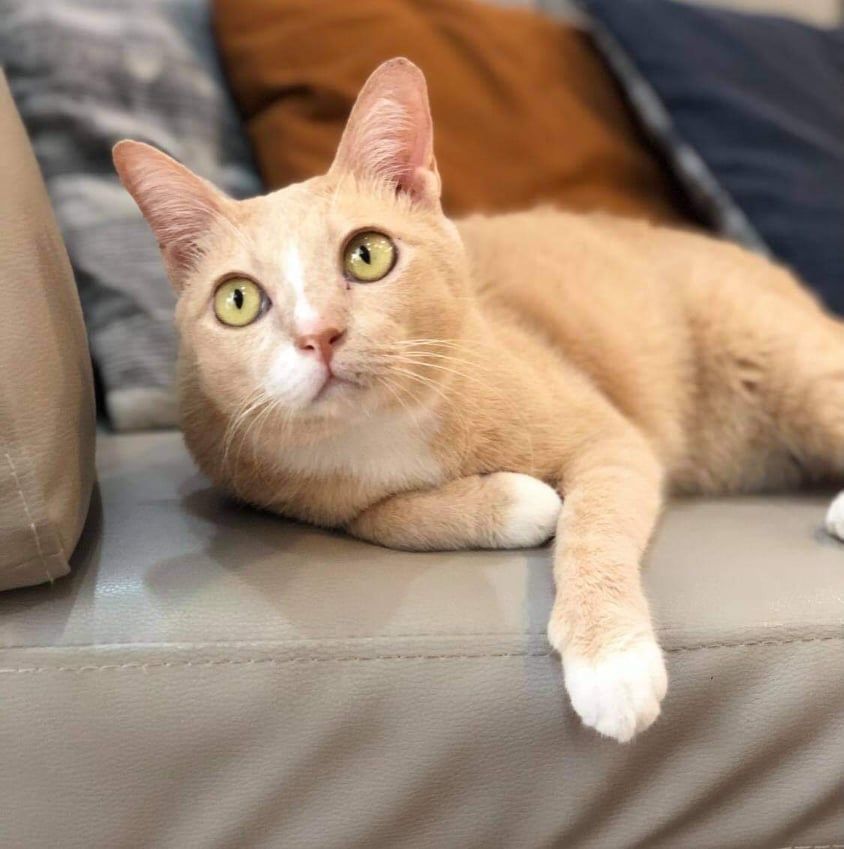 Bunmi Ready for Adoption
It wasn't long into his time with Maddi that we realized Bunmi was thriving in a home environment. It was then that we decided to try taking him off the daily seizure medication. With the help of our vet nurse, Amber, we slowly weaned him off. There was a very clear difference in Bunmi once he was off his meds – more playful, energetic, and alert! With no sign of seizure in sight, we put him up for adoption.
A Home at Last
Our adoption post was up on Facebook for less than 24 hours when Maddi reached out to us and said she couldn't let Bunmi go to another home. He was hers! It's one thing to have a full grown cat adopted and another to have on with medical special needs – this was both! We are so grateful to Amber for helping Bunmi and Maddi for her epic "foster fail". We know this was truly a win for all, especially for Bunmi.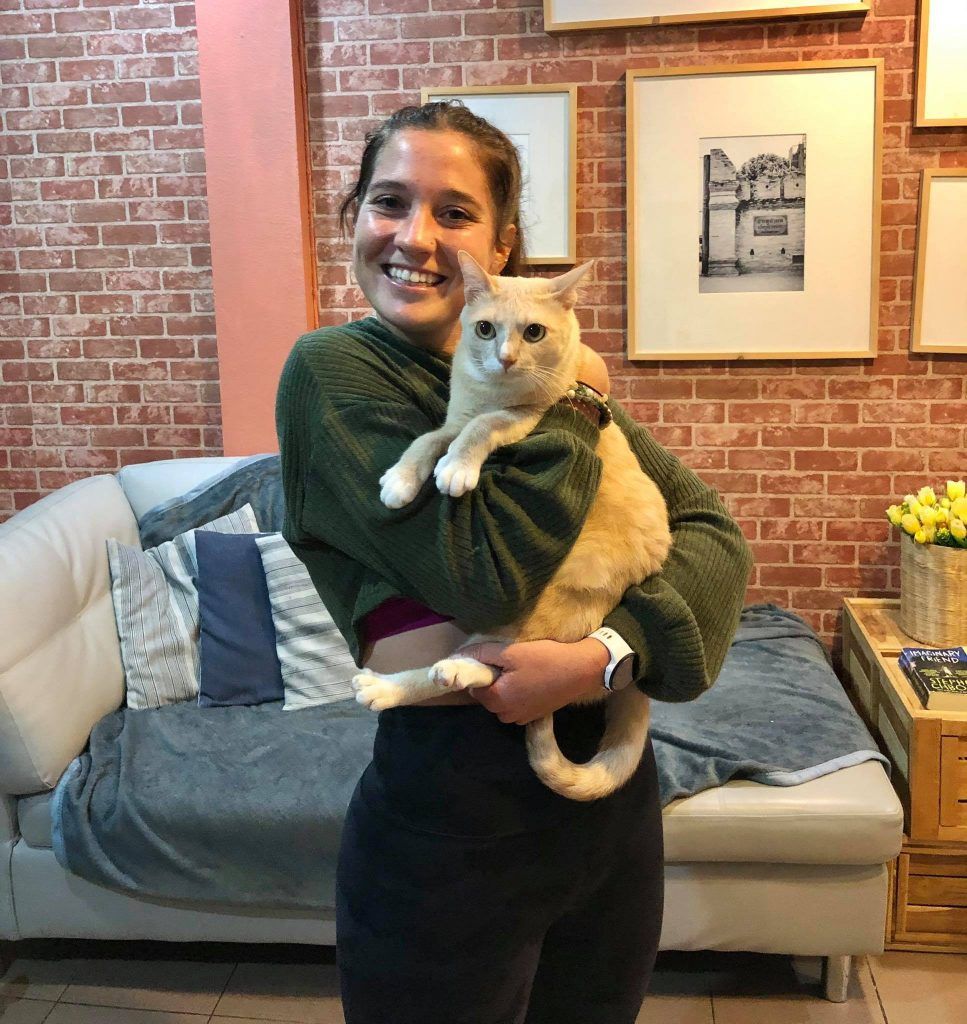 Looking to help a cat like Bunmi? Want to become a foster mom like Maddi? Apply to foster!
🙏🏽 WVS "Care For Cats" Day #3
On September 27th the wonderful WVS Care for Dogs were able to offer us another "Care for cats" day.  This is the 3rd free sterilization clinic that WVS has hosted for Adopt Meow. We were able to get 19 cats sterilized, 9 of which were females, a wonderful achievement! Once again, this was a big team effort, including a very early Monday morning start, with Guen going to Liz's at 6.30am to load the car! A special shout out to Carrie Turney Lange who helped take and collect the cats. It also goes without saying that the 2 vets at WVS who managed to get so many cats sterilized in a short space of time, did a tremendous job. Thanks to all of the wonderful staff and vets at WVS for once again making this happen and helping the kitties of Chiang Mai.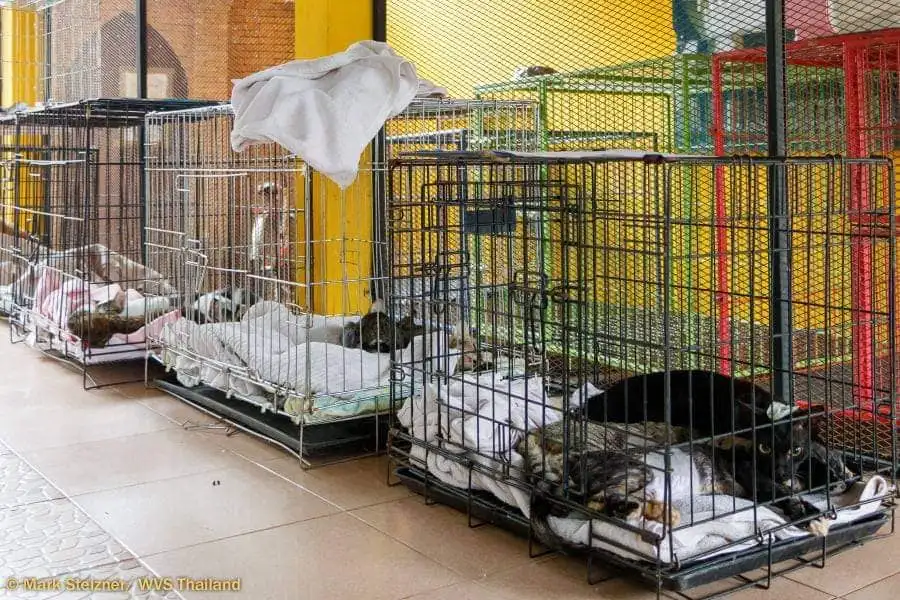 👋 We Need Your Help!
In an effort to spread the word about our services and mission, we are looking for volunteers to help hang up our new poster! Cafes, pet shops, schools, and veterinarian offices are all wonderful places to advertise! If you would like to help us, please press the "Contact Us" button below where you can share your interest in hanging posters for us and we can discuss delivery. We would really appreciate your help!