#13 — Chansu gets a second chance!
Welcome back and to the August edition of the Adopt Meow Newsletter.
We have some exciting news this month which includes adding a new volunteer to the Adopt Meow Team and a hugely successful month of adoptions for our adult felines!

If you'd like to give us a helping hand to support more cats, check out how you can Donate, Foster or Adopt and make a real difference! Thank you from all of us at Adopt Meow!
This month at Adopt Meow 🐾
Adoptions: 23
Rescues: 12
Sterilizations: 19
🔦 Monthly Spotlight
Welcome to the Team, Amber!
We are so pleased to share that we have a new volunteer veterinarian technician at Adopt Meow! Amber, who recently moved to Chiang Mai, has proven to be a valuable asset in just a short amount of time! You may have already met Amber if you have visited the Adopt Meow Rescue Center or she has provided medical care and advice for one of your foster kittens. For those who don't know her, we've asked Amber to introduce herself here!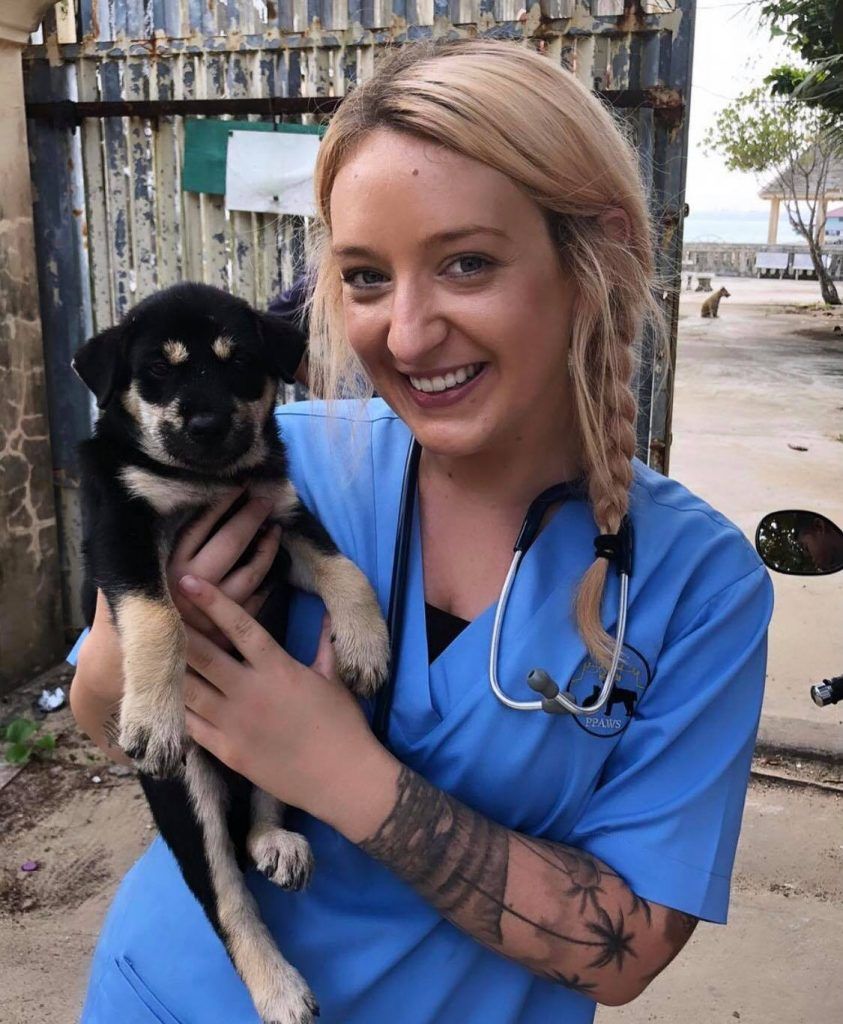 My name is Amber LaRock, and I am a licensed vet tech from Texas. I have been working in the veterinary field for almost 10 years now, and spent the majority of my career working in emergency and critical care. I started traveling 6 years ago, with my first trip being to Elephant Nature Park in Chiang Mai. From the moment I got from that trip, I knew I was hooked. Since then I have traveled the world full time, working with animal rescues in every location I have lived. I have lived in Cambodia, Ecuador, and now Thailand.

My main passion is working with organizations that focus on outreach and education. I have helped to organize multiple sterilization missions, participated in vaccine missions, and have jumped into tasks whenever assistance is needed. My experience in this field has allowed me to offer a skill hand wherever it's needed and I couldn't imagine myself doing anything else!– Amber LaRock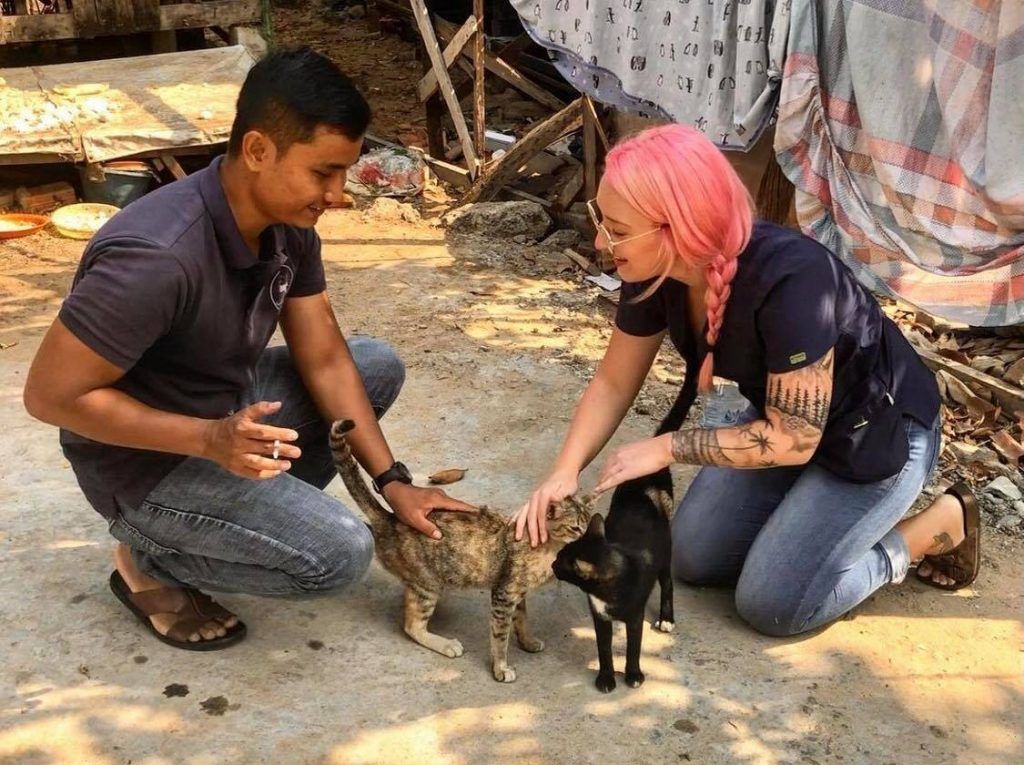 Since joining the team, Amber has supported us in weekly visits to the Rescue Center where she consults with Liz and other members of the team on cat and kitten care. She provides assistance with routine vaccinations, health checks, and has even recently set up a brand new pharmacy station on-site! We are so lucky to receive Ambers support! Thank you Amber, from all the cats, kittens, and volunteers at Adopt Meow!
🐈 Rescue of the Month
A "Second Chance" for Chansu!
In mid-August 2 kittens were unexpectedly dumped at the front gate of the Adopt Meow Rescue Center. Unfortunately, this isn't the first time this has happened. Luckily in the past the kittens that were dropped off were in relatively good health. That wasn't the case for Chansu, a 10 week old tortoiseshell girl kitten who was in immediate need of medical attention.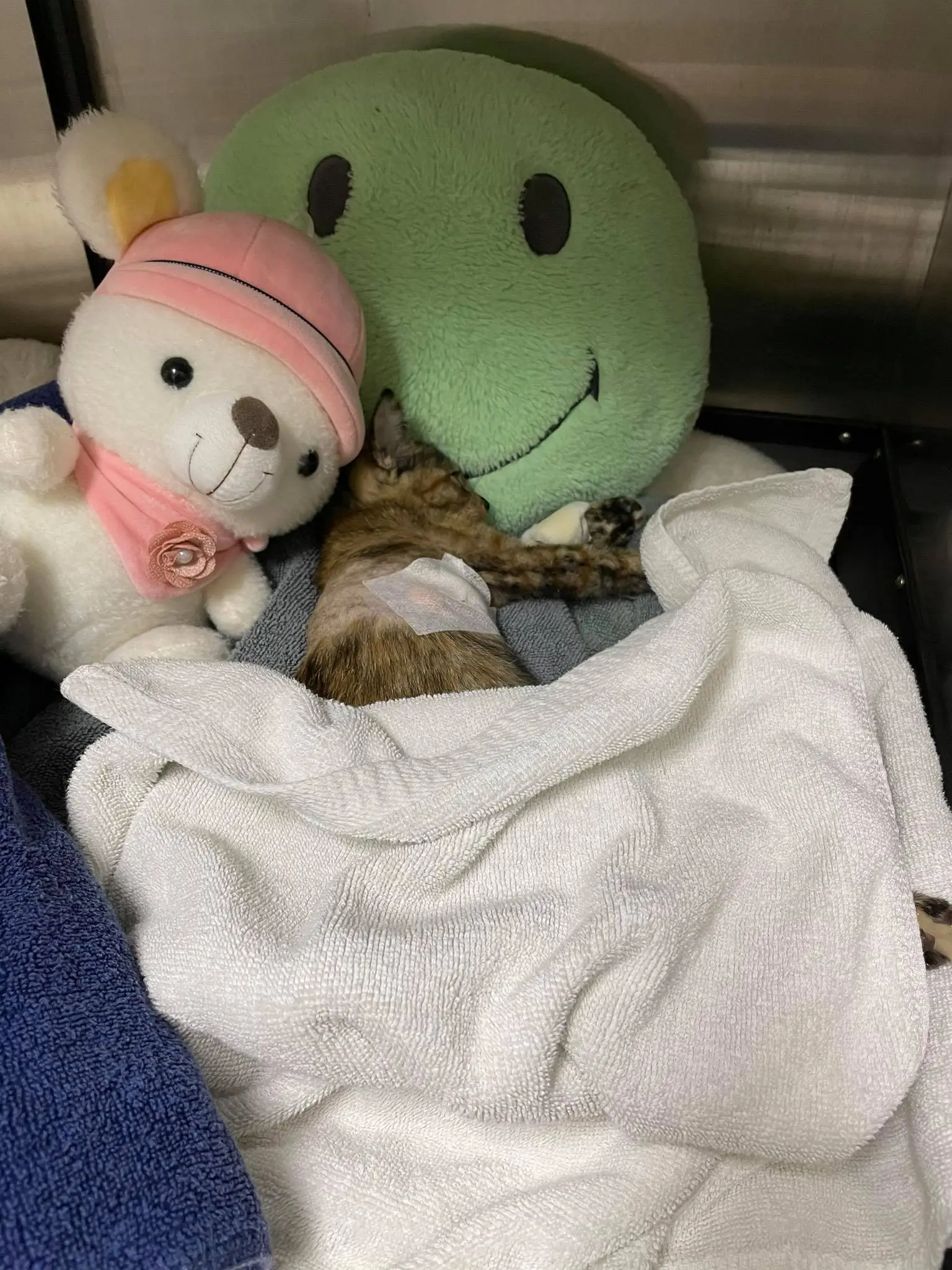 Chansu, which means "chance" in Japanese, was given just that when we learned she had multiple wounds to her body including a punctured lung due to what we believe was a dog attack. Her tuxedo sister, who we named Tuxie, did not sustain any injuries, thankfully. Chansu spent many days at Chiang Mai Center Animal Hospital under the expert care and monitoring of Dr. Fon (Supavadee Pongkhum). Each day was a battle for her but slowly she began to be able to lift her head, meow, eat, and eventually attempt to walk. Once she was eating well and becoming mobile, Liz took her home with a car load of medications and instructions on how to provide her physical therapy.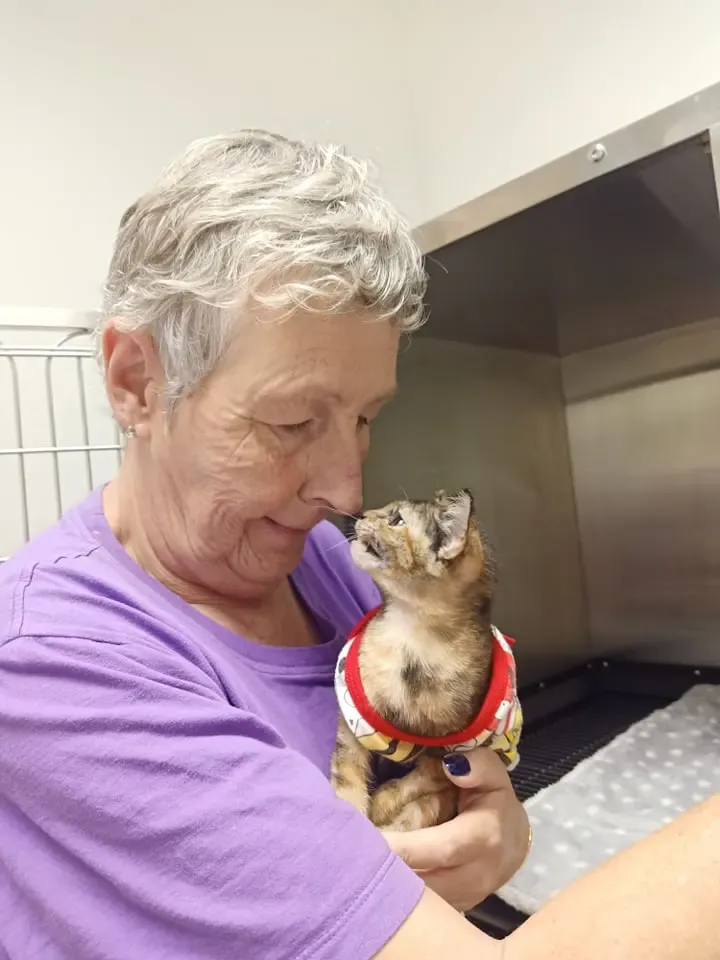 Fast forward only a short week and "Chansu", the kitten who was given a chance, made a FULL RECOVERY!
We want to thank all of the people who donated to help cover Chansu's medical bills – WE APPRECIATE YOU! Because of your support we were able to give this sweet little girl the medical care she needed. Also a special thank you to her current foster family Inge Rozendal, Hendrik Rozendal, and their two animal-loving daughters, Amarins and Lise for taking on Chansu and providing her with the physical therapy she has needed to strengthen her legs and back.
THANK YOU!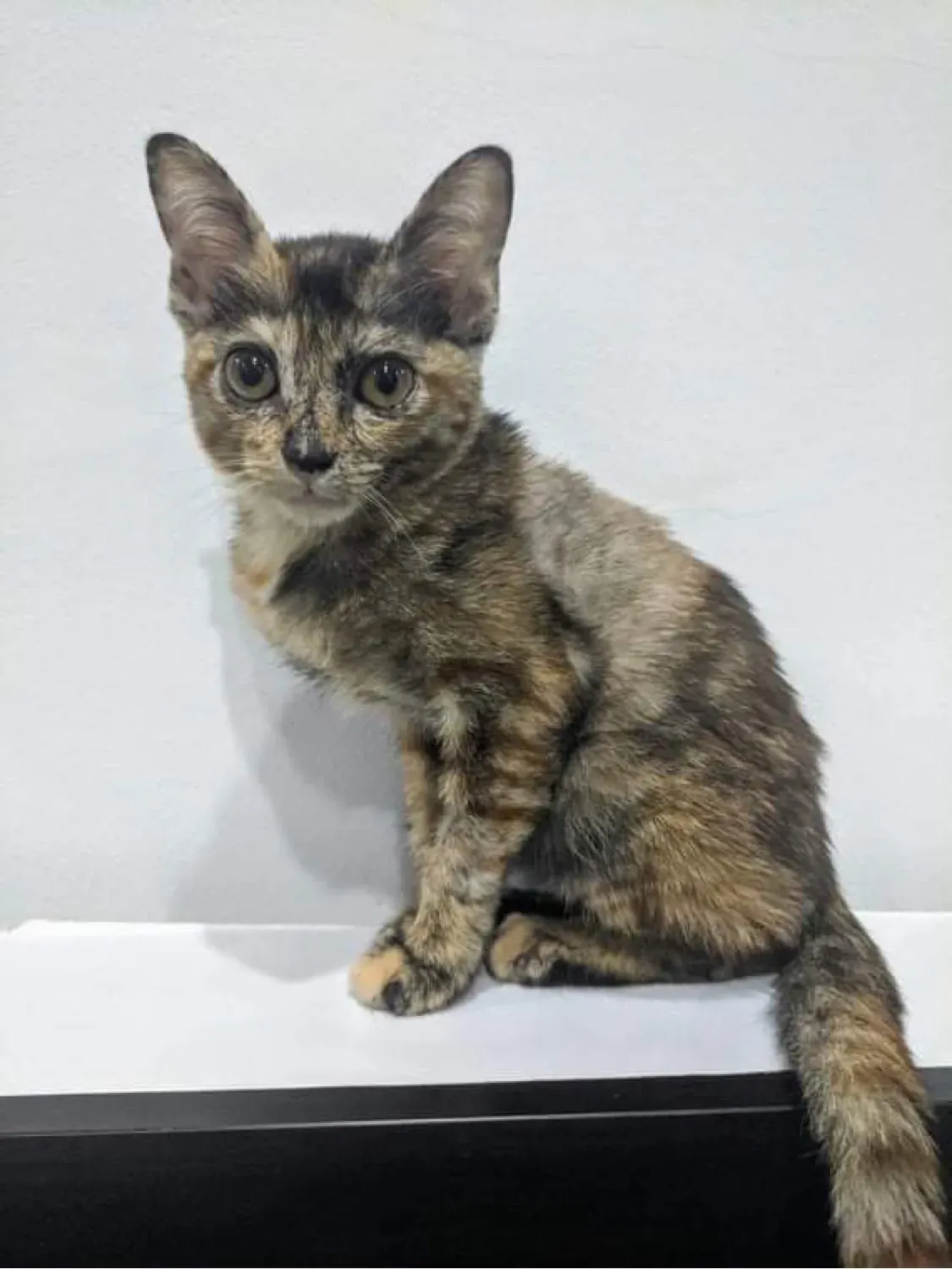 We are so excited to share that Chansu is truly ready for adoption! We asked her foster parents to share a little information about her below:
"Chansu has some real spice in her. She is such a small kitten with a huge personality, which you gotta love. She will tell you how it is and she know what she wants. If it is up to her, she will lie on top of you for the complete day. She is the cuddliest kitten.

Her foster family nicknamed her 'The Parrot'; not only because of her talkative character, but also since she loves climbing on top of your shoulder. This gives her a great overview and apparently, at times, a great place to sleep or rest for a bit.

She is great with children. Our foster family has two young daughters and she follows them around as if they were her sisters. She loves playing with them, and she often tries to sneak in at night to share the same bed. She would be able to be placed with other cats, but due to her history, dogs wouldn't be the best idea.

Chansu was limping when we got her. Her leg has gotten much stronger over the past few weeks though, and it keeps improving. She still has a little bit of a funny walk, but she can climb, jump, and play like any other happy cat. We are extremely happy that she grabs her second chance at life with all four paws, and we are looking forward to meeting people interested in offering her a forever home." – Inge Rozendal (Chansu's foster mom)
If you are interested in adopting this miracle rescue kitten, please contact us!
🏡 Adoption of the Month
Homes for 5!
August was a hugely successful month for adult adoptions. Typically, we have very little trouble finding our rescue kittens homes quickly. However, our full grown felines often spend a longer amount of time in foster care or at our rescue center waiting for someone to choose them. It takes a special person to look past all the cute little fuzzy baby kittens and take a chance on an older pet.
Below we have featured each of the 5 adults who we are so excited to share found their forever home this August.
Jaycee with her new mom and dad who started as foster parents and….failed!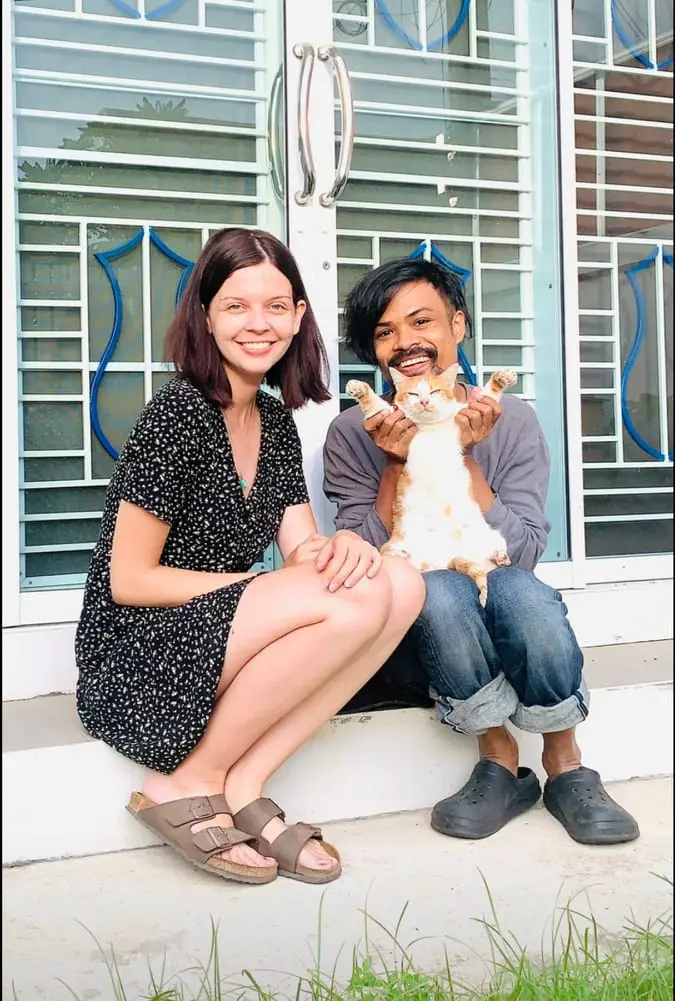 Helga and her new family who are spoiling her to bits!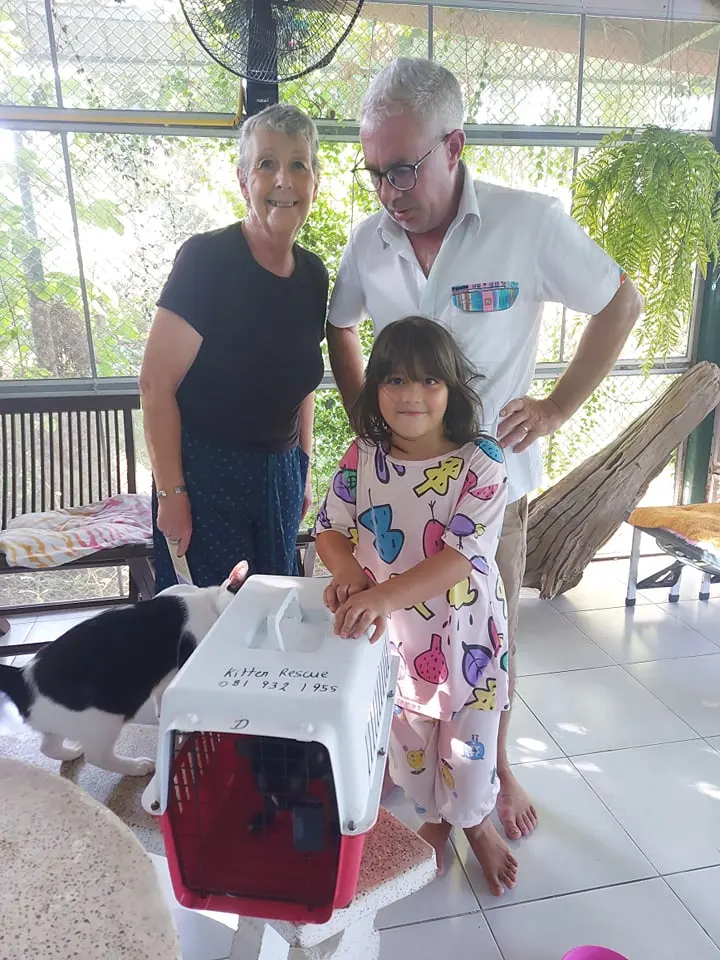 Silky and Strawberry who we socialized together for this epic double adoption!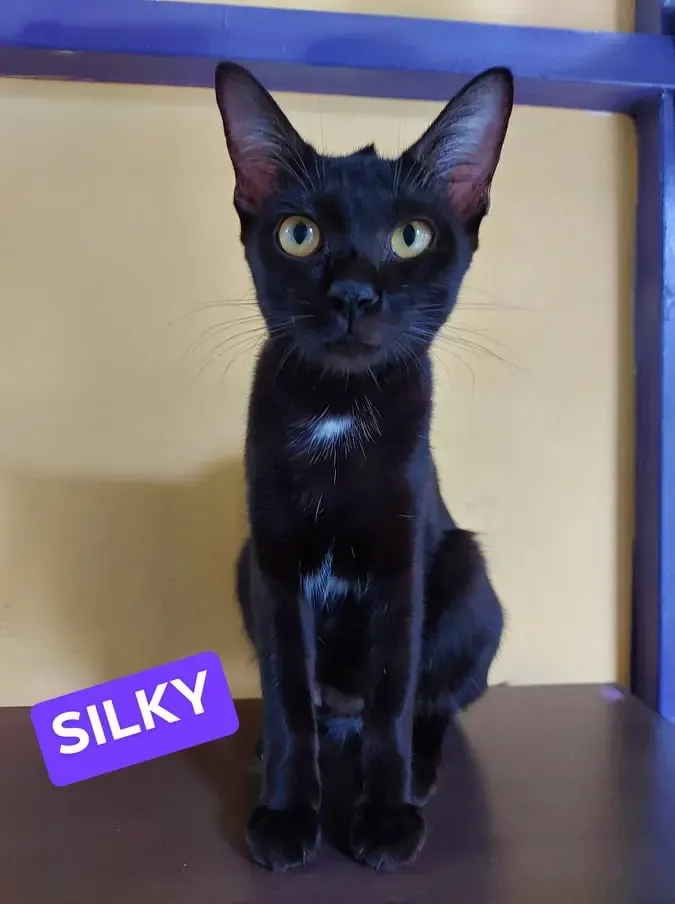 Suki and her new brother Percy getting socialized at the cat hotel before going home together!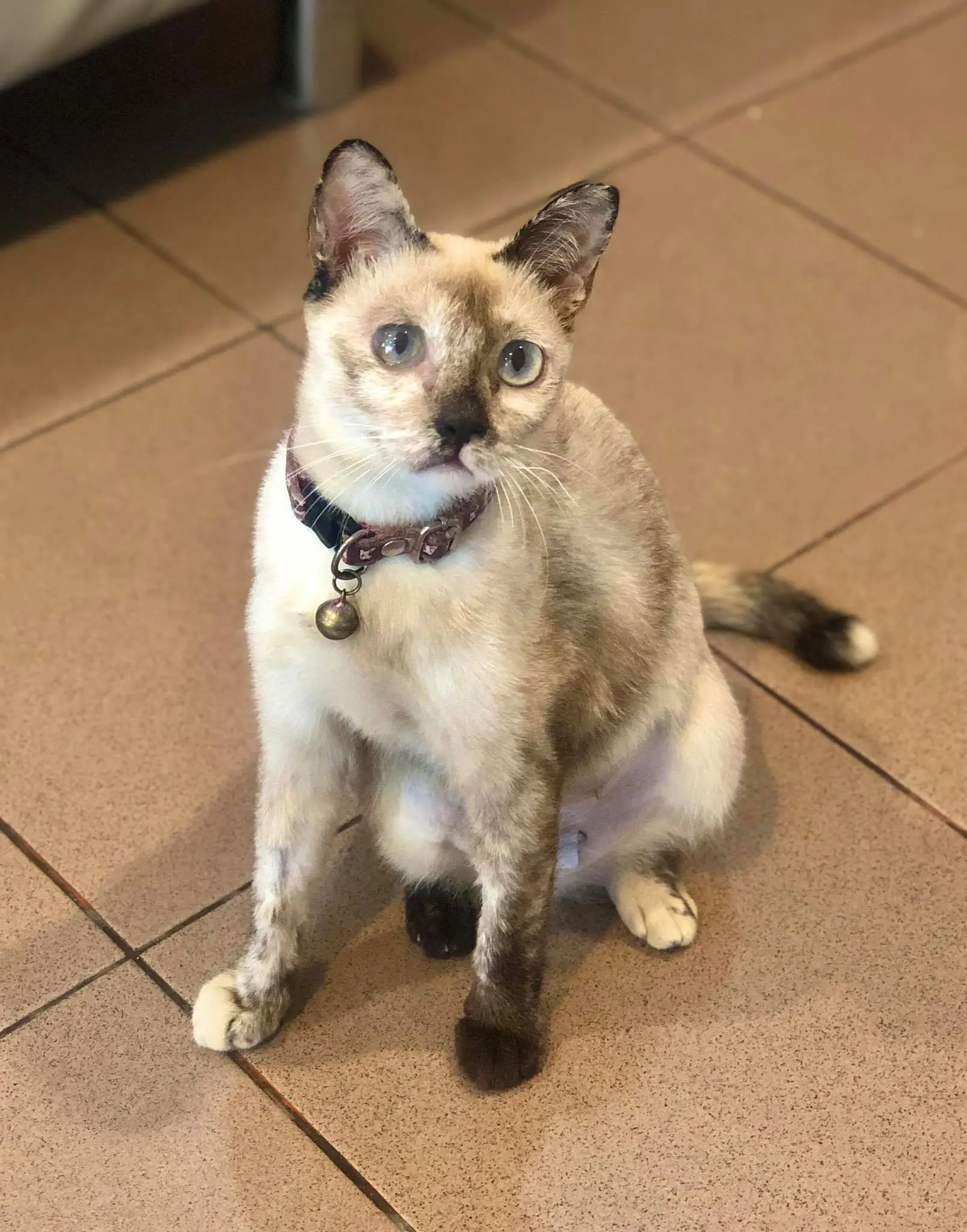 ❗️ We Need Foster Carers ❗️
Are you living in Chiang Mai and looking for an opportunity to help us support rescued kittens and cats while they wait for adoption? Consider becoming a foster parent with Adopt Meow!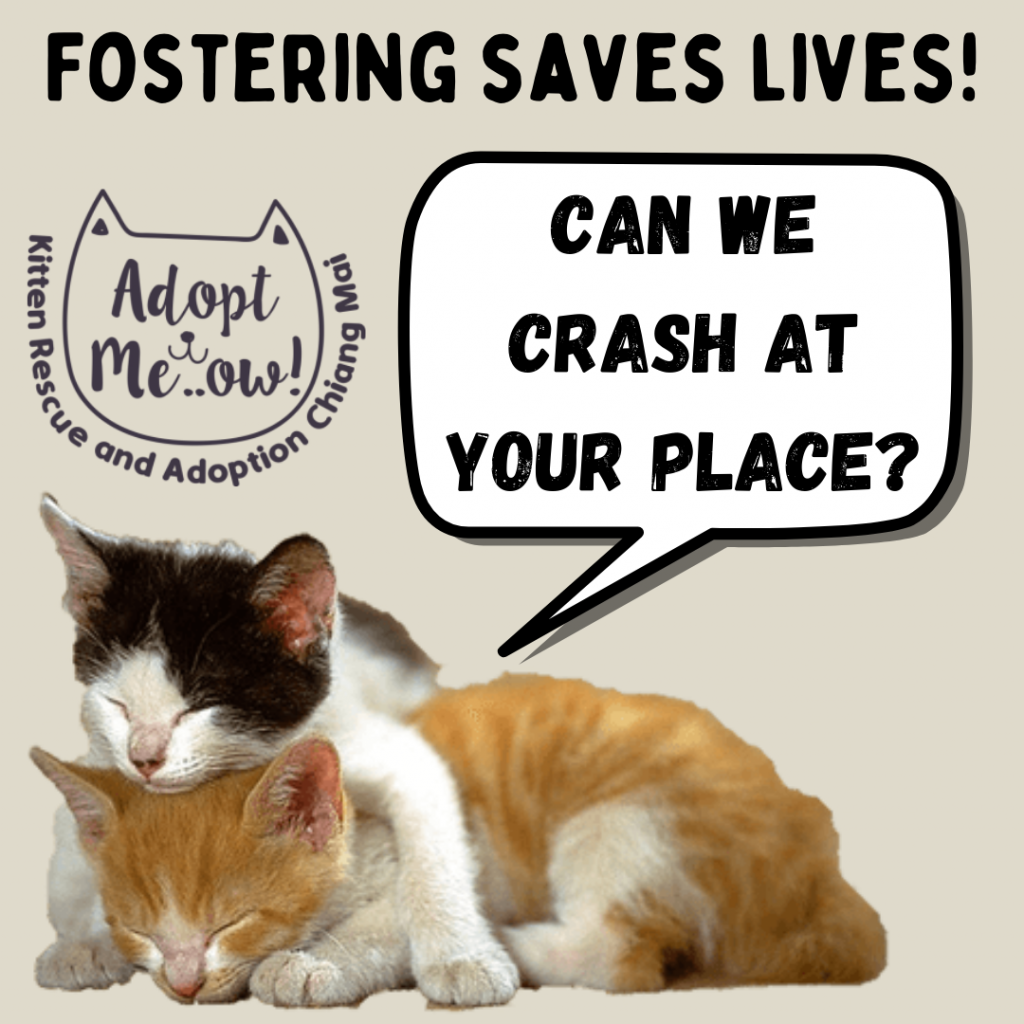 Becoming a foster parent for one or more of our rescues can be a wonderful and very rewarding experience. The purpose of fostering is to prepare the cat or kitten for future adoption. A foster parent you will support your cat or kitten by showing them love, building trust, and helping us facilitate their special adoption day pick-up!
If you are interested to learn more about fostering or would like to APPLY to become a foster parent with ADOPT MEOW, please click below!