#12 — WVS help us sterilize 23 colony cats
Welcome back and to the July edition of the Adopt Meow Newsletter.
It was another action-packed month at Adopt Meow Rescue Center! This month's newsletter will feature our favorite stories and most exciting news from the past 30 days. We hope you enjoy!

If you'd like to give us a helping hand to support more cats, check out how you can Donate, Foster or Adopt and make a real difference! Thank you from all of us at Adopt Meow!
This month at Adopt Meow 🐾
Adoptions: 33
Rescues: 38
Sterilizations: 31
🔦 Monthly Spotlight
WVS "Care For Cats" Day #2
On July 28th we had a very exciting day, as it was our second Adopt Me-ow Chiangmai and WVS Care for Dogs collaboration. WVS very kindly sponsored another "Care for Cats" day and we were able to sterilize 23 cats in one day, an amazing achievement.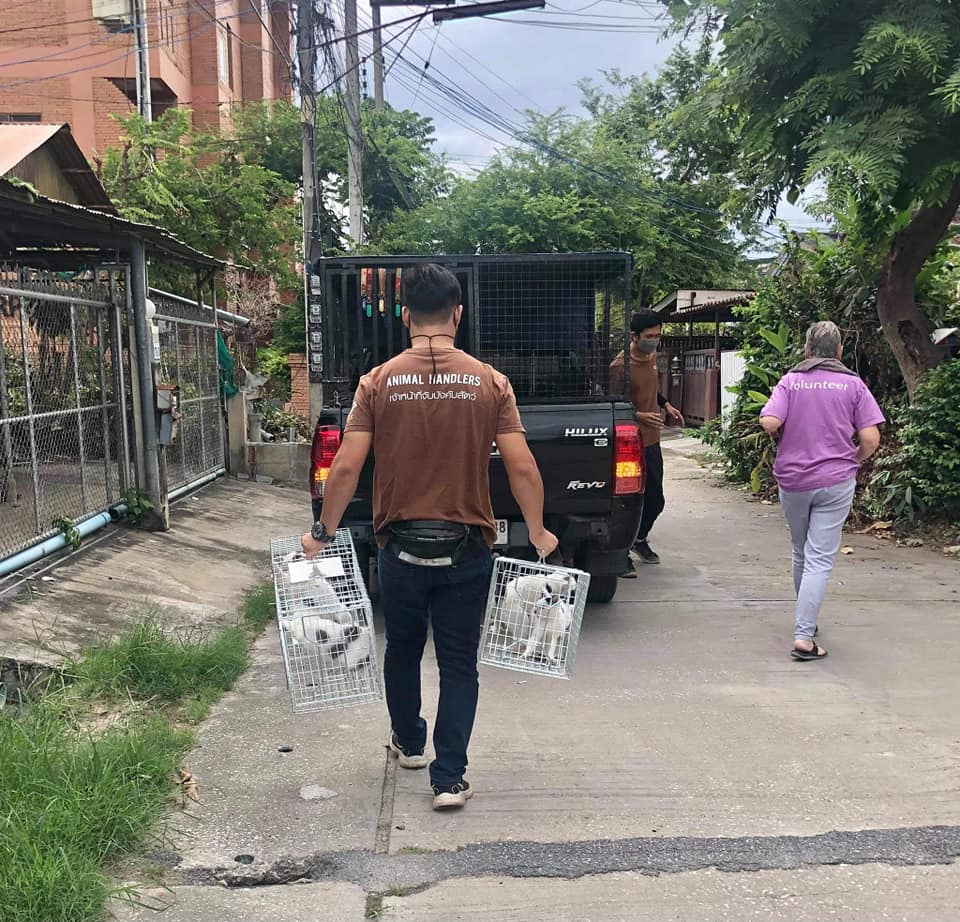 All of the cats that were sterilized were stray cats from local colonies; a huge step forward in our dirve to reduce the number of unwanted kittens. We are sending a big thanks to the staff at WVS – Ian, Guy, Joke and the vets, for helping the kitties of Chiang Mai! We would also like to thank Martin Smith, who kindly offered to lend us his van, but due to WVS transportation, we did not need it. Thank you for your willingness and support.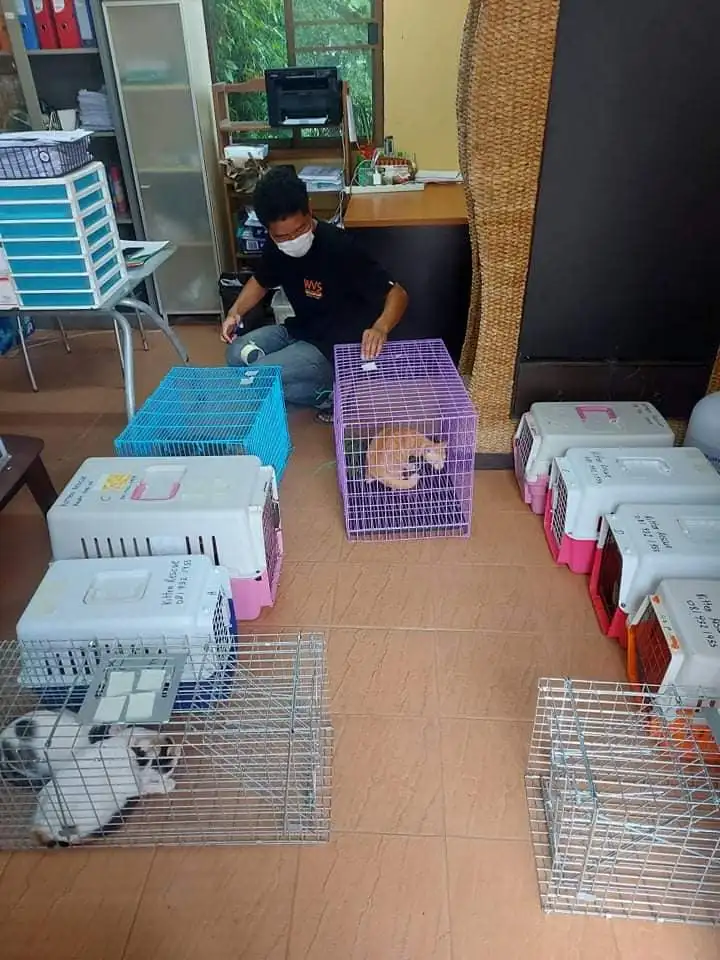 We hope to run another sterilization day soon and as always, are happy to hear about cats that need our help – please message us on Facebook or via our LINE: adoptmeowcm
🐈 Rescue of the Month
Pun-Pun The Tripod
Around the start of June, Liz got a call from a lady named Alessandra RIvero, telling her that she had seen a cat with what she believed to be a broken leg, outside of Pun Pun Restaurant near Airport Plaza. Liz went to do a site visit and saw him walking around on only 3 legs and believed it was some kind of deformity, but was unable to catch him.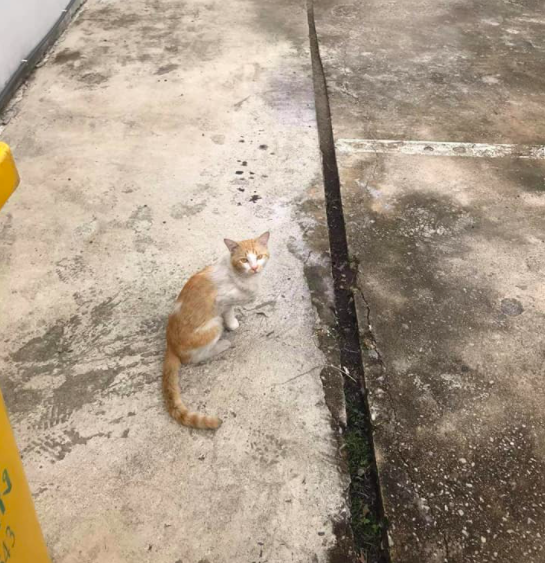 A Team Effort
They set up a cat trap near the restaurant and a whole team of people (Alessandra, Rita, Chloe and some Thai locals) spent the next few weeks trying to spot and catch this cat, it really was a team effort. Chloe Click spent hours waiting and looking for Pun Pun and then finally, in late June, she and her Thai friend finally managed to get him! All the waiting had paid off.
Pun Pun was taken to Chiang Mai Centre Animal Hospital and the x-rays showed long term injury in his leg, most likely from the shoulder. It was simply impossible to repair it as the leg was dead, which left one option – amputation. Pun Pun successfully had the surgery, alongside sterilization, and was at the vets for a few days receiving excellent post op care from the brilliant Dr Fon and Dr Tao, who massively helped us to ensure that the costs were kept as low as they possible could be.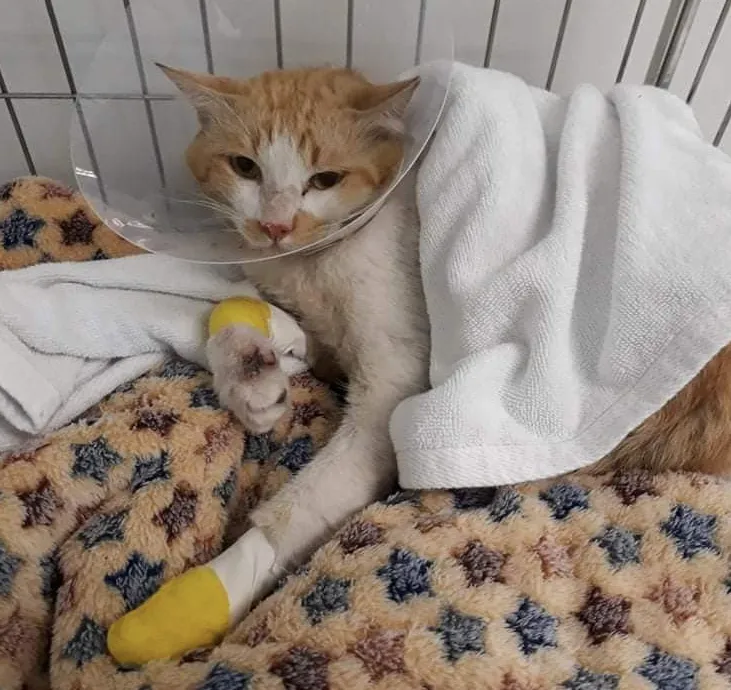 Pun Pun's Return to Freedom
Fast forward to today and this lovely boy is now back at the Adopt Me-ow centre with Liz and he will stay there until he can have the stitches taken out. After that, his future is in his hands really! Alessandra wants to try and give him a forever home, so we will wait and see whether Pun Pun is a homebody or a street cat. Either way, thanks to a huge team effort from a group of lovely people, we have been able to ensure this cat is now healthier and happier! A very happy ending for Pun Pun.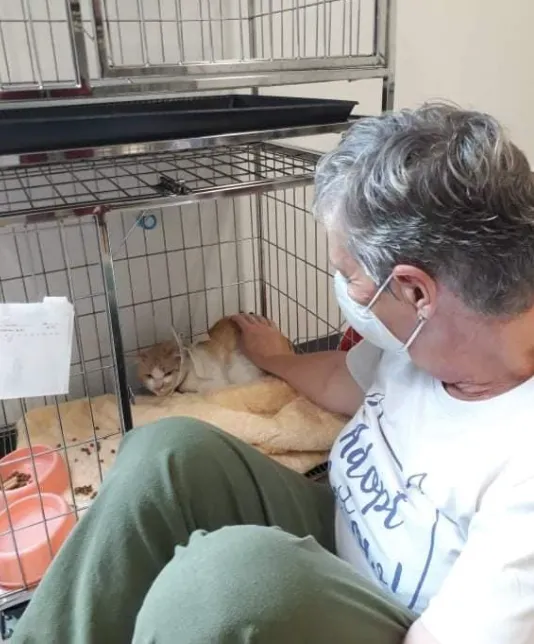 🏡 Adoption of the Month
Gus & Nala's Story
Our rescue and adoption efforts are primarily focused on the most vulnerable feline population – the little guys! However, within the kitten category, neonates (or non-weaned kittens) are by far the most challenging to take on. The best solution is when we have a lactating mom available either without kittens of her own or with kittens of the same age. However, this isn't always possible. That's when we call in foster carers who are willing to take on super fragile cases like Gus and Nala.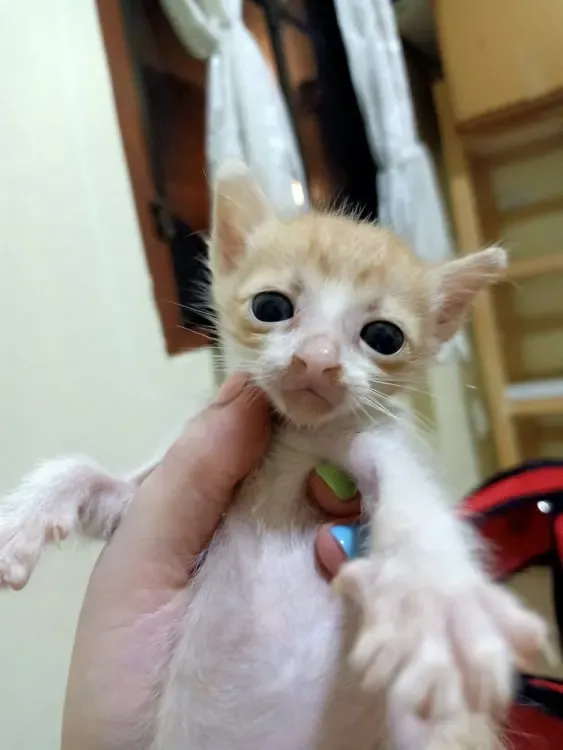 Caring for Gus & Nala
At the beginning of the month we received a message from a lady who had found two small neonates at the side of the road without their mum. Mollie, a key member of our team and her boyfriend Joke (of WVS fame), agreed to foster them and decided that they were around 10 days old, extremely young to be alone without their mum. There are several important steps to follow when looking after neonate kittens this young:
1️⃣  They cannot eat solid foods and have to be fed with warm sterilized goats milk or kitten formula, through a small bottle or miracle nipple. The time between feeds gets longer as the kitten gets older, please see the chart below. This also includes feeding regularly throughout the night!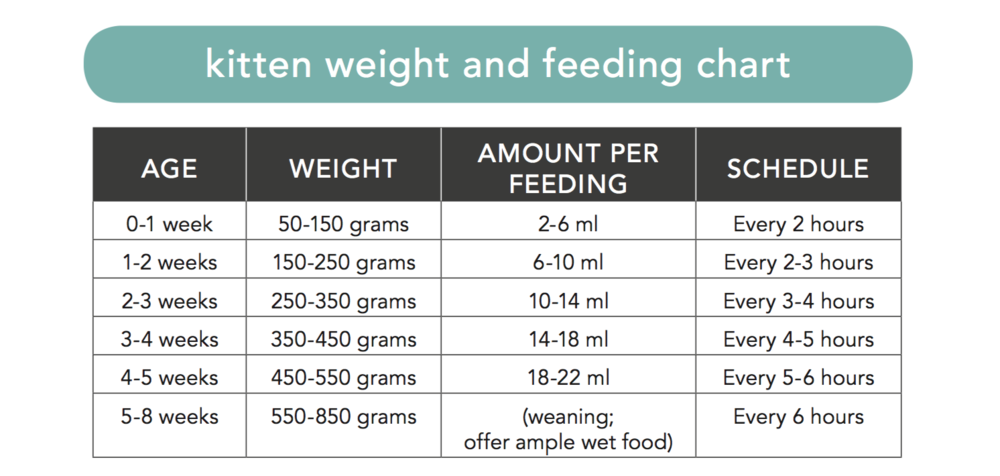 2️⃣   Always keep the milk in the fridge once opened and change it every 2 days to ensure the milk doesn't go bad, as this can upset the kittens stomach, which are extremely sensitive! You should always heat up the milk before each feed – you can put the bottle into a cup of boiling water for around 20/30 seconds and then test it on your hand to make sure it's not too hot for the kittens mouth.
3️⃣  When feeding the kittens, ensure they are in a natural, belly-down position and gently insert the bottle/nipple into the kittens mouth. When you first start feeding a neonate, it may take them a while to get used to latching – stick with it, it'll get easier once the kittens get comfortable!
4️⃣  After you have fed the kittens, be sure to relieve them from the toilet by using a damp cotton bud. Kittens this young are unable to go to the toilet on their own and this replicates the same feeling of a mum using her tongue.
5️⃣  Keep the kittens warm – make sure they always have a heat source, as neonates are unable to regulate their own temperature. A hot water bottle or microwavable heater pad is a great investment when caring for neonates.
6️⃣  Keep an eye on worms and fleas, as these are incredibly dangerous for kittens this young. If you notice either of these, please administer a small amount of de-flea/de-worm medicine, as directed by your local vet.
After following all of these steps plus many nights of broken sleep, Mollie was successfully able to get Gus and Nala through the neonate stage, weaned onto wet food, litter trained and ready for their forever home. Gus and Nala have now been adopted and are happy, healthy kittens! This is proof that, albeit very hard work, raising neonates this young can be a very rewarding experience.
Gus & Nala Get Adopted!
When the kittens were about 4 weeks old we got an exciting message from a lady who had seen their pictures and story on our social media page. She was hoping to adopt them when they were of age! 3 weeks later when Gus and Nala were strong and weaned, we were able to hand them over to their. new home where they will be loved for the rest of their days.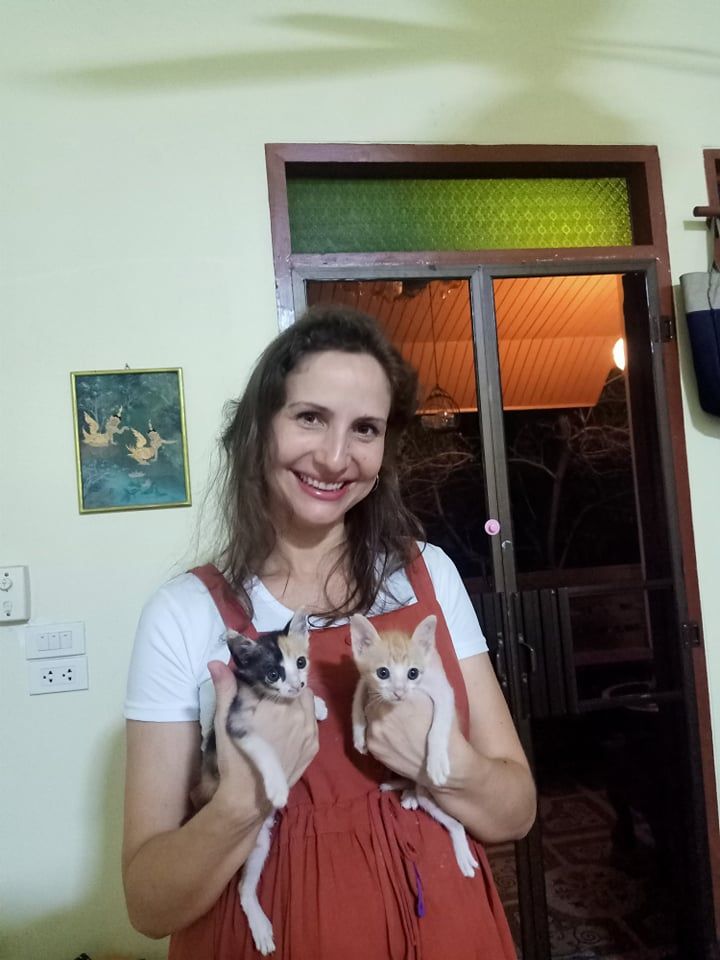 ❗️ We Need Foster Carers ❗️
Are you living in Chiang Mai and looking for an opportunity to help us support rescued kittens and cats while they wait for adoption? Consider becoming a foster parent with Adopt Meow!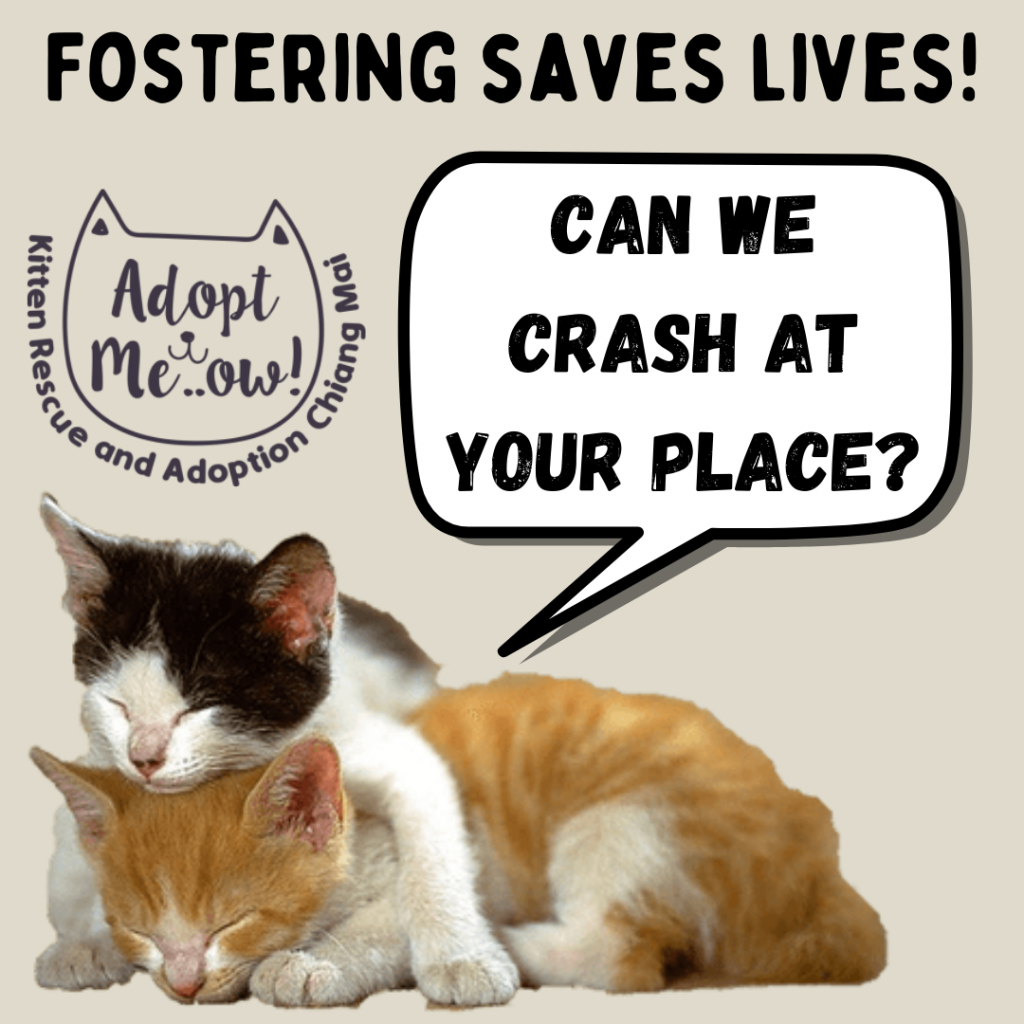 Becoming a foster parent for one or more of our rescues can be a wonderful and very rewarding experience. The purpose of fostering is to prepare the cat or kitten for future adoption. A foster parent you will support your cat or kitten by showing them love, building trust, and helping us facilitate their special adoption day pick-up!