#11 — Supermom Helga nurses 7 kittens!
Welcome back and to the June edition of the Adopt Meow Newsletter.
It was another action-packed month at Adopt Meow Rescue Center! This months newsletter will feature our favorite stories and most exciting news from the past 30 days. We hope you enjoy!

If you'd like to give us a helping hand to support more cats, check out how you can Donate, Foster or Adopt and make a real difference! Thank you from all of us at Adopt Meow!
This month at Adopt Meow 🐾
Adoptions: 33
Rescues: 28
Sterilizations: 14
🔦 Monthly Spotlight
Mocha the Miracle Kitten
Mocha was found at Laguna Home 2 in San Sai by Jordan, our Kitten Adoption Coordinator. Jordan and Liz have been running a TNR (trap, neuter, release) project there for the past 6 months. During this time, Jordan learned that one of her neighbors was caring for 3 or 4 cats that were living in the rubbish area behind her house. Jordan was able to trap all of the cats except one female cat, named Cafe, that was deeming impossible to catch – she was too smart! During this time, Cafe gave birth to a litter of kittens which sadly all passed away due to the rough conditions.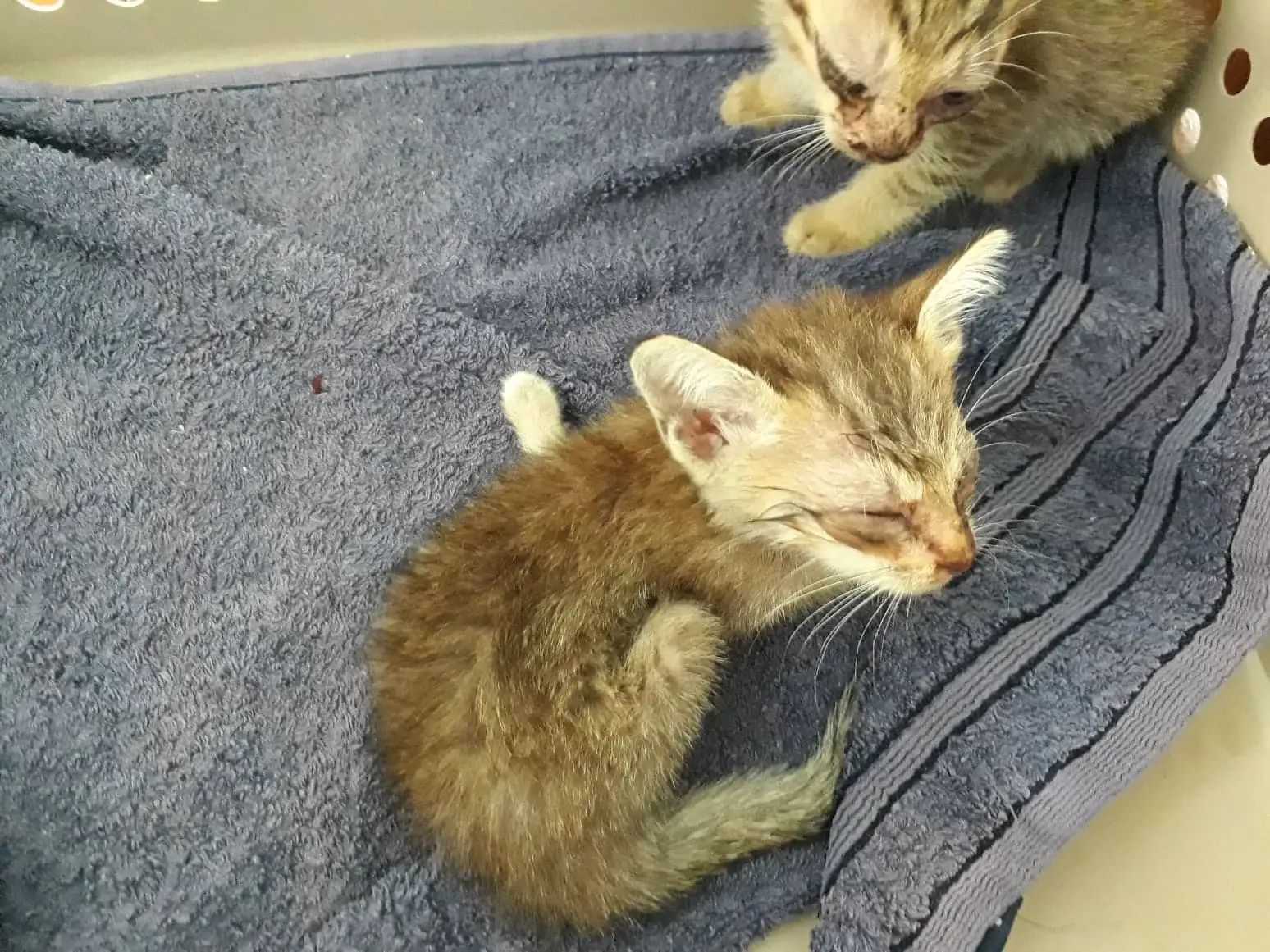 3 Months Later
Fast forward about 3 months and this same neighbor called Jordan to tell her that she'd found two kittens (Mocha and Java) in her back garden. It turns out they were the kittens of Café, who had escaped the traps previously and she'd given birth to more kittens, but this time they had survived. Liz and Jordan went to see the kittens and were utterly shocked by the condition they were in, so rushed them straight to the vets. They were diagnosed with severe feline herpes virus, conjunctivitis, extreme malnutrition, and cat flu – this really was kitten rescue in its most desperate form.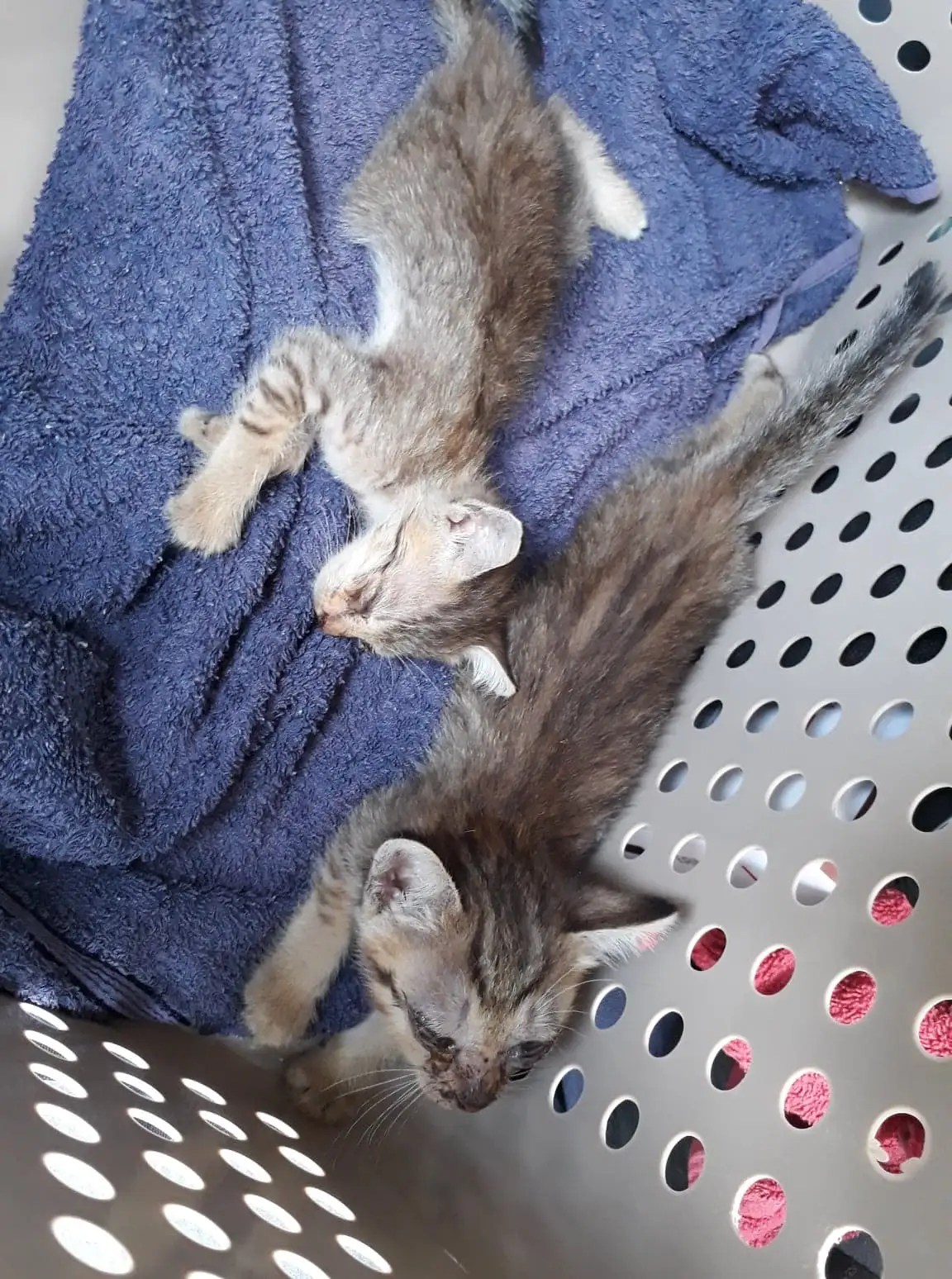 "In all my years of rescue, there has never been a kitten in worse condition than these", says Liz Purdue, founder of Adopt Meow.
Treatment for Both Kittens
Liz took Mocha and Java back to her house and they were in full time care with her, alongside daily visits to the vets. Liz was even giving them daily nebulizer treatment to assist with their breathing. She really was doing everything she could for these two very sick babies, day in, day out. Java, the smaller of the two, was particularly poorly and put up a very good fight during her time with Liz, but unfortunately the illnesses took over and she very sadly passed away. RIP Java.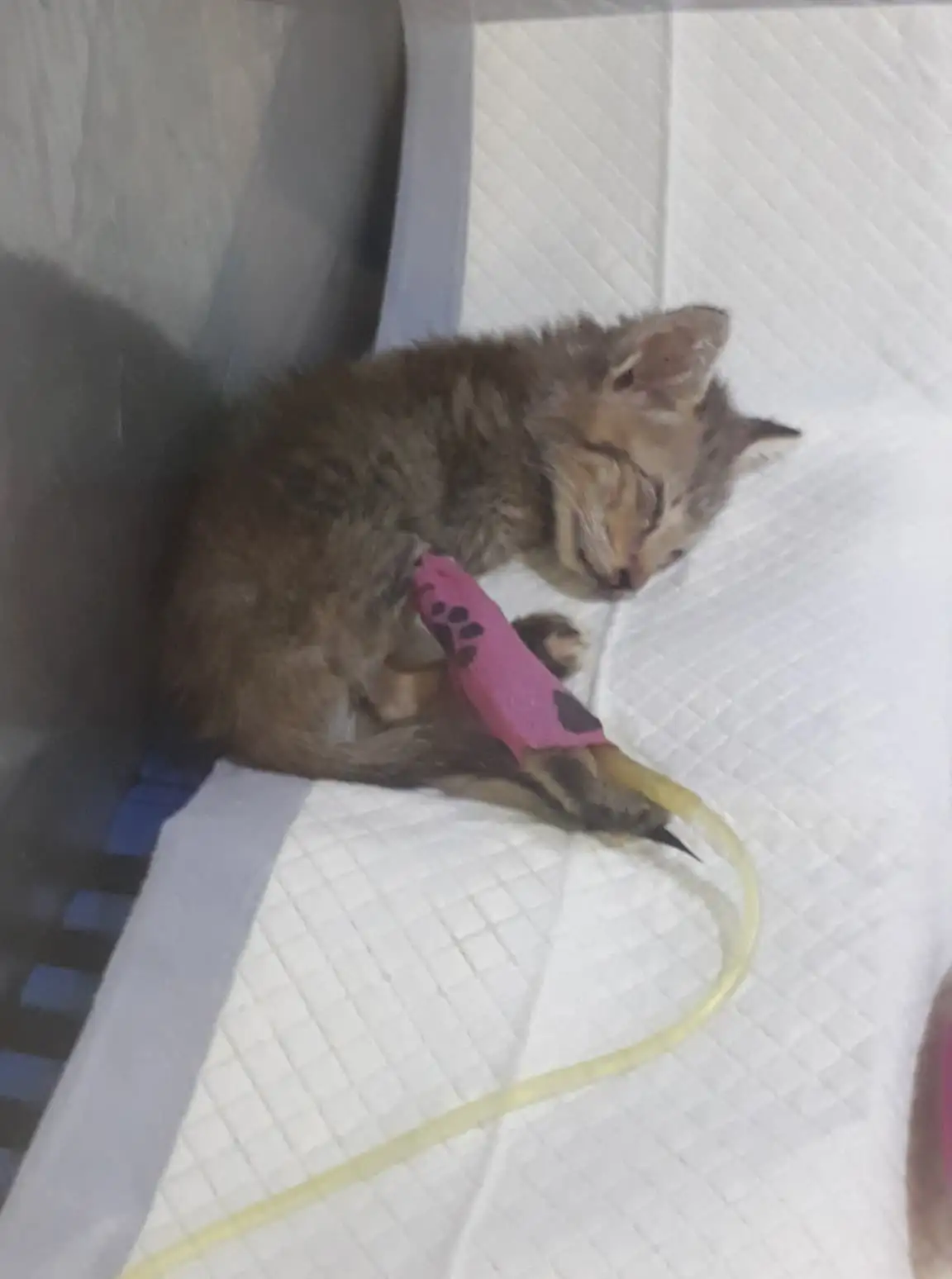 Mocha Today
Although we lost Java, her brother Mocha survived which is truly a miracle. Today, Mocha lives at the Adopt Meow Rescue Center where he is still receiving daily eye drops and intensive eye care. He has been seen by eye specialist, Dr. Pop, who is thrilled with his progress and expects a full recovery of both eyes. Although he still has slight ulcers in each, he has come miles from his rescue day. We are all so proud to have saved Mocha life – it's truly a miracle! See below for yourself!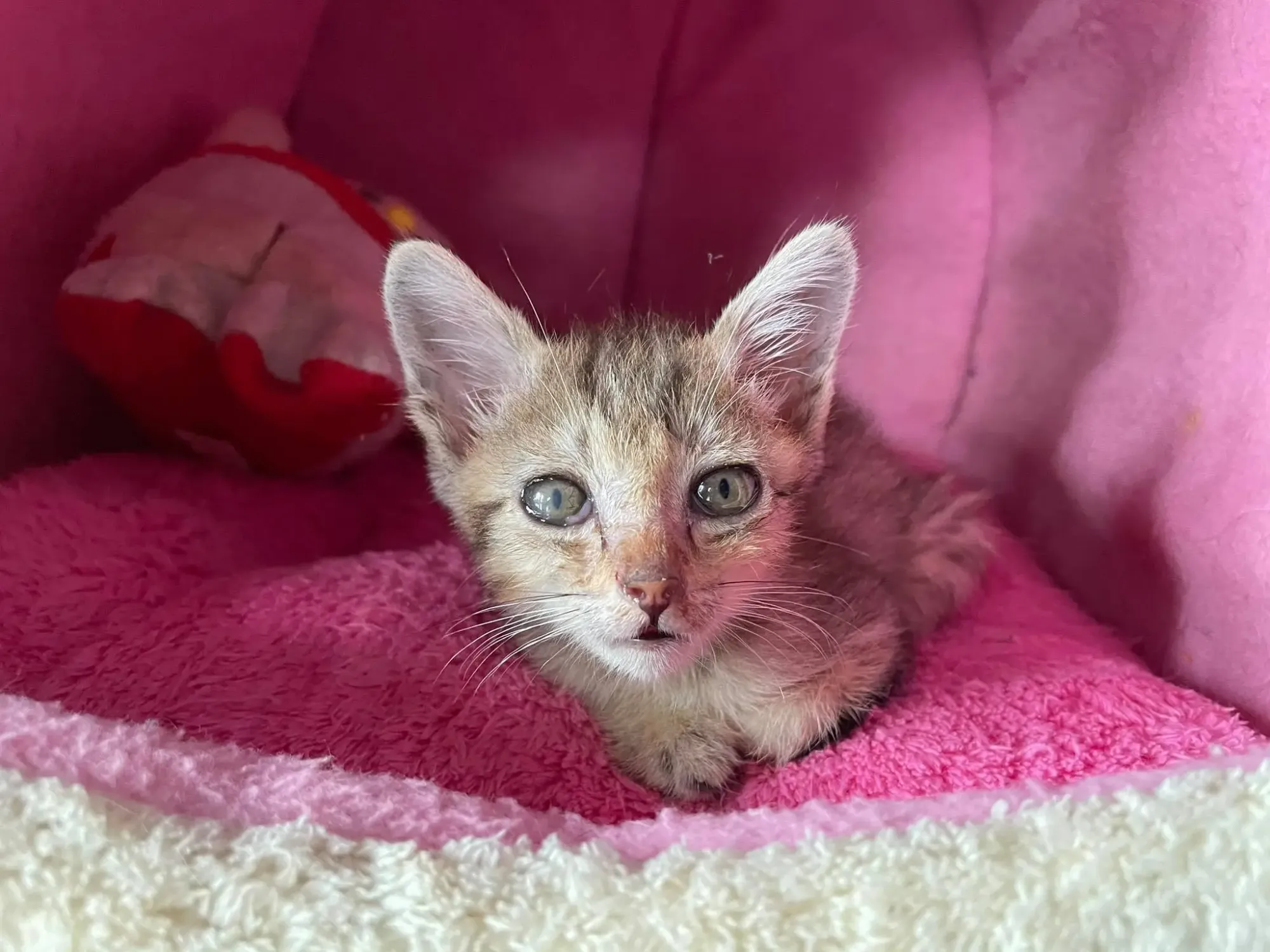 A special thank you to Linda Coons Santitharangkul for giving a large donation towards Mocha's outstanding veterinary bills. We appreciate you, Linda!
🐈 Rescue of the Month
Supermom Helga
When it comes to feline motherhood we can't think of a better example than one of our recent rescues, Helga. Currently caring for a brood of SEVEN kittens… yes you read that right, SEVEN!
Helga was found by Per Albertson while he was rummaging around in his garden. He opened a cardboard box and to his surprise found that a stray cat, now named Helga, had just given birth to 4 teeny-tiny kittens. Not knowing what to do but realizing that the kittens were not safe living among the rubbish he was clearing, he asked the Chiang Mai community for help. As the only rescue organization that takes on pregnant moms and newborns, he was promptly directed to us. Where, of course, we were glad to step in and help.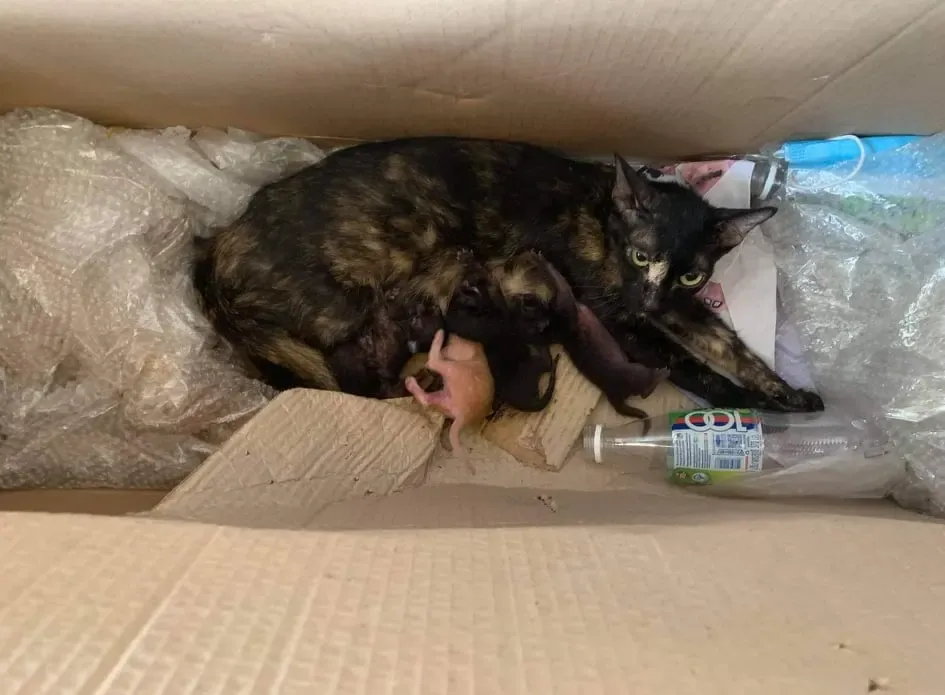 Helga Settles In
Per, the rescuer, drove Helga and her 4 neonate babies all the way to Mae Rim from Hang Dong almost immediately after getting the clear from Liz that we had space. Per generously donated enough money to not only cover Helga's vaccinations and sterilization once ready, but also for her kittens vaccines and treatements. Thank you Per!
Once dropped off, Helga quickly settled in at the Adopt Meow Rescue Center. We realized right away that Helga was a very affectionate and well mannered cat. With her extremely long tail and beautiful tortoiseshell markings, she quickly became a volunteer favorite!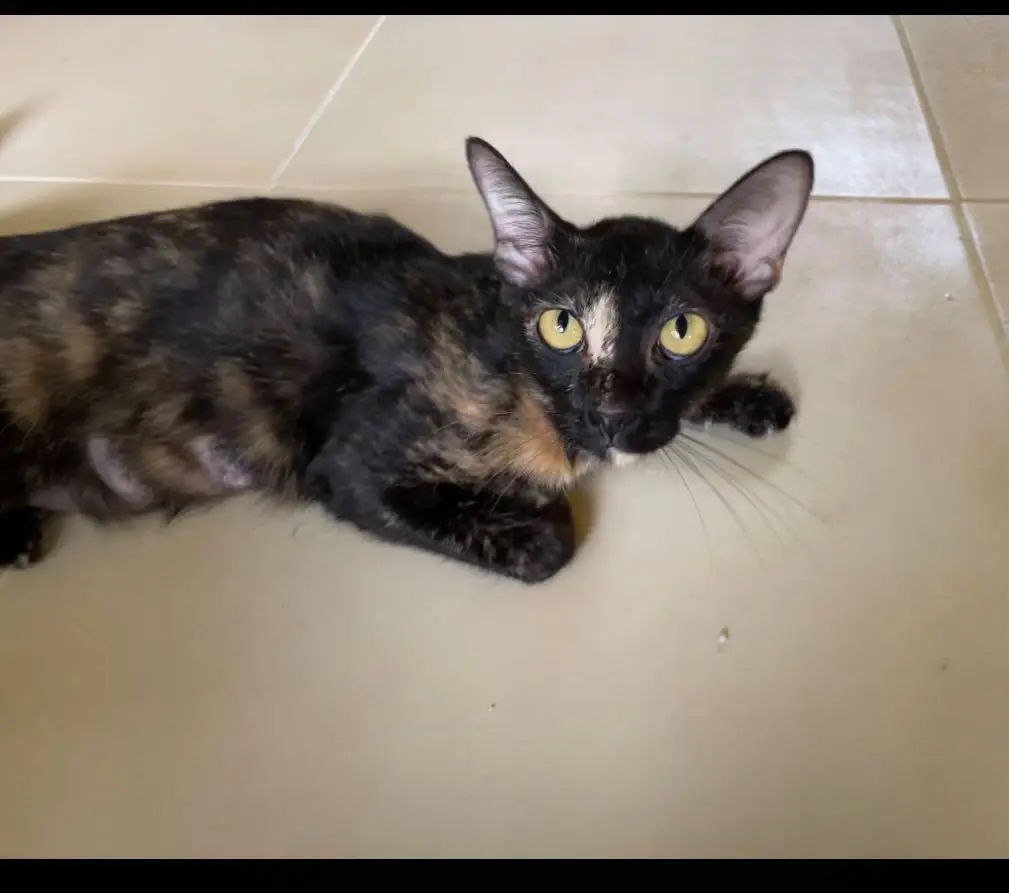 Room for 3 More?
After nearly 1 week at the Rescue Center, Helga was presented with an opportunity to adopt 3 orphan kittens. Liz had received a call alerting us to a litter of neonate kittens in which their mother had been killed by a dog. Luckily these kittens were about the same age as Helga's 4 and so we decided we would present her with the idea. We brought the kittens in and let her smell them and hopefully take them as her own… and she did! This is one of the great benefits of taking in lactating rescues- we can also save orphans! Supermom Helga saved the day and 3 lives! She is now a proud mother of 7!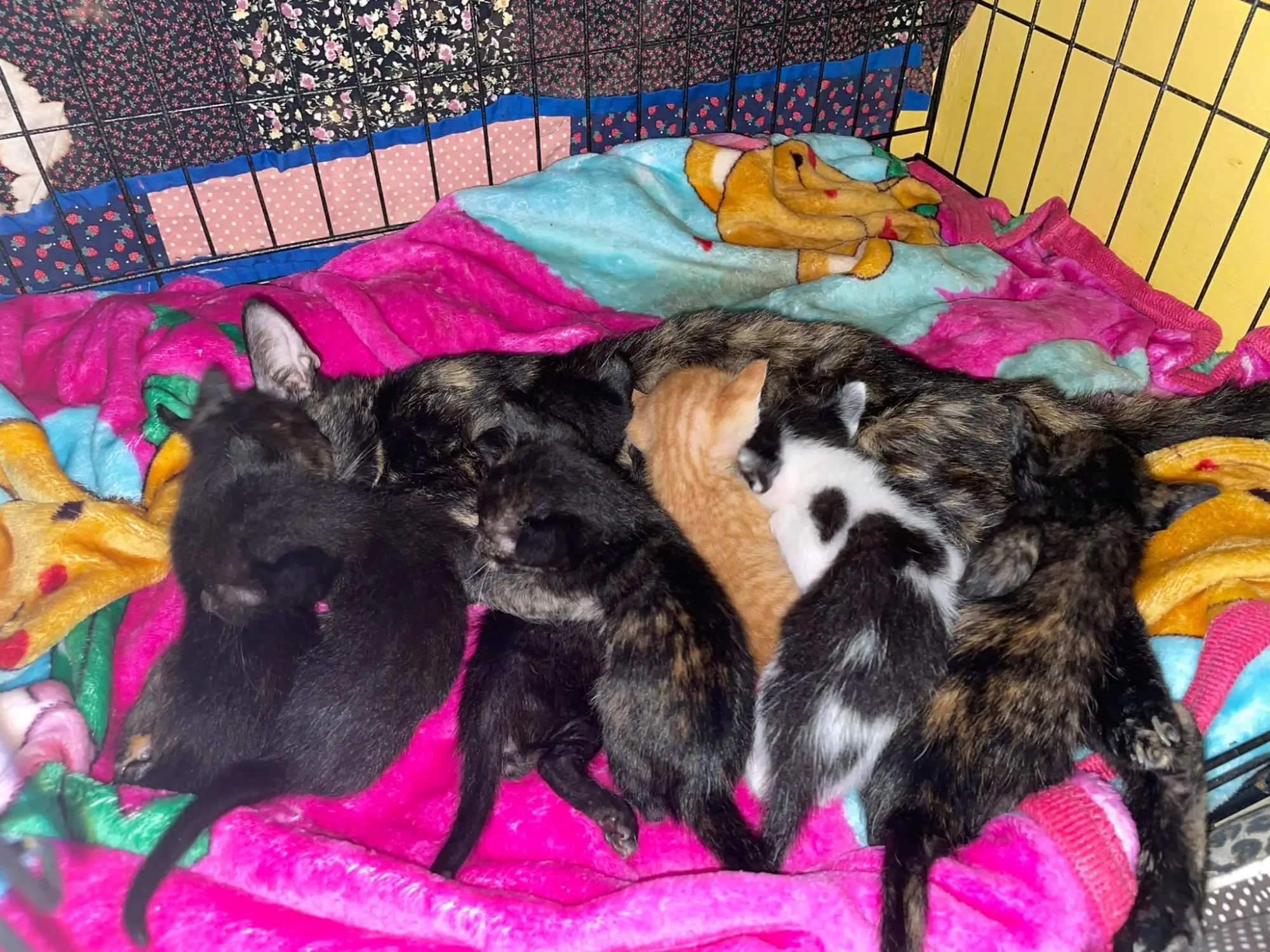 🏡 Adoption of the Month
Coco's 2 Year Wait
Sometimes it takes so long for our adults to be adopted, we wonder to ourselves if there will ever be someone who will come for them. That was certainly the case with Coco, who waited 2 whole years for her forever family to come along.
The Rescue
Coco was rescued over 2 years ago from the Convention Center in Chiang Mai. She was under threat of being poisoned by locals who did not want her around any longer. It's always a shame when we are faced with these threats as well feel it leaves little option for the cat who in many cases is perfectly happy living freely as a community feline and likely doesn't want to be taken out of their territory! We decided for Coco, it was the best thing for us to take her to the rescue center and try to socialize her fully and find her a real home.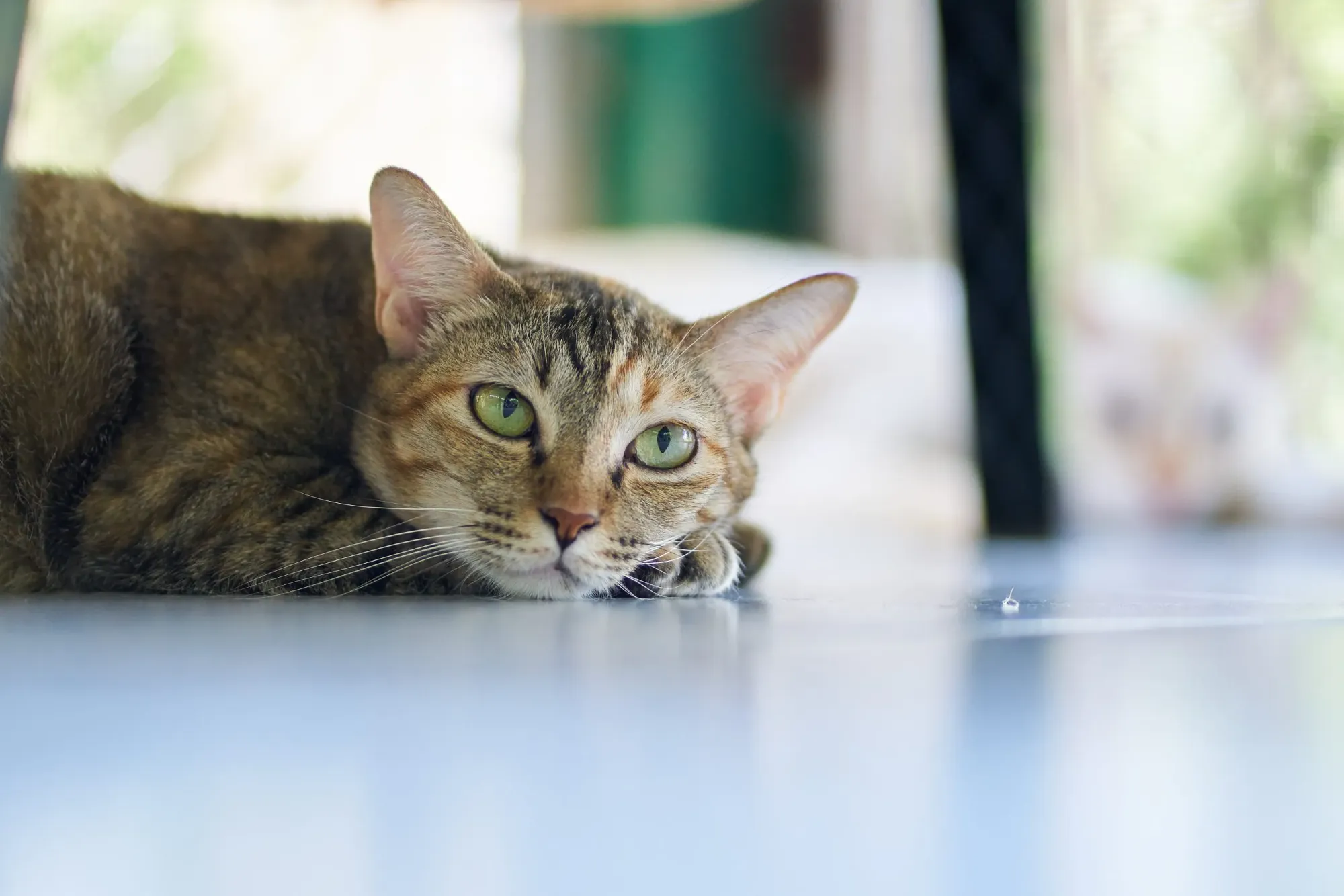 Finally a Home For Coco
It took 2 full years to find the perfect match for Coco. Much of that time was spent working with her to gain trust of humans! Slowly she was tolerant of pets, prolonged exposure to humans, and eventually gentle cuddles by a familiar voice. A slow process that was all quite worth it when a week ago we had someone message us with interest in her.
We didn't want to get our hopes up, because truthfully, Coco is still a slightly nervous cat. However, after explaining to the potential adopter, we understood they had experience with cats and were willing to put in the continued work to make Coco comfortable in a home. The adopter was looking for an emotional support companion who would be happy in a quiet home as an only cat – quite perfect for Coco!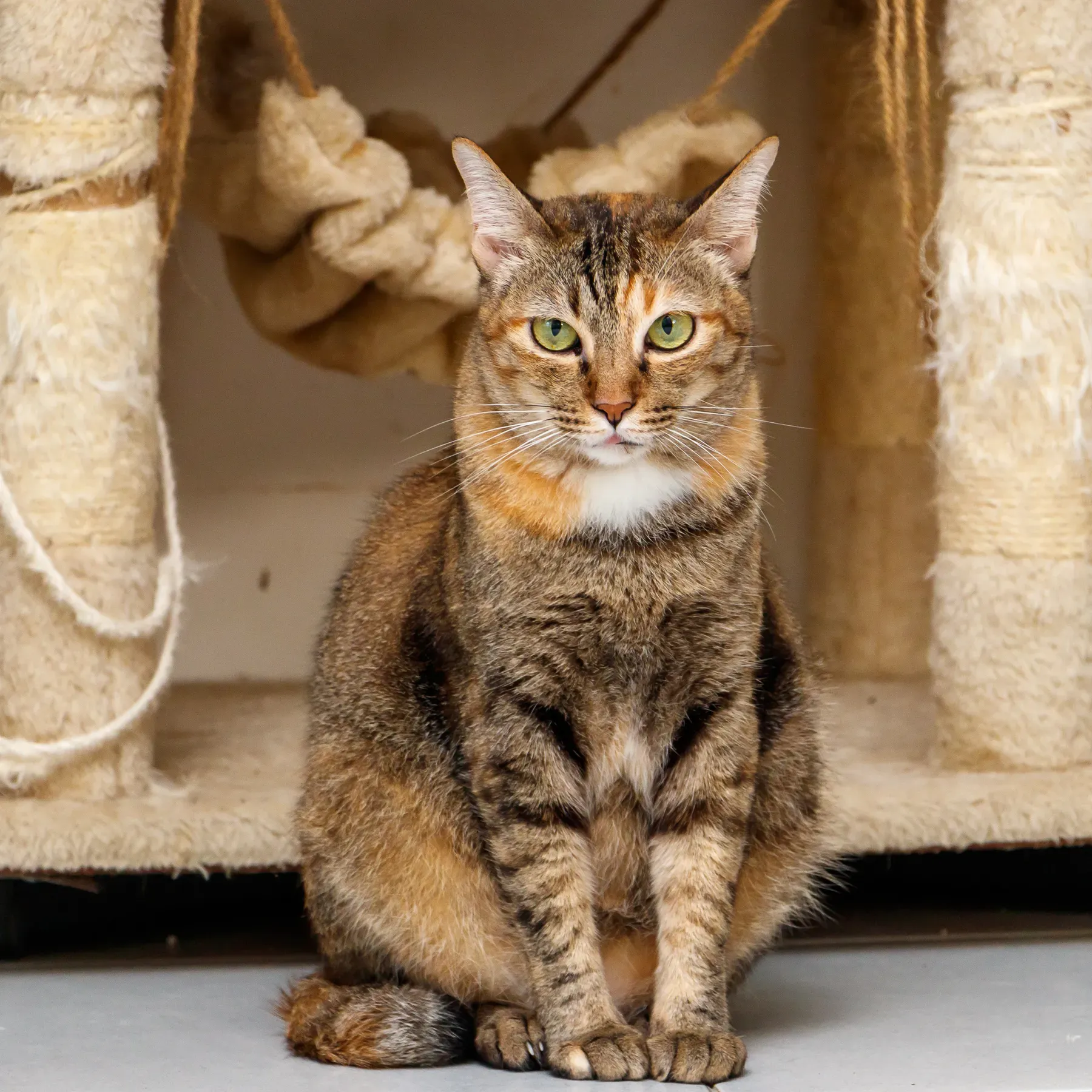 Coco Today
Today, Coco gets to live in a real home with her very own forever human! She quickly settled in to her new home after just a couple days of hiding – haha. She is now out, about, and playing! We have been receiving videos of her behaving in ways that we had never seen at the Rescue Center. Coco is happy! Coco is home free!
✈️ Farewell Jen & Jodie!
Saying goodbye is never easy! Today we want to recognize two of our main volunteers at Adopt Meow as they are getting ready to depart Chiang Mai and take on new adventures in different countries!
Jodie Carrington came to us in 2018 looking to help us and started as a foster mom. Over the years her role has developed into our jack-of-all trades! She fostered dozens of kittens and cats, was part of our adoption team, did volunteer tours at the rescue center, and most recently served as our vaccination coordinator. Jodie – you've done so much for us and the cats! THANK YOU!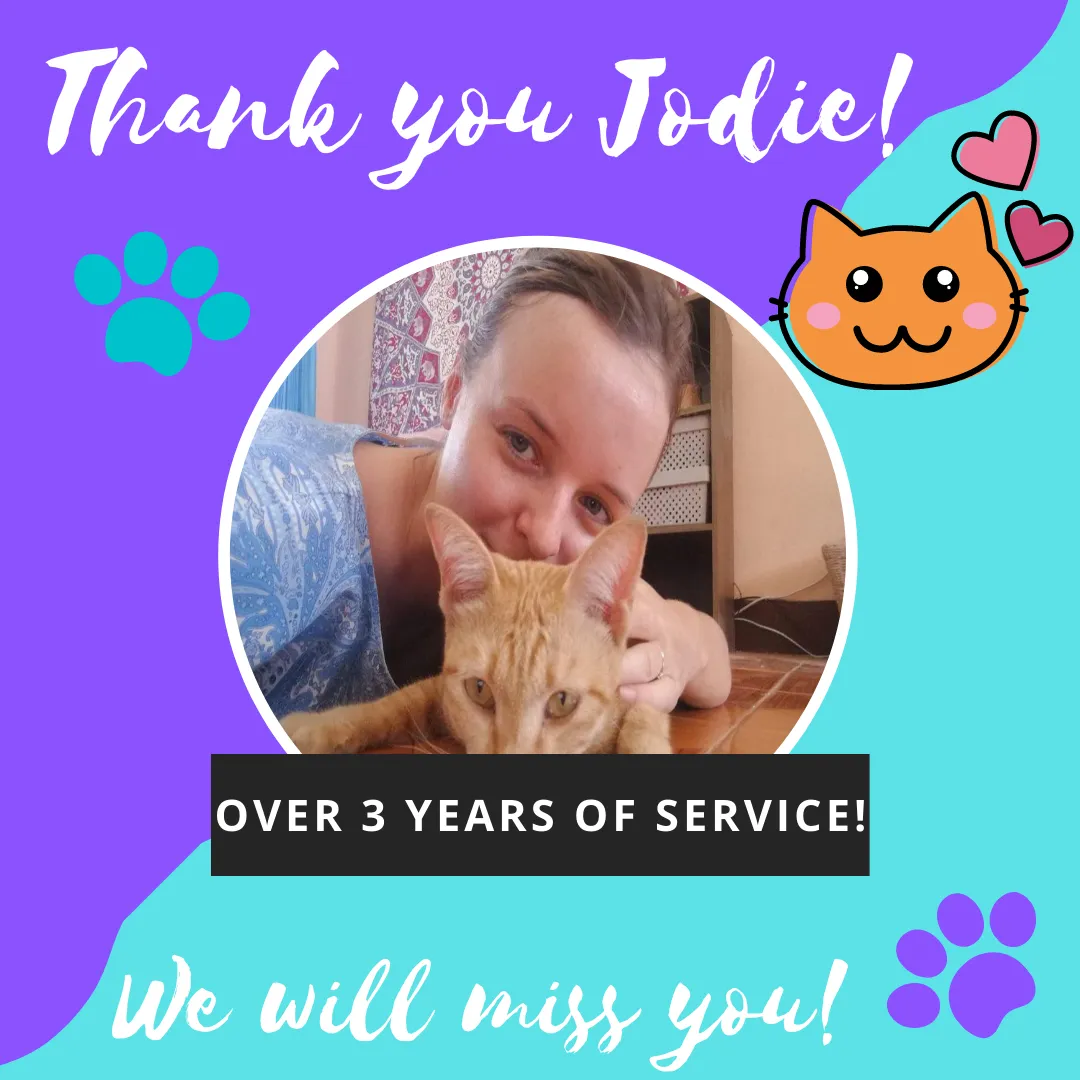 Jen Popadiuk started off as a foster mom back in late 2019 and shortly after decided to become more involved in our team as she took on the role of Foster Coordinator. Jen has helped hundreds of kittens and cats by pairing them with a perfect foster family as they wait adoption! She has found wonderful people in our community to support us and for that we will always be grateful. THANK YOU!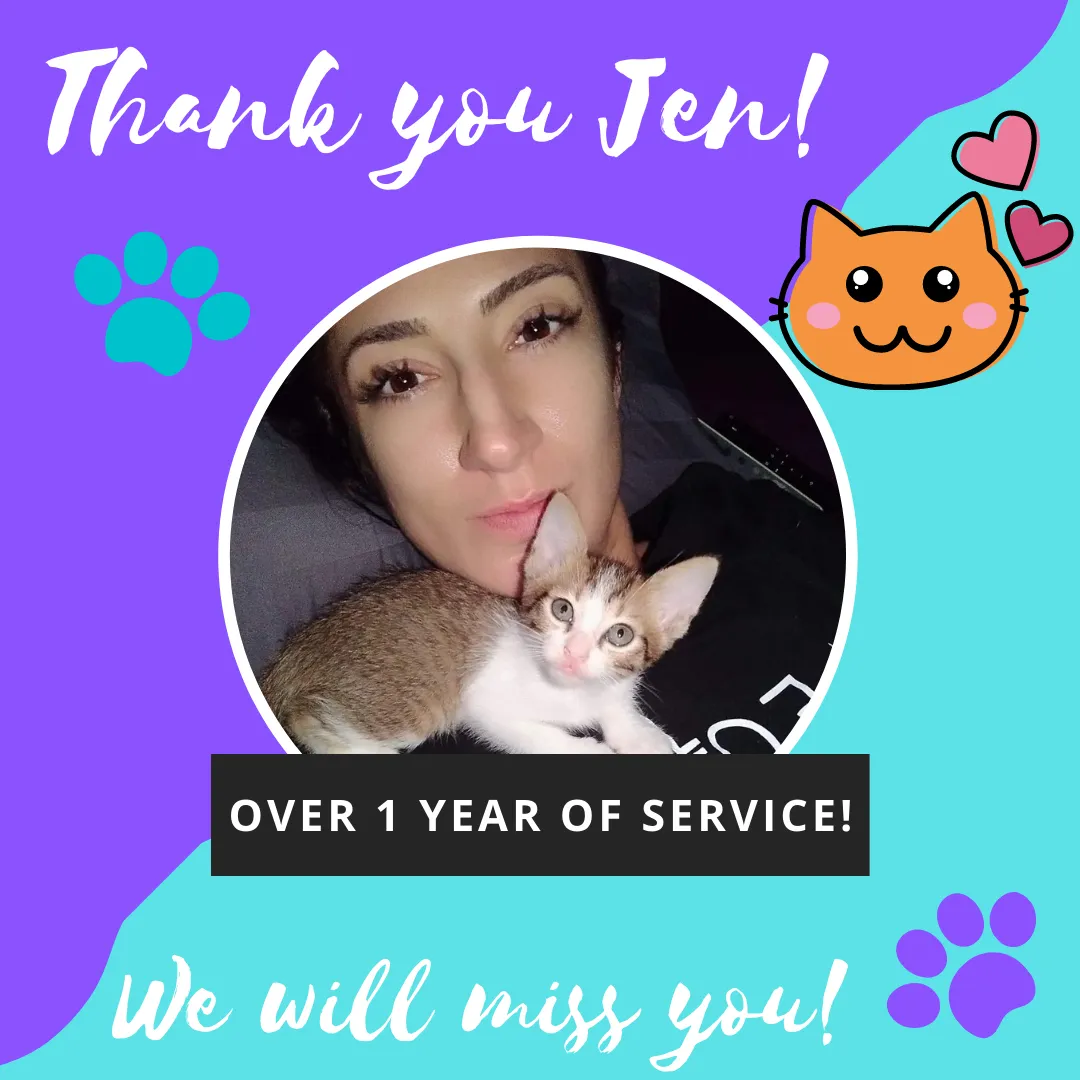 All of us at Adopt Meow are sad to see you both go, but we know you will both do amazing things in your home countries! Thank you again for your dedication to our mission and being amazing advocates for the cats and kittens of Chiang Mai!