#17 — Over 300 adoptions in one year
Welcome back to the last edition of the Adopt Meow Newsletter for 2021.
All of us at Adopt Meow wish our extended followers and members a wonderful Christmas and a very Happy New Year!

As always, if you want to get involved, but not sure how, check out how you can Donate, Foster or Adopt and make a real difference!
2021 numbers at Adopt Meow 🎉
Adoptions: 312
Sterilizations: 205
🔦 Monthly Spotlight
"Rooftop Buffet Under The Stars" – An Adopt Meow Fundraiser
Adopt Me-ow Chiang Mai and Vanna Café are proud to present a rooftop buffet under the stars! On the evening of Saturday 29th January, we will be hosting a buffet dinner with drinks, live music, a raffle & an auction, on a rooftop with panoramic views of Chiang Mai. All proceeds will go directly to us so that we can continue our important work of rescuing needy cats and kittens in Chiang Mai.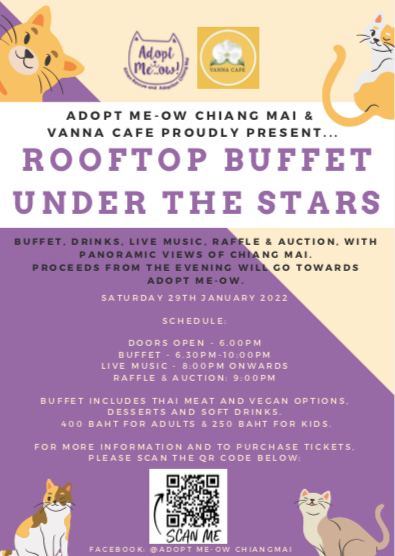 Schedule
Doors open: 6:00pm
Buffet: 6:30pm – 10:00pm
Live music: 8:00pm onwards
Raffle and auction: 9:00pm
Doors close at midnight

Price
Early bird tickets: Adults – 400 baht / Children – 250 baht
At the door tickets: Adults – 450 baht / Children – 300 baht
Payment information
Krungsri / Bank of Ayudhaya
Account number: 530-1-34129-2
Account name: Miss Ponkramon Trakarnsakdikul
IMPORTANT: Please send the bank receipt and confirm your names to us via Facebook message @Adopt Me-ow Chiangmai. We need to see confirmation and add your names to the guest list.
🐈
Get a free raffle ticket with every early bird ticket — (Early bird tickets are the first 50 tickets sold online)
Location

Covid restrictions
Please note that we will require all guests to wear a mask upon entering and exiting the building. We will also be conducting temperature checks upon entrance. If you are displaying any Covid symptoms, please refrain from attending the event. We appreciate your cooperation. More information and details will follow over the coming weeks. Please feel free to send us a message at "@Adopt Me-ow Chiangmai" if you have any further questions!
🐈 Rescue of the Month
Hayleigh's 9 Little Miracles
Just a few days before Christmas we got a message from a expat named Charles Cooper who needed advice for a abandoned cat at his condo complex. Apparently, Hayleigh, who had been left to her own devices when her family moved out, had just given birth – to 10 kittens.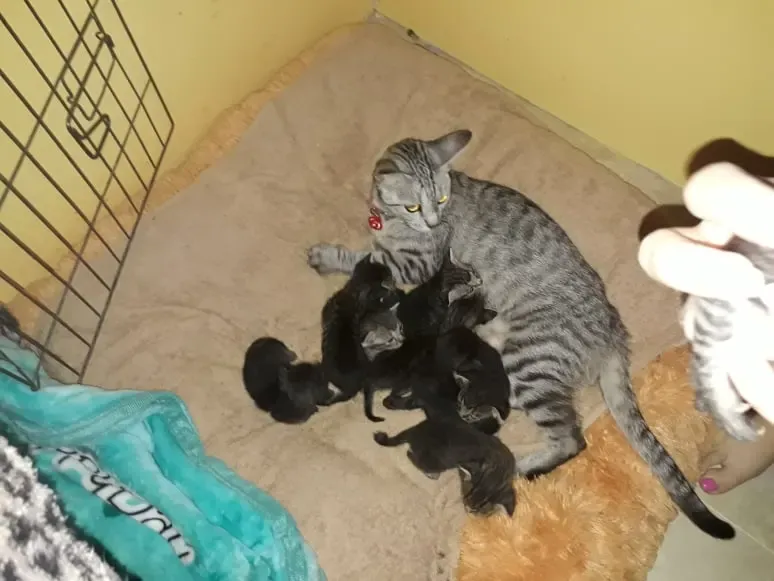 For the first several days Charles and his neighbors worked together to feed and support Hayleigh and her kittens, but they knew they needed help getting the kittens adopted. When one of the helping neighbors started having allergic reactions to the kittens we decided to step in further and take the entire family in at our rescue center. Unfortunately, before they came to us, one of the 10 kittens passed away, leaving 9 – still more than one single mom could possibly handle!
Today, all 9 kittens are living and growing rapidly with their mom Hayleigh at our rescue center in Mae Rim. We are doing regularly supplementary feeding and cleaning to help out the mom cat who clearly has her paws full. Charles has already started finding homes for the kittens which will be ready in about 4 to 5 weeks. As you can see the kittens are absolutely gorgeous! Hayleigh will get sterilized and we hope to find a home for her as well. Please message us if you are interested in reserving one of these darling little miracle kittens!