#16 — Introducing adult sponsorships
Welcome back to the November edition of the Adopt Meow Newsletter.
This month we present to you an exciting new sponsorship program for our adult felines as well as our favorite adoption  and most heartwarming rescue story. We hope you enjoy!

If you want to get involved, but not sure how, check out how you can Donate, Foster or Adopt and make a real difference! Thank you from all of us at Adopt Meow!
This month at Adopt Meow 🐾
Adoptions: 26
Rescues: 12
Sterilizations: 3
🔦 Monthly Spotlight
Introducing "The Adopt Meow Adult Sponsorship Program"
Throughout the past few years of working to help the felines of Chiang Mai, we have built up a colony of adult cats who will live out their lives at our Rescue Center. There are numerous reasons why these cats are not suitable for adoption or rehabilitation. Some have not been socialized at a young age and therefore have developed defensive mechanisms and inappropriate behaviors towards humans and sometimes other animals. Whilst the staff at the Centre have been able to develop a limited rapport with these cats, they will never be suitable for adoption.
How Can You Help?
The cost for our rescue to fully sustain a cat for a month, the fees work out at 1000฿/25€/30$/40CAD. Your monetary support will nurture a cat who really needs you! By being a donor and thus financially contributing to their care, we will be able to allocate more funds to our ongoing TNR (trap, neuter, release) and sterilization programs as well as offering our assistance to some cat colonies dispersed around Chiang Mai.
How Does it Work?
First, determine your desired monthly contribution. There are three levels of sponsorship to choose from, however, any amount is appreciated!
1️⃣  Platinum Whiskers – 1000฿/month
2️⃣  Golden Paws – 500฿/month
3️⃣  Bronze Claws – 300฿/month
Next,  choose a cat you would like to sponsor on a monthly basis.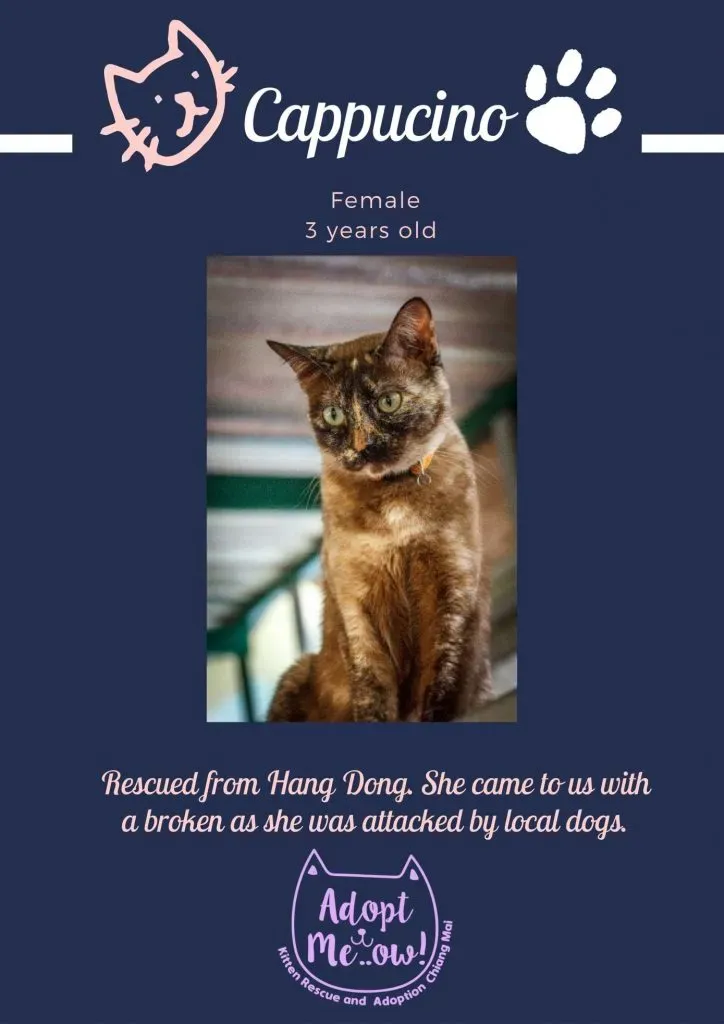 Finally, click the button below to fill out the Google Form about your intent to sponsor. You will receive a confirmation email within 24 hours.
🏡 Adoption of the Month
Beating the Odds: Pumpkin's Story
It goes without saying that there is loss and heartbreak in rescue work. When saving the most vulnerable feline population you are bound to run into problems that cannot be fixed and therefore tiny lives that cannot be saved. However, this is a story of Pumpkin, a kitten who was determined to survive one of the most deadly and well-known feline viruses – Panleukopenia (FPV). Read more about this devastating disease in our education center.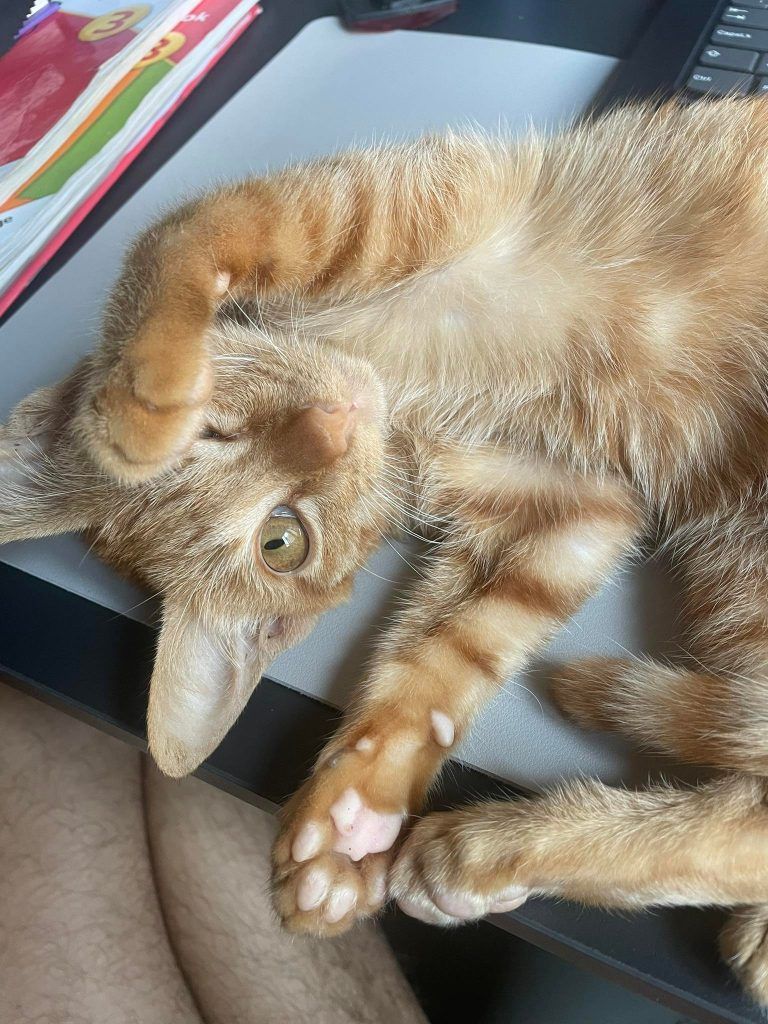 An Unexpected Bump in the Road
Pumpkin came into the Adopt Meow scene about a month ago when he was rescued by long time member Mayuree Snoopy. Due to his level of socialization and health status at the time of rescue, Pumpkin was placed directly into foster care. About a week after being with his foster parents Amanda Bledsoe and Harvey, they noticed Pumpkin was having concerning symptoms. They swiftly brought him to our main veterinarian, Dr. Fon at โรงพยาบาลสัตว์เชียงใหม่เซ็นเตอร์ (Chiang-Mai Center Animal Hospital) where he was diagnosed with Feline Panleukopenia (also referred to as Cat Parvo or Distemper). The few days after diagnosis were long, sleepless, and filled with anxiety for all of us at Adopt Meow, but especially Amanda and Harvey. Pumpkin went days without desire to eat, drink, or move. We all feared he might pass, as many kittens just can't pull through this illness.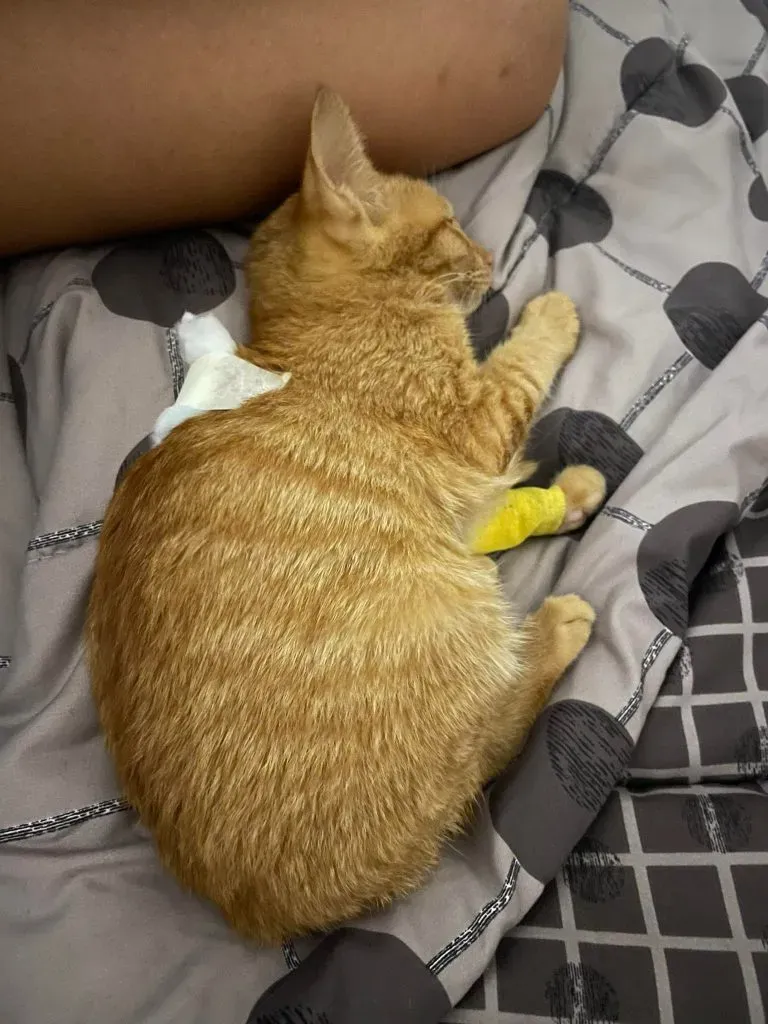 Pumpkin Recovers
Luckily, with the help of Dr. Fon and the dedication of Pumpkin's foster parents, he received a daily treatment plan of subcutaneous fluids, antibiotics, and high dose of INTERFERON. Slowly, Pumpkin started to perk up. Each day he showed a little more interest in life. And much to our surprise about 1 week after diagnosis, Pumpkin was given the clear. He had beat the virus. We want to send an extended thank you to Amanda and Harvey, for their commitment to saving Pumpkin. They went above and beyond their call of duty as foster parents to get him the help he needed and even supported his veterinary bills – true angels! Also a sincere thank you to Dr. Fon for working her magic time and time again on our rescues.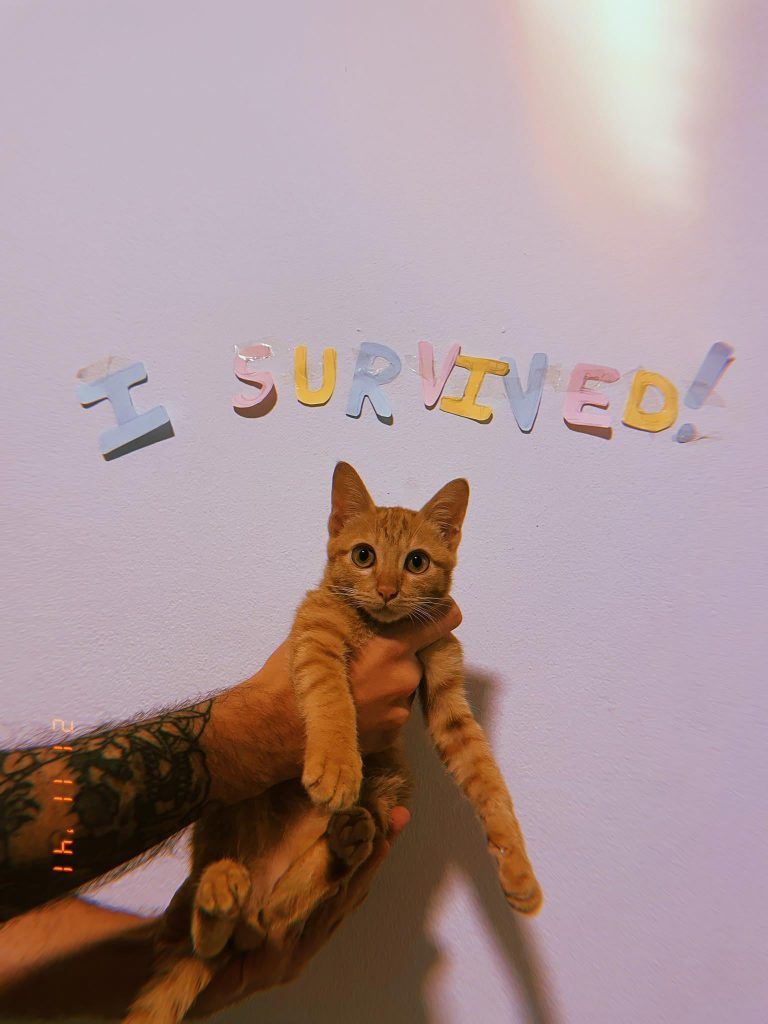 Pumpkin Joins His Forever Family
Right before Pumpkin was diagnosed with panleukopenia, he was visited by a sweet family who decided to adopt him. Unfortunately because of his illness they had to wait 2 full weeks until he recovered before they could go pick him up. They waited patiently which ended up paying off on the day they picked up their new and fully recovered little Pumpkin.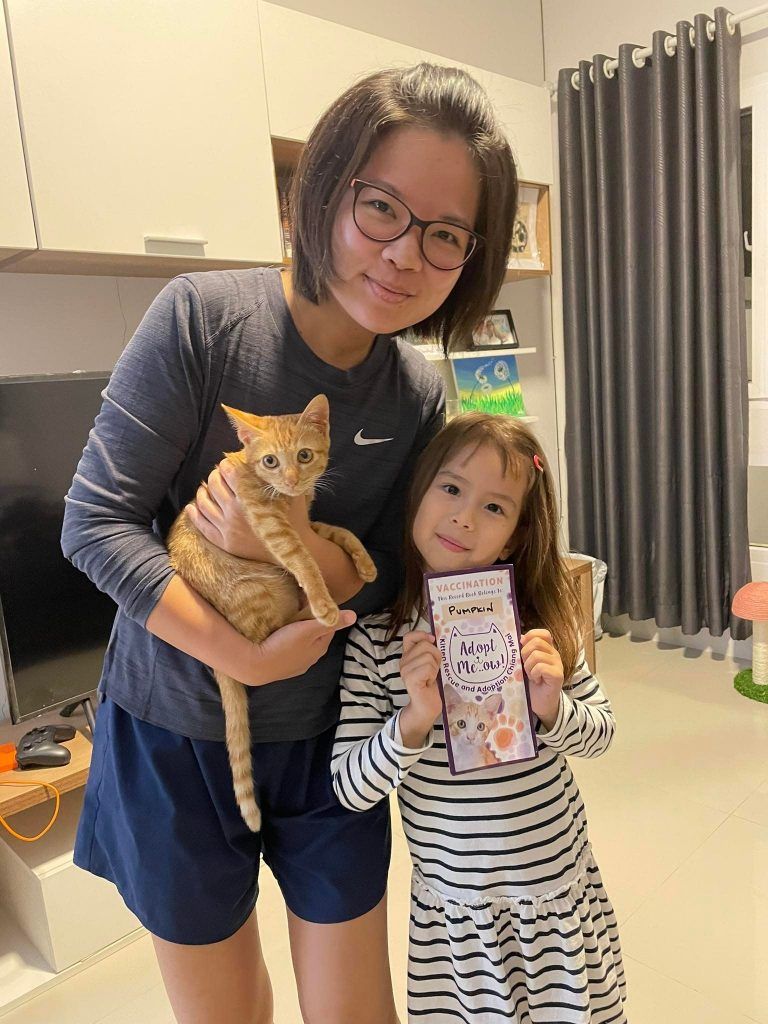 Looking to help a rescue kitten like Pumpkin? Want to become a foster parent, too? Apply to foster!
🐈 Rescue of the Month
Scooter: A Motorbike Miracle
Long time member Agnieszka, who had just returned to Chiang Mai from Poland, and her husband Dan, heard a kitten crying during the night and couldn't figure out where it was coming from. After searching around, they finally discovered that the meows were coming from their motorcycle. This appeared extremely worrying, as they had already driven it to the local shops that morning. Unfortunately neither Agnieszka or Dan could coax or pull the kitten out from hiding inside the bike. With nowhere else to turn they called a mechanic and a local vet, who managed to extricate a very scared, but miraculously, unhurt kitten from the motorcycle. It truly is incredible that this very lucky baby remained uninjured! Agnieszka and Dan named this little miracle, Scooter. How fitting!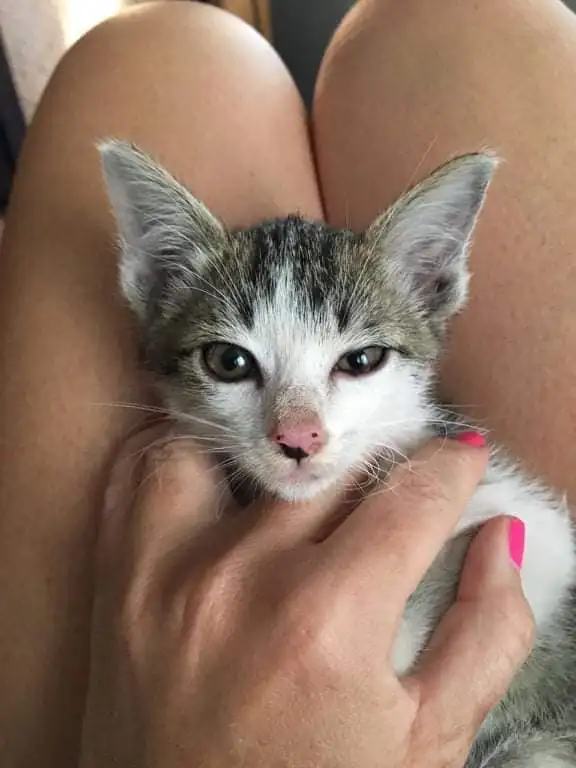 After just a short 10 days in foster care, Scooter was adopted to a lovely family in Hang Dong. He has since been picked up and is enjoying his life off the street and in the arms of a loving family. We get regular updates from the adopter who shares he is happy, healthy, and definitely loved.