#15 — The importance of TNR
Welcome back to the October edition of the Adopt Meow Newsletter.
Our monthly feature is slightly unusual this month as we take time to inform our readers of the less "cute" but equally important side of rescue – TRAP, NEUTER, & RELEASE (TNR).

We hope you enjoy reading about our last month of kitten and cat rescue. If you want to get involved, but not sure how, check out how you can Donate, Foster or Adopt and make a real difference! Thank you from all of us at Adopt Meow!
This month at Adopt Meow 🐾
Adoptions: 34
Rescues: 29
Sterilizations: 35
🔦 Monthly Spotlight
Trap, Neuter, Release – The Less "Cute" but Equally Important Side of Rescue
Sometime in early October we had received a message from a local woman named Lily, who was desperate for help. She had contacted almost all animal welfare organizations in Chiang Mai prior to stumbling upon us. After learning more about the situation of a booming cat colony in Hang Dong, we decided that we would do everything we could to help her get the problem under control. This is the story of Lily's cat colony in an abandoned construction zone near Kad Farang, Hang Dong.
Watch this video to see the construction site and the resident colony up close!
How It All Started
It all started prior to the first Covid outbreak, when a construction worker brought a cat to the construction site he was working. He was living on site at that time. After some time, more cats were attracted to the area and they started breeding. As you can imagine, the situation got out of control as nobody was keen on (or financially able to sterilize the cats. When the Covid pandemic began, the contractors were forced to shut down the construction site and sent all their employees back home. Leaving the  handful of cats behind to their own devices. This was the beginning of a large problem.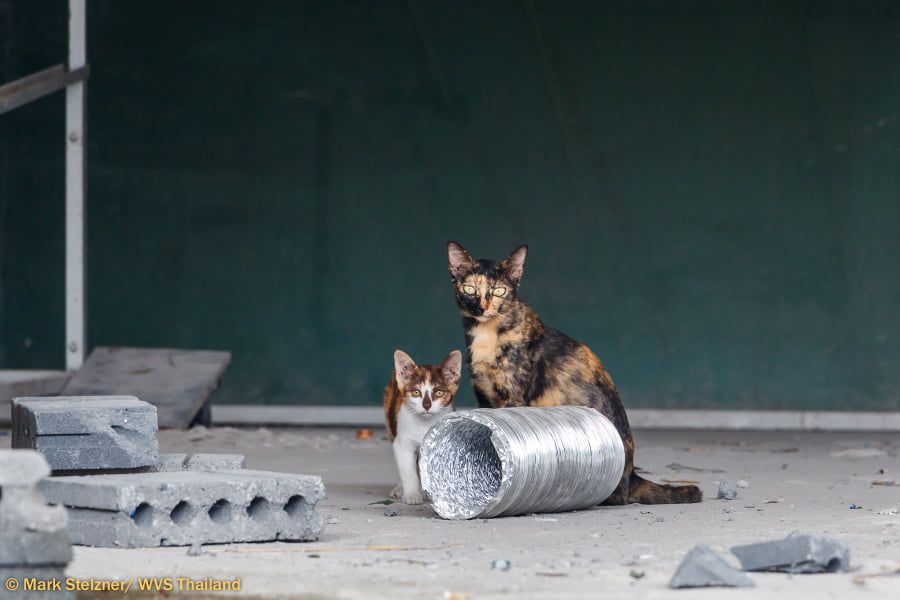 A Call for Help
Lily, the local Thai woman mentioned above, was then reassigned to the position of daytime security guard of the construction area. Lily is a huge animal lover and has helped many unfortunate souls in the past. She noticed right away that the problem was getting out of hand with the cat population on the grounds she was looking after. Cats were living in the buildings in the jungle area behind the building, and breeding ever so quickly. She devoted her time and money to treat the animals here. Unfortunately, the majority of the cats fell sick and passed away. She bought all kinds of medicine and herbal treatments and did her best to heal the remaining cats. Lily had to borrow money from various people to pay for their food. She also contacted different governmental organizations, seeking help. This is when we got involved.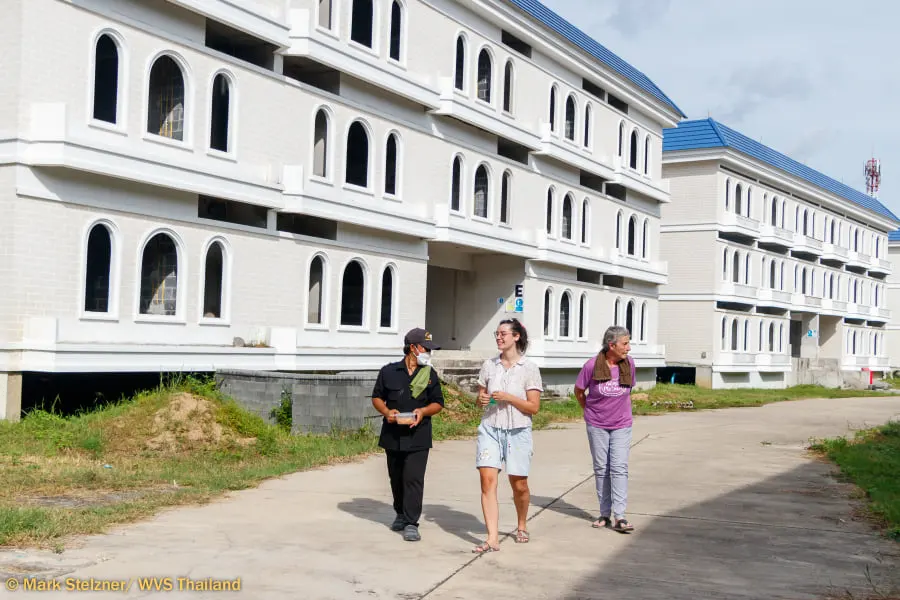 Adopt Meow Steps In
Liz and Guen decided to survey the area after receiving a plea of help from Lily. It didn't take long to realize that this area was in desperate need of TNR. Luckily, we had a "Care for Cats Day" hosted by WVS coming up on the horizon, so we knew we would be able to offer sterilization services to Lily for free. In total there are about 30 cats, but it is truly hard to measure as there are so many elusive ones that are living back in the forested area. Over the month of October we have been able to do the following for LIly's colony:
Caught and homed nearly all the kittens
Trapped nearly all the female cats and neutered, vaccinated, and deflead them.
Provided food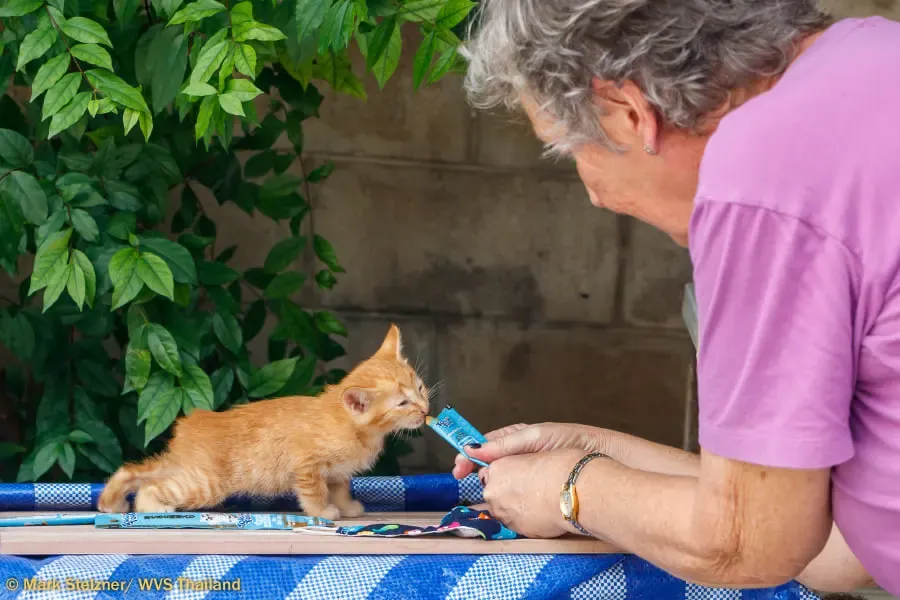 An Ongoing Project
Although we have accomplished a lot in the month of October for this colony, it is definitely an ongoing project. We are still needing to trap 2-3 more females as well as several intact males. In addition there are more kittens being found in which we will continue to find homes for. To this day, Lily is using her salary to cover the costs of the food for the 30+ cats who will continue to live on the property. Moving forward we will be working closely with Lily to continue to trap, neuter, and release any leftover cats. Our goal is to get the number of cats in the care as stable as possible and end the suffering of the unwanted kittens being born.
🏡 Adoption of the Month
After nearly 3 years in foster, Princess has been Adopted!
You've probably seen Princess's photos posted to our Facebook page multiple times over the years with zero success at finding an adopter. Although she is a very beautiful cat with an equally appealing personality, Princess wasn't meant to find an adopter right away. She was too busy plotting to steal her foster parents' hearts. She finally found success when they agreed to adopt her after nearly 3 years of her being their foster cat.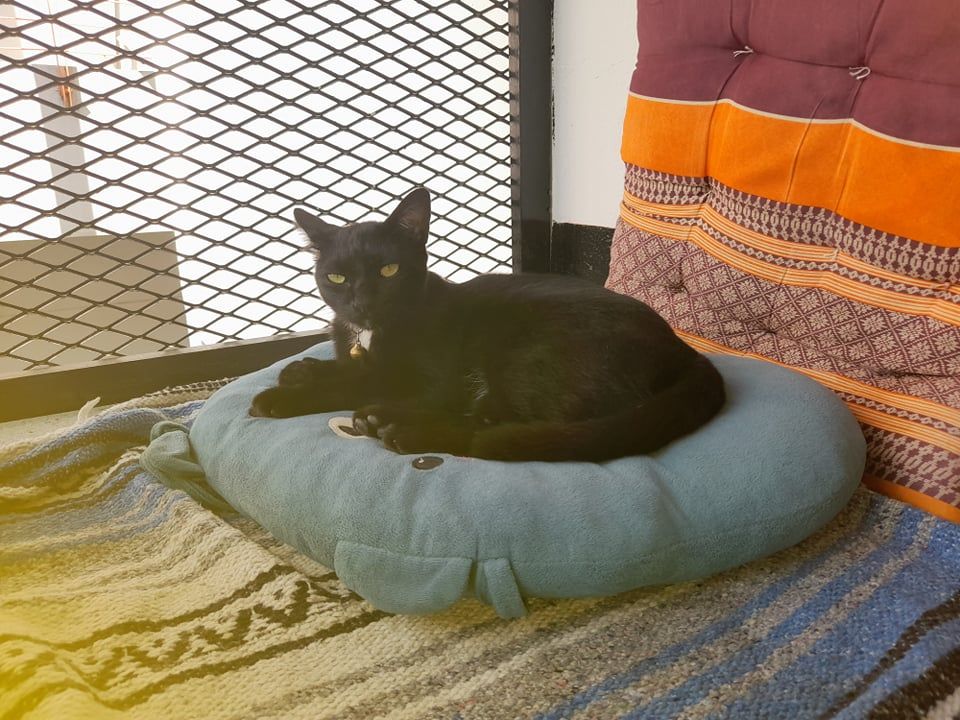 Princess's Story
Princess came to us sometime in 2019 when she was rescued from the reception area of a condo along with her 2 tabby kittens. Her kittens were quickly adopted and Princess was brought to our Rescue Center for vaccination and sterilization care. Afterwards, we placed her into foster care, like many of our adopt-ready cats are, so they can get comfortable with a real home-like environment as they wait to be chosen. What Princess's foster parents (who have asked to remain anonymous), didn't know when they agreed to take her, is that Princess's was coming home to them, for good.
No Luck Finding A Home
Over the months we posted Princess for adoption using various cute photos, videos, and updates on her personality. However, there was no response. Once a year passed we began wondering if her foster wanted to keep her, so we asked. The response each time was "I wish, but we can't commit as we don't know how long we will stay". Of course we understood!
The reason we were reluctant to adopt her was because we're not meant to be in Thailand right now. We actually left Thailand just before Covid went crazy, intending to move to another country. When countries started closing borders we legged it back, but it was only meant to be a temporary thing. So while we were living in our condo, I contacted Liz about fostering a kitten for a few weeks. Instead of a kitten, this huffy, demanding, fully grown cat with an attitude arrived. We loved her straight away but couldn't commit to keeping her. However, every time she was advertised I felt really sad. But Covid is not going anywhere and we've just moved back into our old house where we lived for 4 years before. It feels like home, and it feels like her home too.   – Princess's Foster Mom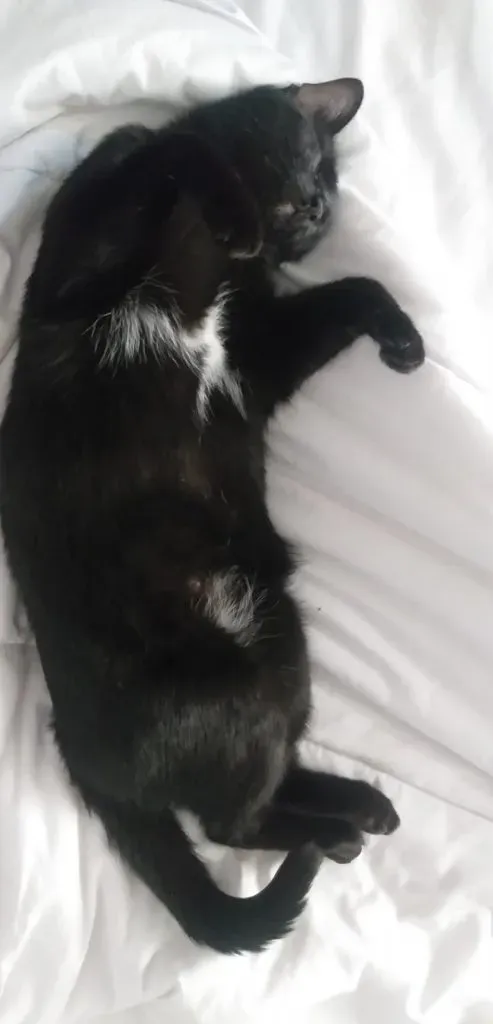 Finally A Decision is Made
Just this month we messaged Princess's foster family to set up an appointment for vaccination. It was then that the foster family said it was time to stop "pretending" that Princess was their foster. They wouldn't and couldn't let her go – so it's time to make it official – Princess is home for good.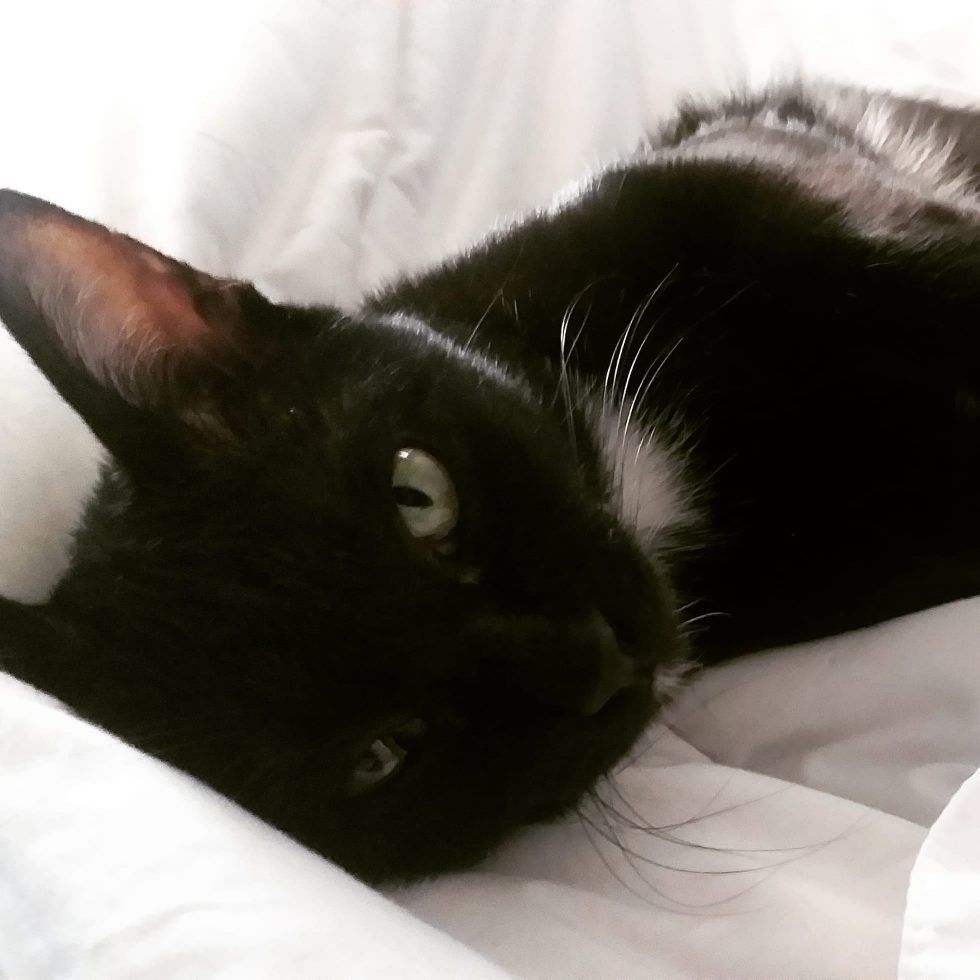 Looking to help a cat like Princess?
Want to become a foster parent, too? Apply within:
🐈 Rescue of the Month
Harry Needs a Hero
At the end of September, we found a very sick ginger kitten named Harry, who was living within a cat colony in Mae Rim. Liz was informed of the growing colony and went over to help a local lady named Khun Pranee, who was looking after a total of approximately 30 cats there. This is when Liz spotted Harry  and noticed he had a very nasty wound on his head, which is exposing his skull, as well as a bad infection from the dead tissue.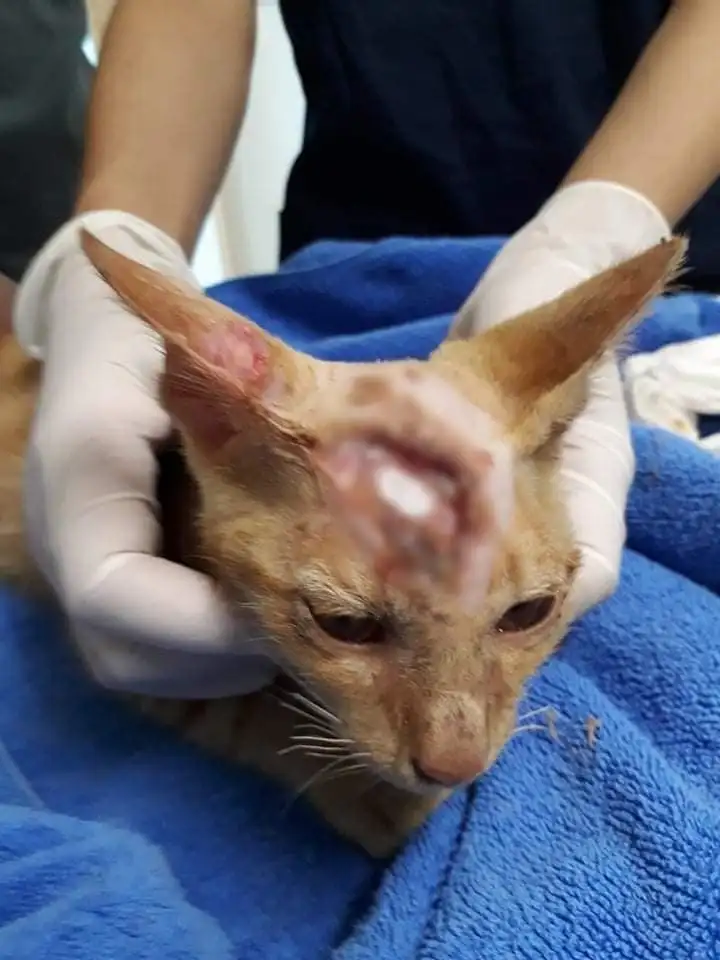 Harry's Prognosis and Aftercare
Harry spent a total of 2 weeks under Dr. Fon and Dr. Tao's care at Chiang Mai Center Animal Hospital. Not only was he needing daily wound care but he also had developed cat flu, which can be quite serious for cats who currently are fighting off disease or infection, like Harry. Luckily, after a couple weeks, Harry's wound had started to heal, the infection was gone, and he was well enough to be taken out of 24 hour care. We then placed him in foster with our vet technician, Amber, where he learned to be a house cat all the while having his wound tended to daily by an animal nurse.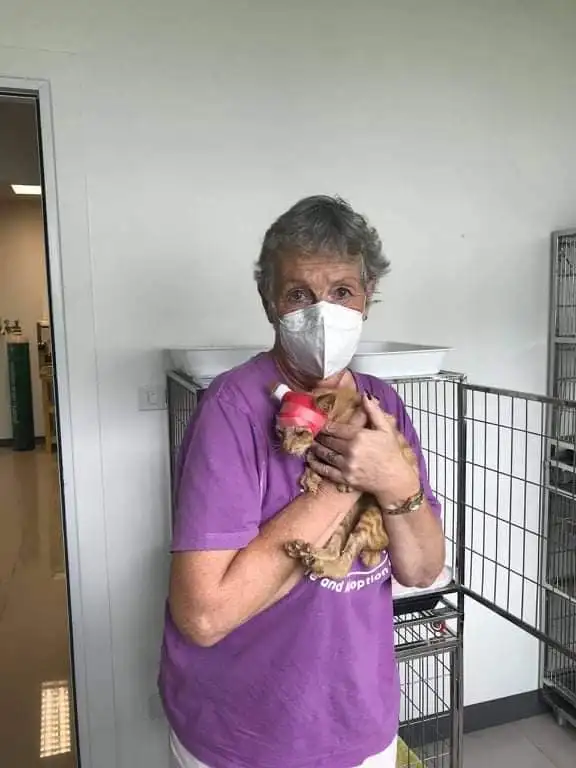 Harry Today
Today Harry is doing fabulous in foster care. His wound is still healing and he still requires daily dressing. However, he has been neutered, is completely socialized, and healthy as ever! He will soon be ready for adoption – keep a watch for his adoption post reveal! Until then, he will be busy "making biscuits" in a happy and safe temporary home.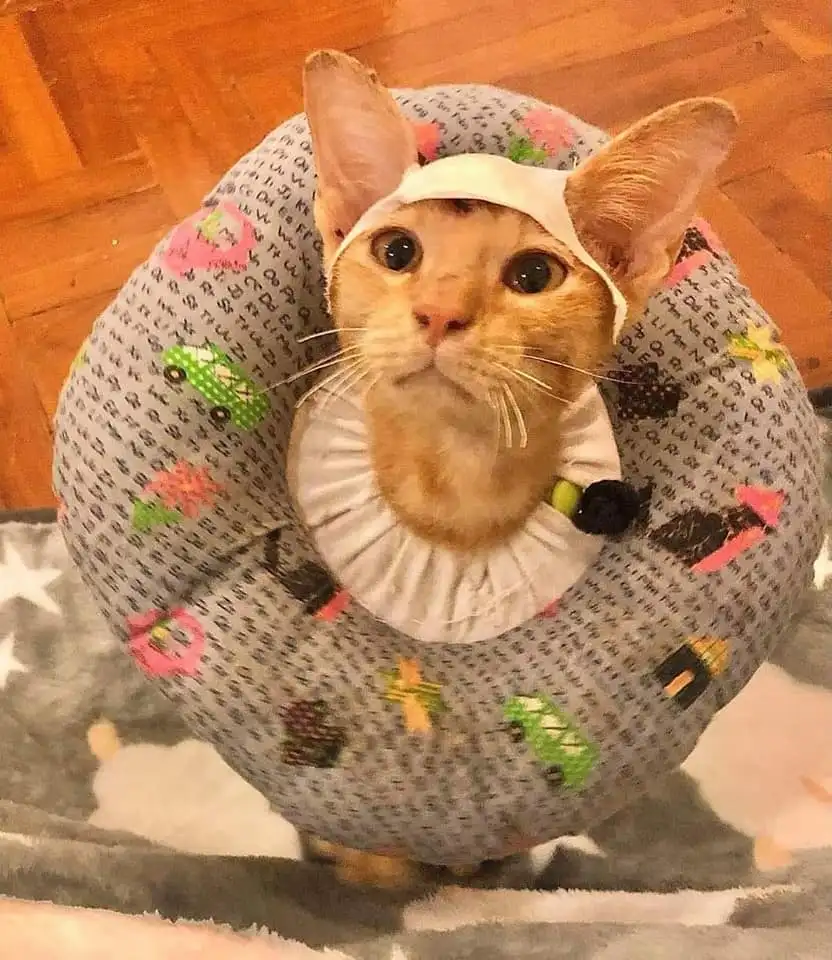 👋 We Need Your Help!
In an effort to spread the word about our services and mission, we are looking for volunteers to help hang up our new poster! Cafes, pet shops, schools, and veterinarian offices are all wonderful places to advertise! If you would like to help us, please press the "Contact Us" button below where you can share your interest in hanging posters for us and we can discuss delivery. We would really appreciate your help!